The pristine light of an autumn afternoon illuminated the windows of the Shrine of Our Lady of Walsingham, Williamsburg, Friday, Nov. 3, as students prepared for a jubilee Mass celebrating 100 years of Catholic Campus Ministry at the College of William & Mary.
"It's a votive Mass in thanksgiving to God on the occasion of our centennial anniversary," said John Hopke, director of the college's Catholic Campus Ministry (CCM).
The Mass ushered in a weekend-long celebration, focusing not only on the ministry's past, but also "on the importance of the ministry today and for the future of the Church," Hopke said.
Bishop Barry C. Knestout and Father Kyle O'Connor, CCM chaplain, concelebrated the Mass, along with nearly a dozen pastors and vicars who have become part of the William & Mary family over the years, including alumni, former chaplains and local clergy.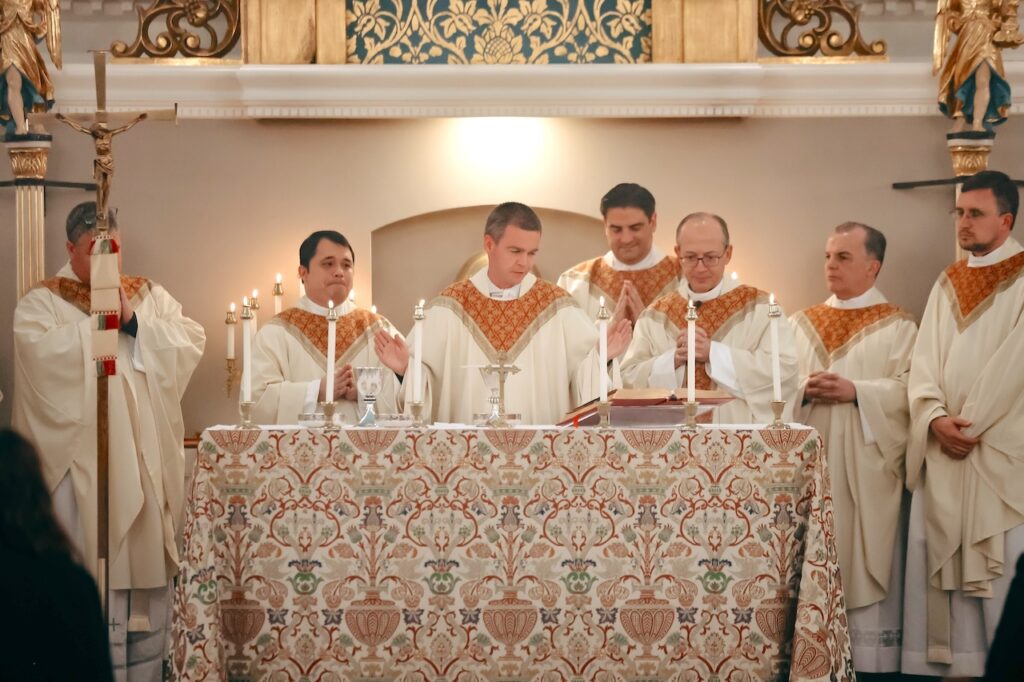 A fundraiser gala held at the Alumni House followed, with 250 guests attending. It was a time to laugh about times spent in the "Catacombs" (the former student gathering place in the shrine's basement), to catch up with old friends, and to remember those who guided the community along the way.
The anniversary observances continued into Saturday with a golf tournament at Kiskiack Golf Course.
"We wanted to provide the chance for the entire family – students, alumni and supporters from the local community – to get together," Hopke said.
'Part of the neighborhood'
Anna Garrett, a senior, was among the first to arrive at the chapel Friday afternoon, helping to set up. She has been with CCM since freshman year, when her resident advisor and orientation advisor invited her to attend.
"You'll see me here most Sundays volunteering," she said, "either ushering or greeting people – making everyone feel welcome."
She said she's been grateful for the role CCM has played in her life since she arrived at college; it's been a constant throughout the changes and challenges of the past three years.
"It's part of the college experience that I was hoping for," she said.
Father James Glass, pastor at Holy Trinity, Norfolk, said he also counted his years at William & Mary as among his best.
Father Glass served as CCM chaplain from 2014 to 2019. "That's as long as a typical pastoring assignment," he said. "It was an important part of my life. It kept me young."
"Although, by the sixth year, I started to wonder … shouldn't I have graduated by now?" he added, laughing.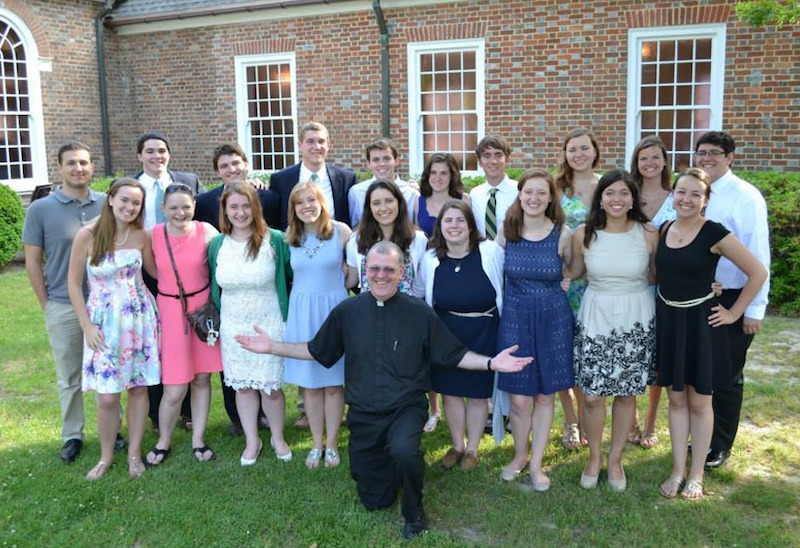 Joining Father Glass for the evening's events were two other former chaplains: Father John David Ramsey, pastor of St. Benedict, Richmond, and Father Nick Redmond, parochial vicar of the cluster parishes of St. Patrick, Pro-Cathedral of St. Peter, and St. John, in the greater Richmond area.
Sherry and Carl Ackerman, parishioners of St. Bede, said they attended the gala to support the college.
"It's a celebration of William & Mary. It's a part of the neighborhood," Carl Ackerman said.
A fruitful presence
Campus ministry at William & Mary began in 1923, when Professor Carlos Eduardo Castañeda, who arrived from Mexico to teach Spanish, joined with a small group of students to form the Gibbons Club, named for Cardinal James Gibbons, bishop of the Diocese of Richmond from 1872 to 1877. It was the first official Catholic organization at the college.
The 1920s marked a time of change for Catholics in America, said Bishop Knestout during his homily. It was at this time that the children of working-class Catholic immigrants began to make their way into the world of higher education.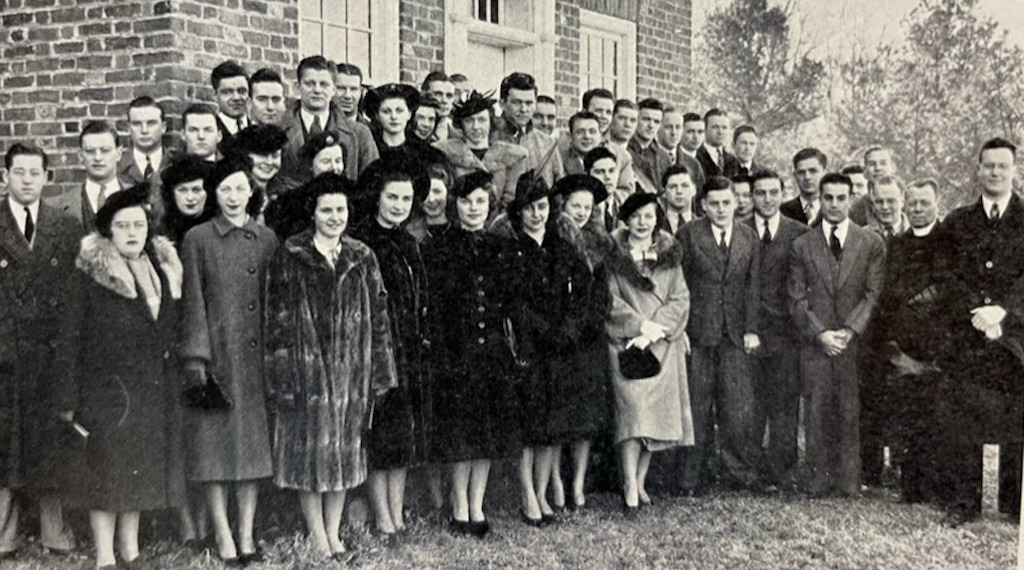 "The presence of a campus ministry was needed as a place to pray and to support one another in the Catholic faith," he said, and also a place to launch into the larger community, to "show that we have a role to play, that we have much to contribute."
It's been a fruitful ministry, Hopke said. The college has had a number of vocations for a school of its size.
Among the alumni who concelebrated the Mass were Father Danny Cogut, pastor of St. Gerard, Roanoke, and Our Lady of Perpetual Help, Salem; Father Jonathan Goertz, pastor of Our Lady of Lourdes, Henrico; Father Anthony Marques, rector of the Cathedral of the Sacred Heart, Richmond; and Father Marco Schad, of the Archdiocese of Washington.
"There is also our current chaplain, Father Kyle," Hopke said. "We say he's an honorary alumnus – he began his education at William & Mary before he entered the seminary."
The spirit of the place
During the reception, Carolyn Rye of the Class of 1977 remembered arriving at William & Mary as a freshman from her home in New Jersey.
"For me, it was an opportunity to experience a smaller, more intimate Catholic community," she said. "There was a Mass affectionately known as the 'Sunday night folk Mass' that attracted even non-Catholics to attend."
Her experiences at CCM elevated her faith, she said. As an adult, she's always made it a point to support the ministry.
"I believe in the mission. These are challenging times for young people. I'd like them to have what I had," she said.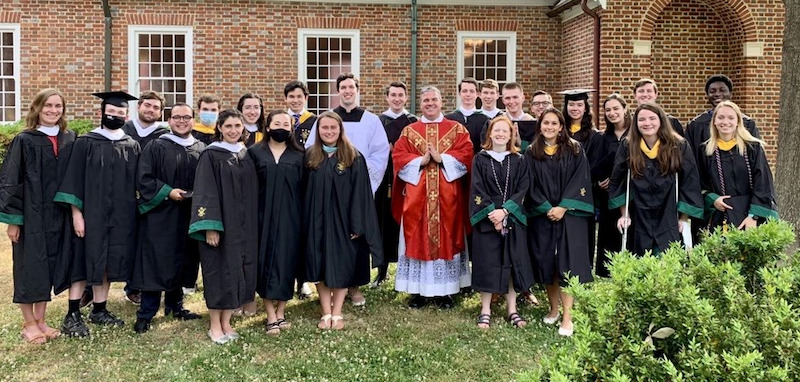 Father Ramsey also shared fond memories of CCM, recalling his years as chaplain, from 2010 to 2012, as a "wonderful experience."
"For a long time, I did at least one William & Mary wedding a year," he said.
It was a particular privilege, he said, to work alongside MaryEllen Pitard, who served as CCM director from 1997 to 2014.
"She wanted the students to feel that this was truly their home," he said.
Beth Lofgren of the Class of 2009 and Stephen Salvato, Class of 2010, shared the sentiment. As they started dinner, they laughed over memories of the "Catacombs," their campus home away from home.
"There was a big screen TV, a copy of "The Sound of Music" on VHS, and an old landline phone," Salvato said.
Lofgren laughed, saying she remembered it all well.
"You would be studying, and then three hours later, you'd find yourself in a deep discussion about the meaning of the universe," she said. "And we always knew that MaryEllen was right there, across the street" in the parish office.
"She saw us as a family, and she made sure everyone was cared for," she said. "It was a place where we belonged."
A new millennium
RJ Kloecker, Afia Owusu, and Yulee Kang, representing the Class of 2027, attended the gala together. The three freshmen said that they have found CCM to be a place of acceptance, where they have found fast friends.
"Everybody has been so welcoming," Kloecker said.
"Food, ping-pong and Christ," Owusu said, as the friends laughed – agreeing that CCM has it all.
As she came to join them, Bridget O'Keefe, a senior and CCM small group leader, recalled her own first weeks at William & Mary.
"It was hard being away from family. College is such a season of change. It's nice to have a community that you can always fall back on, to support you in your faith. Catholic Campus Ministry is not something just to be a part of, but to grow into," she said.