Upon his ordination in Uganda 25 years ago, Father Francis Xavier Musolooza, pastor of St. John the Evangelist, Waynesboro, fulfilled the dream of his late father, who had hoped to become a priest himself but whose poor eyesight kept him from completing his seminary studies.
His mentor suggested he return home, marry, and raise a family. "Maybe one day your son will become a priest instead," he was told.
Father Musolooza did not know about his father's dream or the hopeful prediction until he was studying for the priesthood himself and his grandfather, a catechist, relayed the story.
When Francis was a young child, his father, John Baptist Zziwa, was killed during the reign of Idi Amin, a time during which thousands of people were murdered in Uganda. Francis' mother, Judith Nakiyiingi Zziwa, was left alone to care for her five young children – four boys and a girl.
Under the care of his godfather, Francis, the eldest, was sent soon afterward at age 7 to St. Herman's Nkoni primary school, a Catholic boarding school in the area. During his seven years there, he was befriended by two "very good and kind priests," Father Joseph Kalibbala and Father Benedict Nsubuga. Their encouragement and support changed his life.
"They initiated me into loving the priestly vocation," Father Musolooza said. At age 9 he began helping to serve Mass and started to think about being a priest himself someday.
He explained that his name, Francis Xavier, was given to him by his parents at his baptism in 1969. (His last name, Musolooza, is the family clan name given to him by his paternal grandfather.)
"St. Francis Xavier is very important in my life as my patron saint and faith model," he said of the saint known for his missionary work that brought many souls to God.
'I am God's servant'
Like his patron saint, Father Musolooza has gone wherever God has called him. "Today and in the days to come I will continue to say 'yes' to God, still following my ordination motto from Luke 17:10: 'I am God's unworthy servant. I have done what was my duty to do,'" he said.
To the delight of his family – especially his mother, Judith – his spiritual journey in Uganda continued when he attended Bukalasa Minor Seminary (Holy Family) for six years, then studied philosophy at Katigondo National Major Seminary (St. Thomas Aquinas) for three years. He then had a pastoral-spiritual year at a parish in his home diocese of Masaka, followed by four years of studying theology at Ggaba National Major Seminary (St. Mary's).
He was ordained a deacon on Aug. 2, 1997, and a priest on Aug. 1, 1998, at Villa Maria Proto-cathedral in Masaka by Bishop John Baptist Kaggwa.
His first assignment was at Bukulula parish for three years, followed by a ten-year assignment at the Mother House of the Daughters of Mary in Bwanda.
"It was from there that I received a call for missionary work in Richmond Diocese," he said.
Upon arrival, he served at St. Anne, Bristol, as an in-resident priest working in the Holy Family parish cluster (St. Theresa, Tazewell; St. Elizabeth, Pocahontas; St. Mary, Richlands; and St. Joseph, Grundy). In 2012, he was assigned to Christ the King, Abingdon, and St. John the Evangelist, Marion. Last summer, he began serving at St. John the Evangelist, Waynesboro.
Party, quilt and papal blessing
At a celebration on Sunday, Sept. 10, Father Musolooza's parish honored two milestones in his life: both the 25th anniversary of his ordination – August 1, 1998 – and his first anniversary with them after arriving on Aug. 1 of last year.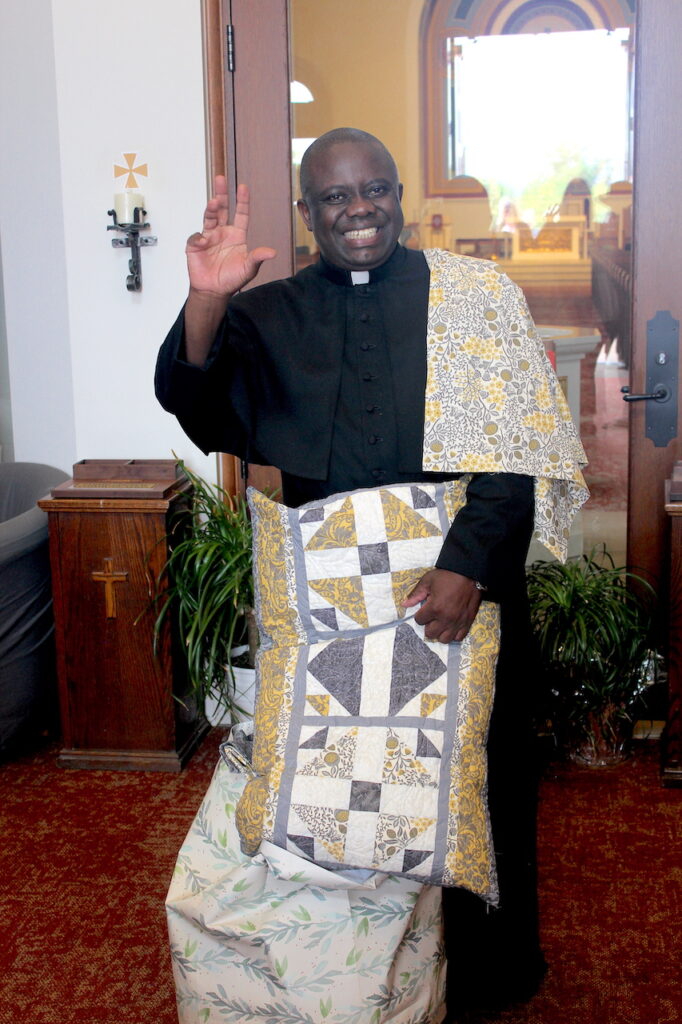 Although Father Musolooza knew a reception was being planned, he was surprised at the size and detail of the event: the 100-plus attendees, the flowers and cake decorated with the Ugandan flag, and the thoughtful and unique gifts – including a quilt made by the parish sewing ministry in his favorite colors of gray and gold, and a framed blessing from the pope.
When he saw the quilt, he understood why people had been asking him to name his favorite colors, he said with a laugh. "The quilt is so beautiful in golden and gray," he said. "I ask them to pray for me so I don't become lazy because it's so comfortable."
In the framed papal blessing, which parishioners Pat and Leo Cekada ordered from the Vatican, a photograph of the pope is featured above his printed words of blessing, along with an image of the Virgin Mary.
"When we gave it to him, he took a couple steps back and started laughing, he was so surprised," Pat said. "Father Francis has a great devotion to the Blessed Mother, and always encourages us to pray the rosary."
Father Musolooza was touched by the "generosity and thoughtfulness" of the papal gift. "I do not know how they did it," he said. "I see it as a blessing invoking God's mercies in my priestly ministry."
Pat noted that Father Musolooza often asks his parish to pray for him. "Now Father Francis will have Pope Francis praying for him, too – and of course they have the same name," she said.
Quiet smile, attentive ear
His parishioners describe Father Musolooza as calm, quiet, intelligent, articulate, gentle and shy, as well as an attentive listener with a bright smile.
"The first thing you notice is his smile," said Dawn Rogers, secretary of the parish pastoral council. "And when he speaks to you, he gives you his full attention. He was smiling a lot at his reception. We wanted to celebrate him and give thanks to him for being our pastor and priest."
The theme of the anniversary Mass was one of mutual thanksgiving, explained John Mack, president of the parish pastoral council. "Father Francis gave thanks to the parish for welcoming him so warmly," he said, noting that Father Musolooza used a map of faraway Uganda to show everyone where he had come from.
Father Musolooza sees his priesthood as a gift in his life, given by God and continually nurtured by him and his people. "He made the point that the decision to become a priest was not his; it was the grace of God," said Mack.
"I give thanks to all God's people I have met and worked with all these years, helping me to remain faithful to my vocation," Father Musolooza said.
Throughout his journey, he reflected that he has learned a lot. "I know that if you trust in God's will, if you allow him to lead the way, you will meet good people, you will know what to stand for – the Gospel – and your faith will grow."