In the spirit of the apostle Jude, the beloved patron saint of hopeless causes, the parish of St. Jude, Franklin, serves as a model of a faith that quietly perseveres.
Nestled amidst a row of pines, the small brick church stands as a beacon of welcome to all who pass along the city's business highway of U.S. Route 58.
"St. Jude has the most wonderful, giving people you've ever met in your life," said parishioner Frances Stewart, who settled in the area 13 years ago. "I've belonged to a lot of churches over the years, so trust me when I give you my evaluation."
"Everyone there is so glad to see you. As soon as you walk in the door, you hear, 'I'm so glad you got here today,' and 'It's good to see you,'" said Lucy Darden, a parishioner of 74 years.
On Sunday, Oct. 15, St. Jude celebrated its 75th anniversary with a Mass led by Bishop Barry C. Knestout and Father Emmanuel Mensah, pastor of St. Jude and of the Shrine of the Infant Jesus of Prague, Wakefield. A picnic lunch, featuring specialties from apple cobbler to Samoan roast pig – all prepared by parishioners – followed the Mass.
"We are celebrating our church, our parish, and our new priest. We have a lot to be grateful for," said lifelong parishioner Madeline Marks.
A time to reflect 
Addressing the congregation of around 100, Bishop Knestout recounted how, during the Last Supper, St. Jude asked Jesus, "Why, Lord, are you going to reveal yourself just to us and not to the whole world?"
"Jesus' response was very beautiful," Bishop Knestout said. Christ assured St. Jude that he would send the Holy Spirit to remain with the faithful through all "the ups and downs of life," in both "the desperate situations and joyful situations."
It's a story well-suited to an anniversary celebration, he said: a reminder that through the years, the Holy Spirit is always with us, ever working for the transformation of our hearts.
Setting forth
In the early 1940s, Catholics in Franklin and Southampton County began to gather in the home of John and Henry Hawa, said Marguerite Kannan, niece of the Hawas and a parishioner of 72 years.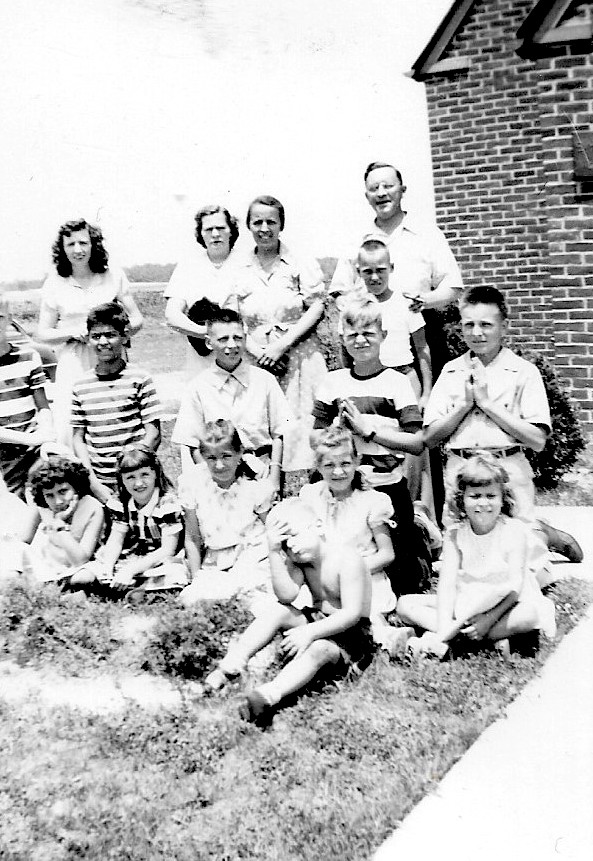 "They opened their home for Sunday Mass," she said. "At that time, there were not many Catholics in Franklin, but there were people who came in from all throughout the county."
The fledging congregation included a group of Catholic soldiers who were stationed at the Franklin Airport.
Father Julius Schmidhauser, pastor of St. Mary of the Presentation, Suffolk, travelled to Franklin to celebrate Mass – at the home of the Hawas, at the USO, and at the Wright Funeral Home.
"Father Schmidhauser soon saw the need for a new church," Kannan said. "He helped us in getting St. Jude started."
A lot was purchased for the construction of the church in 1945. It took a while to raise the funds needed, Kannan said, but on April 25, 1948, Bishop Peter L. Ireton laid the cornerstone of the new church – a mission of St. Mary named to honor St. Jude Thaddeus.
Darden, who moved to Franklin in 1949 at the age of 17 when her mother came to work at St. Regis Paper Company, said that she and her husband Charles were the first couple to marry at the church, in 1950.
"The organist wasn't sure what music to play," she recalled, laughing. "She had never done a wedding before. She settled on 'Ave Maria.'"
"I raised my children there," Darden said. "They were both altar boys. I taught Sunday school, and my mother taught the First Communion class there for years."
"I've watched it grow up," Kannan said.  "I've been involved in a lot of ministries here."
Lights along the roadside
Just a few years after St. Jude was completed, it was joined by its sister parish – sometimes referred to as its mission – the Shrine of the Infant Jesus of Prague, located on U.S. 460 in Wakefield.
"The shrine has a very romantic history," Stewart said. "It was one man's vision."
When Larry Monahan purchased the Virginia Diner in Wakefield in 1942, he promised that, if he could meet payroll, he would build a church.
Monahan eventually saved enough to buy a lot across from the diner.  In 1952, ground was broken by Monahan's two sons and by Father Joseph Leitch, pastor of St. Jude.
As word began to spread of the Catholic shrine being built on a popular travel route through rural Virginia, contributions began pouring in. Monahan also sold cinder blocks to be used in the construction of the new church for $10 each, raising $30,000.
The shrine, dedicated on October 28, 1953, remains popular with pilgrims and passers-by who stop and light a candle.
"People are drawn to it. We try to keep it open whenever we can," Stewart said.
'Closeness of family'
St. Jude was named a parish on May 1, 1955. A new church was built in 1994, at which time the original church was converted to the parish fellowship hall.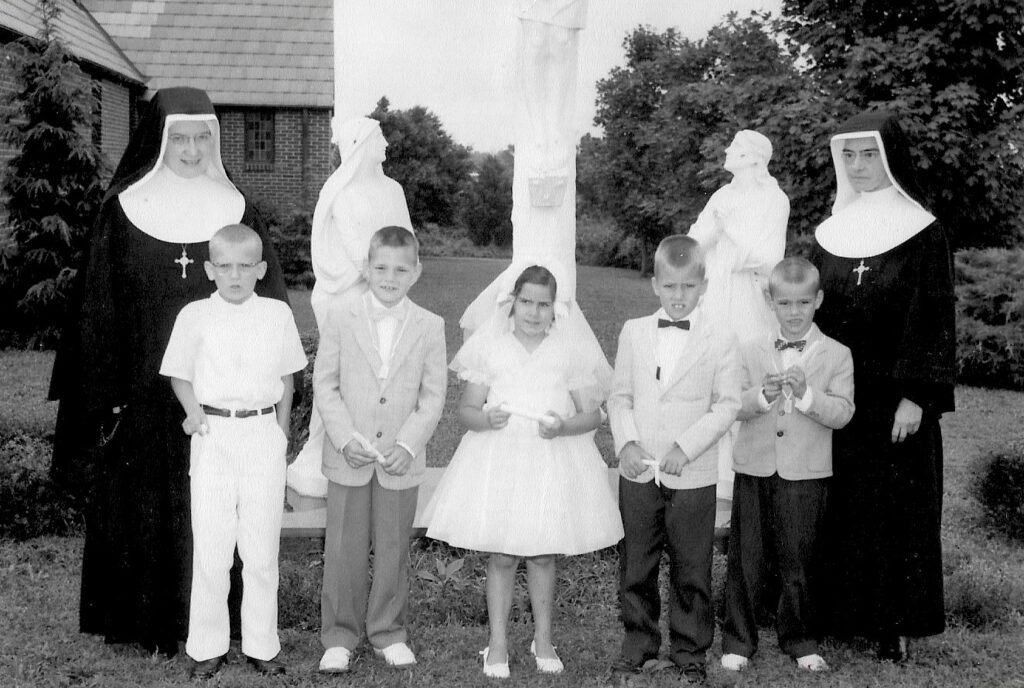 "It's had its highs and lows with the economy of Franklin," Marks said. "The church was larger when I was growing up." Union Camp, the paper mill that helped to fuel Franklin's economy from 1956 to 1999, was in operation then, she said, "and we had a lot of kids who grew up together."
Today, St. Jude takes in parishioners from all over Southampton County: from Ivor, Boykins, Newsoms, and even from North Carolina, with college students from Murfreesboro attending.
"We have very fond memories," Marks said. "The closeness of family. The priests who pastored here. We've made lifelong friends here."
In keeping with the church's neighborly spirit, the parish recently began holding celebrations after Mass on the second Sunday of each month, recognizing parishioners' birthdays and anniversaries, Darden said.
"We have sandwiches and cake," she said. "It gives people the chance to get together and visit and to help new parishioners get to know one another."
Works of the Spirit
St. Jude has an active group of extraordinary ministers of Holy Communion who visit friends and neighbors who cannot make it to Mass. Their ministry is led by St. Jude's new pastor, Father Mensah.
"Father Mensah is incredible," Stewart said. "We have so many homebound and sick. And he visits them all. We are so fortunate to have him."
Through St. Jude's Social Outreach Ministry, parishioners follow the call of the Gospel by giving back to the community.
Volunteers participate in Thanksgiving basket and Angel Tree programs and work to support Franklin Cooperative Ministry – a joint endeavor composed of social workers, community groups, and local churches with the aim of helping those in need.
In preparing for Sunday's luncheon, Stewart said she sent out an email asking for 26 dozen deviled eggs.
"That email went out on Thursday, and, by Monday I had 20 dozen promised," she said. "That's the sort of church St. Jude is. Whatever you need, all you need to do is ask."