Behind an iron gate, the outside world vanishes. A long, slow drive leads to a chapel and red brick lodges offering rest and rejuvenation. The Roslyn Retreat Center – 150 acres of peace and quiet tucked inconspicuously into the West End of Richmond – was the setting Nov. 3-4 as the Office for Black Catholics opened its Year of Healing and Renewal with its annual Spiritual Retreat.
"The Year of Healing and Renewal is to acknowledge the need for [the Black Catholic] community to understand they are appreciated," said Father Tochi Iwuji, pastor of Holy Rosary, Richmond, and director of the Office for Black Catholics. "They have a place in the Catholic Church, they are needed in the Church. We are trying to heal those kinds of divisions, the feeling of being not needed and wanted."
Gail Robinson, who was a Holy Rosary parishioner for fifty years before moving to North Carolina, told a story at the retreat that highlighted this need. In the 1950s, she visited the segregated South as a teenager from New Jersey.
"I believed that I would be welcome in any Catholic church. And my aunt said, 'No, that is not correct, Gail. You're going to get your feelings hurt,'" Robinson recounted. "And she took me to [a white Catholic church] and left me there. And I was fine with that."
"I go into the church, and nobody says anything to me," she continued. "Nobody welcomed me. I was 13, and I was crushed."
But Robinson did not lose her faith in God or in the Church. Four years ago, she spoke with somebody from the same parish and told her what had happened to her some sixty years ago. "She apologized on behalf of the church, and I cried," said Robinson. "It was powerful."
Understanding our history
The theme of the weekend was "Journeying with Mary: Healing Generational Trauma Through Christ." After lunch, guest speaker Dr. Paula Owens Parker led participants in a workshop for healing. She had them draw genograms, or annotated family trees, encouraging them to recognize patterns in their family history.
"Write down significant dates, losses, values and beliefs," Parker instructed. "Write down immigration status, occupation, income, location; secrets; pets; couples' relationships, marriages, remarriages, separation, divorces and affairs."
When people recognize patterns in their family history, it gives them a different understanding of generational trauma and a new level of compassion for their family members who may be repeating negative patterns they grew up with, said Parker. After this exercise, she told participants, "Create a list of people in your family who need healing to pray for." Before Mass, these names were offered to God.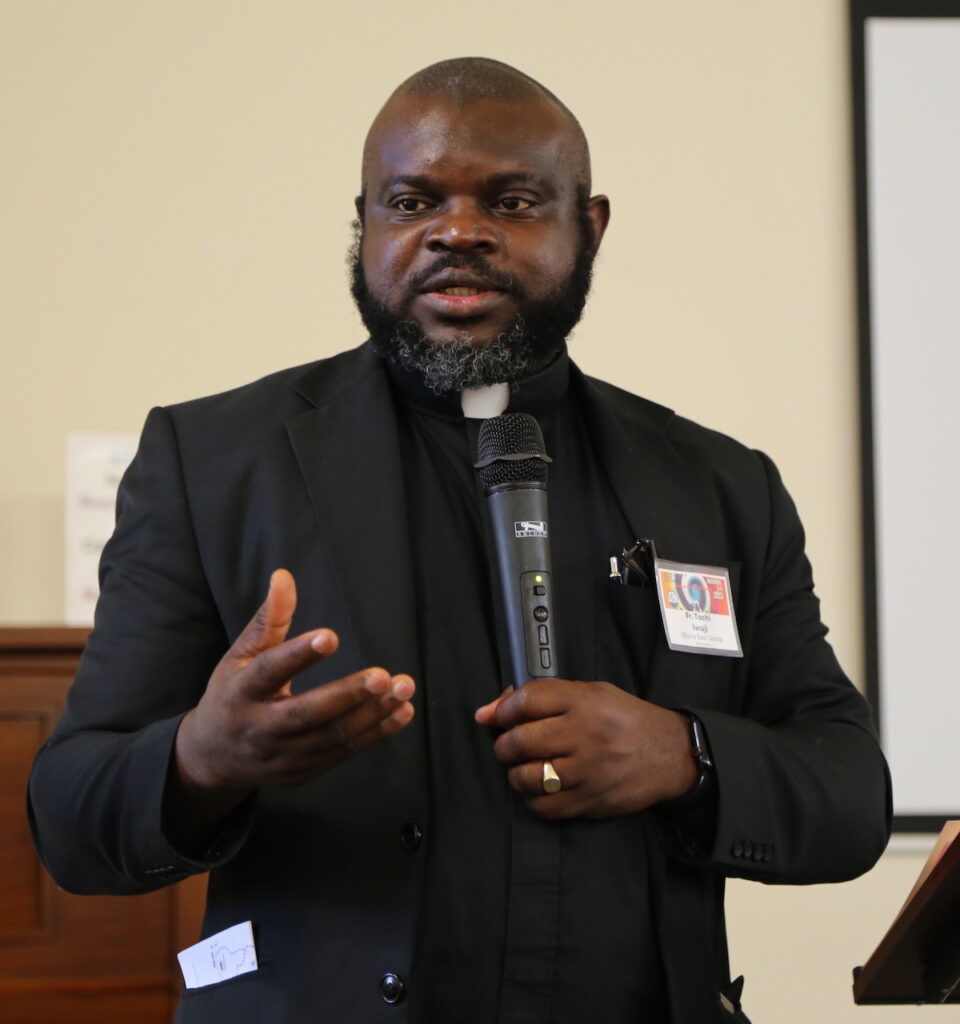 "History helps us understand where we have been and where we are going to be," said Father Tochi. "Sacraments are a powerful tool in dealing with our trauma. The Eucharist is a powerful tool."
Deacon Frank Nelson of Holy Rosary, Richmond, has come across genograms in his work as a mental health counselor. But he says that going through the process himself – especially in a religious setting – offered him a new perspective.
"It gave new meaning to the lines of communication in my family. There was a lot of loss and grieving on my family's genogram," he said. "I also wrote down things I was grateful for; I definitely put my parents, my grandparents on both sides, and cousins and aunts. Being a deacon, I put people in my church, in my congregation, that I prayed for. I lost one of my kids earlier this year; I put a prayer in for him, and my other two sons."
After the retreat was over, Deacon Frank noticed a change in his perspective.
"It was transformational. I felt different. I felt more enlightened," he said. "It gave me an edge to my lens on how I see life. When you learn something about yourself, you gain a new perspective, and that was my experience on Sunday. Seeing parishioners that were at the retreat, we had conversations, almost like a continuation."
His reflection mirrored something that Parker touched on at the outset of the retreat. "Once our trauma is healed, you want to share it with someone else. You can't hold it," she said. "You want to go tell somebody and say, 'This is what I learned.'"
Healing together
Bishop Barry C. Knestout was in attendance for part of the retreat on Saturday, listening to Parker's talks on trauma and resilience. He also offered his own thoughts, reminding listeners that ultimately, God is the source of all healing.
"The presence of God and his Holy Spirit can help transform our attitude and bring the light of Christ into our interior lives to overcome our difficulties," said the bishop. "The Eucharist is that tangible communion, where we are joined with one another as Catholics and find the strength and nourishment to move forward."
Bishop Knestout then told a story about his trip to World Youth Day, including a seven-mile walk to his destination on the penultimate evening.
"There are some that want to speed ahead really fast, and others are struggling because it's not easy to walk, and the roads aren't so smooth," he said. "Part of the whole goal of that trip is to adjust – to those who want to speed up, maybe pull back, be patient and walk with everyone else. To those who are struggling, maybe make that extra effort to be with the whole group."
To move forward in our lives as Catholics, it is essential that we support each other, he said. He quoted Cardinal Wilton D. Gregory, who spoke about the differences of opinion at the Synod on Synodality, saying, "Well, we walk together."
According to Deacon Frank, building these community bonds was another fundamental aspect of the retreat. "Father Tochi wanted people to meet up and get to know each other," he said. "It was great to share our experiences."
"On Friday night, we had fellowship and conversations. We opened up – and a little wine helps with that, too," he added, laughing.
As Parker noted, communion is something we all need – especially in the context of healing. "Community is very important to us," she said. "It always has been. It's in our DNA."