(OSV News) – The end of a long-running Catholic pastoral care contract at a leading U.S. military medical center highlights broader concerns about the federal contracting process for such services, according to the U.S. Archdiocese for the Military Services and several lawmakers.
"The government cannot supervise a Catholic priest's ministry, so by extension, the government cannot hire a secular firm to do what the government cannot do," Elizabeth Tomlin, the military archdiocese's general counsel, told OSV News. "We've just turned ministry on its head. You have a secular firm with no interest in actually doing ministry (now handling) the contract."
On March 31, Walter Reed National Military Medical Center in Bethesda, Maryland issued a "cease and desist" order to Holy Name College Friary, a community of Franciscan priests and brothers in Silver Spring, Maryland, who have served service members and veterans at Walter Reed for close to two decades, according to the military archdiocese in an April 7 news release.
Walter Reed is one of several major medical centers operated within the U.S. Department of Defense and the Defense Health Agency, and, as such, falls within the pastoral jurisdiction of the military archdiocese. Walter Reed directed the Franciscan priests to halt religious services on its grounds, ahead of the church's commemorations of Holy Thursday, Good Friday and Easter Sunday, according to the military archdiocese.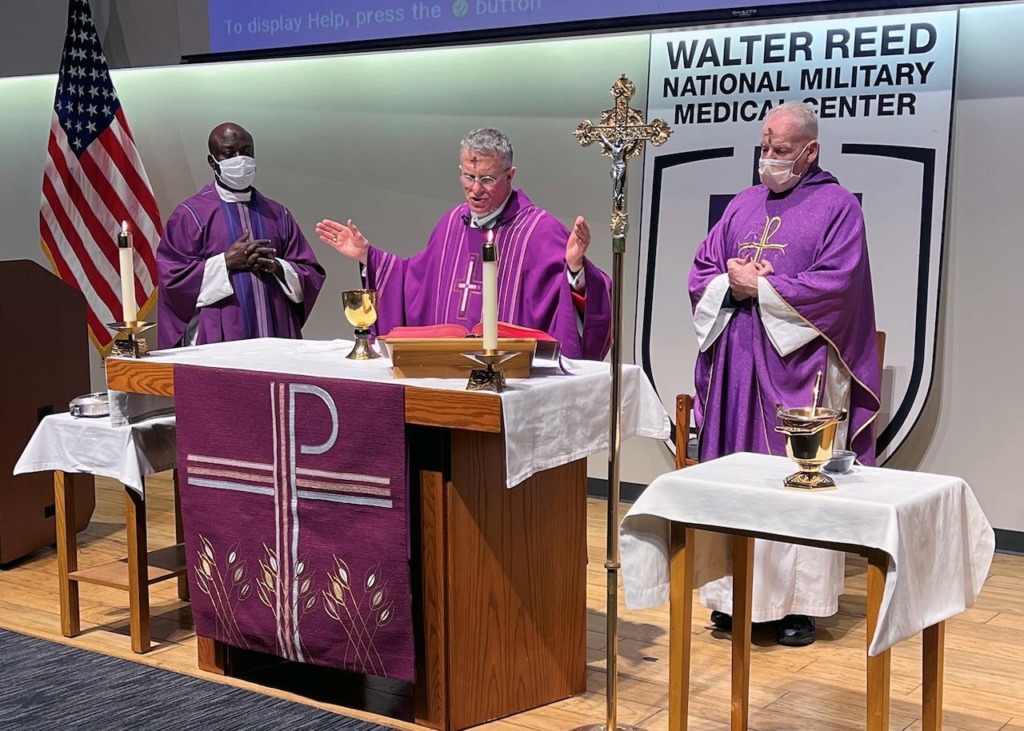 Archbishop Timothy P. Broglio, who leads the military archdiocese and also serves as president of the U.S. Conference of Catholic Bishops, said in the release that Walter Reed's decision was "incomprehensible," denying "essential pastoral care … (for) the sick and aged when it (is) so readily available."
In an April 11 statement emailed to OSV News, Walter Reed public affairs officer Rick McNamara said the contract "was not terminated" but rather had "expired," with the Franciscan friars fully aware of the contract's end date.
McNamara said the center issued an April 4 cease and desist order to the friars since they "continued to provide services beyond" the March 31 expiration date of the contract.
Tomlin told OSV News she had "asked in writing and (in) voicemails to several people within Walter Reed to … extend the Franciscan contract with a simple pen and ink change at least through Holy Week."
"The Department of Defense never responded to any of my communications," she said.
The archdiocesan release noted "there is one Catholic Army chaplain assigned to Walter Reed Medical Center, but he is in the process of separating from the Army."
McNamara said in his statement that Walter Reed "currently (has) an ordained Catholic chaplain on staff who is continuing to provide all of our Catholic services for the hospital." He added that Catholic liturgies throughout Holy Week were provided by the "active duty Army Catholic chaplain," who was "able to provide bedside service to all patients who were unable to attend liturgies in person."
McNamara said the new Catholic pastoral care contract was awarded to Mack Global, LLC, a secular defense contracting firm based in Mechanicsville, Virginia. The request for proposal was released between March 15-29, said McNamara, adding he could not provide a copy of the solicitation "for proprietary reasons."
Mack Global's website states the company provides "telework consulting services, administrative and religious staffing, transportation and roadway services, (and) professional development and training."
The "typical religious positions" staffed by the company include music directors and musicians for "Catholic services," as well as coordinators for Catholic religious education and youth, according to its website.
Tomlin said she "(did) not know what the definitive factor was" in the decision to reassign the contract. McNamara did not indicate a reason for the contract's nonrenewal with the friars, but simply said the contract "was up for rebidding."
According to Tomlin, the approximate amount of Mack's bid was "about $600,000," a number slightly less than that bid by Holy Name College Friary.
The total covers "a huge amount of (pastoral) work done by multiple people," she said. Tomlin added that "even the Walter Reed chaplain office, which covers all denominations, has said that it's at least a four-person job" to provide Catholic pastoral care at the facility.
Richard Breen, director of communications for the Defense Health Agency, advised he had received OSV News' list of questions on the Walter Reed contract reassignment, including the amount and terms of the contract, and would prepare a response.
McNamara said the "current pastoral care contract is under review to ensure it adequately supports the religious needs of our patients and beneficiaries."
The center "can provide Catholic services without a contract," relying on "an assigned active duty Army Catholic priest" in its pastoral care department, while "(leveraging) Catholic priests assigned to other Defense organizations within the region." He said three such Catholic priests are currently available, along with "Red Cross volunteers and other active duty chaplains assistants."
Following calls and emails placed by OSV News, Mack Global CEO Robin Mack said in an email that she did "not have a comment at this time."
Tomlin told OSV News the common practice of bidding out pastoral care for military personnel risks turning ministry into "a racket" – one that can diminish the quality of service while shortchanging those engaged in pastoral care.
According to Tomlin, some defense contractors frequently subcontract the work of Catholic religious educators and music ministers who serve at military chapels. Instead of paying a person with qualifications on par with standard expectations in Catholic parishes, Tomlin said defense contractors will often hire someone, such as a musician with no training in liturgical music or knowledge of Catholic liturgies, "for 30% of the price of the contract, leaving minimum wage for the job itself."
Although not a party to such contracts, the military archdiocese has at least been able to specify in the statement of work – which details the tasks to be performed by the contractor –that religious educators be certified by the archdiocese for both catechetical competence and safe environment training, Tomlin said.
But the "emerging" trend of "trying to bid out priests' contracts" poses a unique set of challenges, she stressed.
Permission for a Catholic priest to minister at Walter Reed or other military locations first requires official ecclesiastical endorsement from the military archbishop, who must complete Department of Defense Form 2088 certifying the priest is credentialed and qualified for an appointment within the military chaplaincy.
The military archbishop must also grant the priest the faculties to serve within the archdiocese, Tomlin said.
Archbishop Broglio said in the April 7 news release he "feared that giving a contract to the lowest bidder overlooked the fact that the bidder cannot provide the necessary service."
The case of the Holy Name Franciscans and Walter Reed shows the "disconnect … between a secular, for-profit firm trying to subcontract mendicant friars who give a professional service nobody else can give," said Tomlin.
Rep. Mike Lawler, R-N.Y., told OSV News the incident raises "questions about this process," which could result in "certain people not being able to exercise their faith."
"How we are doing this may need to be evaluated," said Lawler, who has called for Walter Reed to change its decision.
On April 11, Sen. Marco Rubio, R-Fla., and several Republican lawmakers sent a letter to Defense Secretary Lloyd Austin asking why the Franciscans' contract with Walter Reed had ended just before Holy Week.
"We have made promises to our service members and veterans that if they take care of us, we will take care of them," wrote the lawmakers. "This extends to not just providing quality healthcare at our nation's military medical facilities, but by also providing the ability to freely practice their religion to those under their care at these facilities."