The spirit of joy inside Our Lady of Perpetual Help (OLPH), Salem, warmed the hearts and faces of 75 area catechumens during the Rite of Election on Saturday, Feb. 25, as part of their journey toward initiation into the Church this Easter.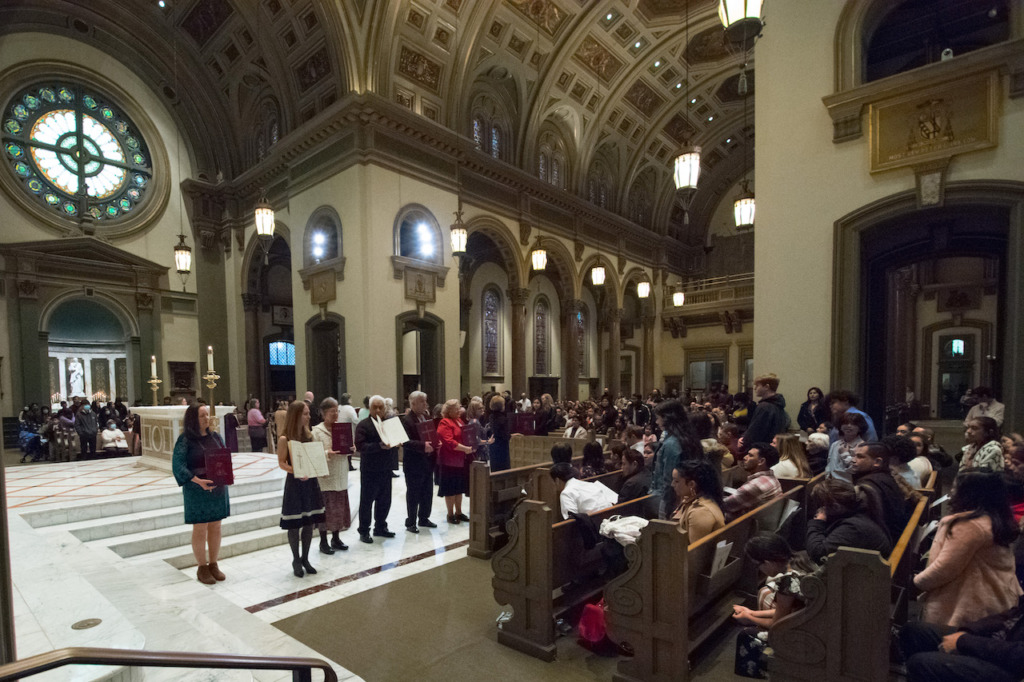 The pews were crowded with families, god-parents, friends, RCIA instructors and pastors
of the adults and children who represented 16 parishes across the Western Vicariate. Many of them drove hours through the icy winter rain to attend the celebratory rite, at which Bishop Barry C. Knestout welcomed the catechumens and "elected" them to be part of the Church. He also signed each parish's Book of the Elect, in which the catechumens had written their names.
"The Holy Spirit calls and speaks to us in our hearts; our hearts were made for God," said the bishop in his homily, addressing the catechumens. "So we may respond to God with generosity and joy."
The Western Vicariate Rite of Election in Salem was one of three across the diocese that weekend. The Central Vicariate's gathering was held that afternoon at the Cathedral of the Sacred Heart, Richmond, and the Eastern Vicariate's event was held at St. Pius X, Norfolk, the next day. All were offered in Spanish and English. In all, 495 catechumens from 73 parishes were recognized and blessed in the diocese over the week- end, and most were able to attend the rites. All the catechumens became the elect regardless of attendance.
Catechumens are those who are entering the Catholic Church and have not been baptized in another faith tradition. The Rite of Election is one of the important final steps before the elect receive their sacraments of initiation — baptism, Eucharist, and confirmation — during the Easter Vigil.
'Something to be proud of'
Kyah Yeoman, 19, of Salem was drawn to the Catholic Church after attending the Latter Day Saints Church (Mormons) for several years. Having some Catholic relatives meant the faith was familiar to him, said the Radford University freshman. He was further influenced by his best friend, Nick Louvet, 18, who also is his godparent and an OLPH parishioner.
Over time, Yeoman said, a deep, calm feeling "pointed to Jesus," which led him to a lot of research before deciding to enter the Church.
"I was drawn to the Catholic Church's several-thousand-year history, and its apostolic succession," he said. "It's easy to look back and trace that lineage back to the beginning of Christianity."
But the most important thing is the actual presence of Christ in the Eucharist, he said. "It's not a symbol; He is actually there. Nothing com- pares to that."
OLPH's RCIA coordinator, Sue Thompson, beamed at him.
"This is all God's work, and it's so exciting to think I had a little part in it," she said. "It builds my own faith even more."
Kevin Meza Garcia, 19, of Blessed Sacrament, Harrisonburg, became a member of the elect along with his brothers Avelino Marquez Garcia, 28, and Alex Meza Garcia, 17. Their parents, Manuel Meza and Maricela Garcia, were raised Catholic in Mexico, he explained afterward, but he and his brothers had not yet been baptized.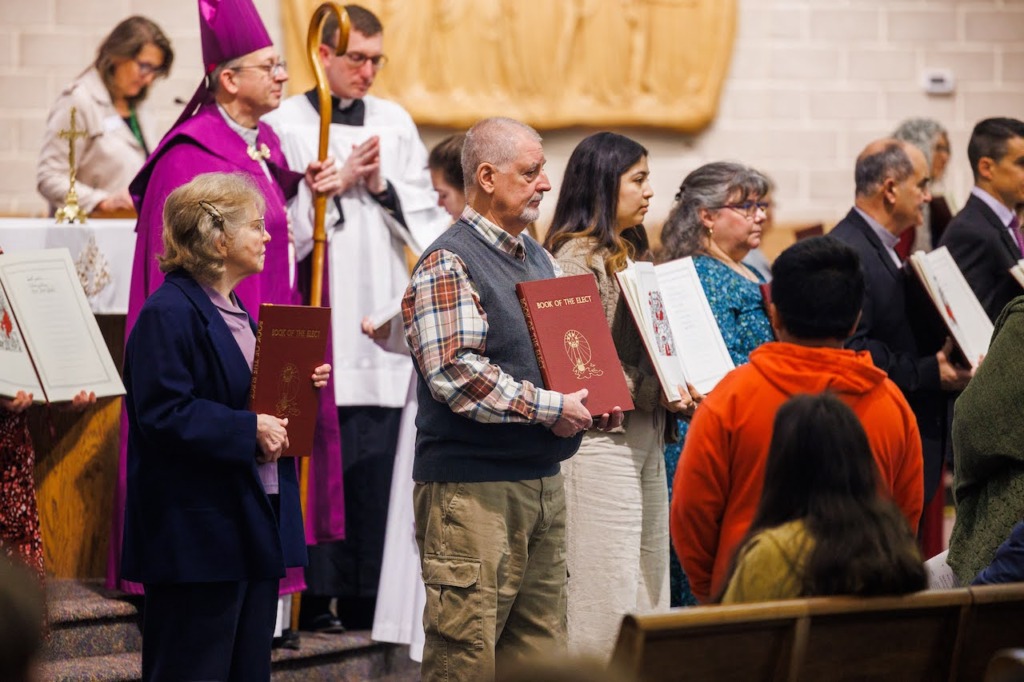 "It was exciting to be with all the people who came from far away, and to be recognized by the bishop," he said.
One of nine children, he and his large family drove in two vehicles from Harrisonburg to OLPH that day.
"And our aunt from Mexico will be here at Easter," he added. "It's pretty neat that someone from outside the country will be coming for our baptism."
Just as he is a student at Blue Ridge Community College – he hopes to major in engineering – he is likewise a student of the Church during this process.
"When you stick with the lessons you're learning, then you understand the Mass more," he said. "This is something to be proud of."
Kay Early, RCIA instructor at St. Mary the Mother of God, Wytheville, said she is likewise proud of the two catechumens in her care, Caleb Kovach, 8, and Mark Kallenborn, 10.
"They are both very engaged in the classes, and they really know their Bible stories," she said. "And they ask good questions, like: 'What is the difference between venial and mortal sins?'"
A convert herself, she has been teaching RCIA for about 20 years.
"I feel like this is a calling for me," she said.
Caleb Kovach paid close attention as he sat between his father, Jacob, and Early. Later, he said, "I'm excited about being baptized at Easter, and it was special to meet the bishop in person." He added that he enjoys learning about the Catholic Church.
"I like that they put stuff on the wall, like the Stations of Cross, so we can see the story," he said.
Although his mother, Mandy, and sister, Abigail, are not Catholic, they all attend St. Mary as a family. His father, Jacob, joined the Catholic Church last year.
"The Bible led me to it, and I studied the early Church fathers and what they believed and how they lived," he said. "I went to Mass a few years ago and it was completely different from other churches I had been to."
Headed toward Easter joy
Ellen Vanden Eykel, director of adult faith formation at Our Lady of Nazareth, Roanoke, noted how she has seen that parish's catechumens grow in their understanding of the faith.
"You can see how they're becoming comfortable at Mass, and I see them confidently making the sign of the cross,"she said."They're feeling excited about receiving the sacraments and becoming part of the Church."
The eight catechumens, all under the age of 14, were excited to be at the Rite of Election, too, she noted.
"And it was special to have (their pastor) Msgr. Patrick Golden sit with them," she said. "They are headed toward that Easter joy."
Teresa Lee, diocesan director of the Office of Christian Formation, attended all three diocesan events.
"With nearly 500 new Catholics, and after observing these three Rites of Election and hearing all the wonderful stories about how they have found the Church in their life journeys, my feeling is that the Catholic Church is alive and well," she said. "All of these people come to the Catholic Church willingly; this is their choice and they want to be part of it."
Lee added that in each church, she saw all the happy faces of those who are growing the faith.
"It was uplifting, and inspiring, and most of all, so joyful," she said.