A cooperative venture between the Diocese of Richmond's Office for Black Catholics and the Richmond parishes of St. Elizabeth, Holy Rosary and St. Paul, and All Saints School, Richmond, will address local, national and international topics relevant to the Black Catholic community and others.
With the theme "Our Church, Our Story: Black Catholic Identity and Culture," the Friday and Saturday, Nov. 5 and 6 spiritual retreat, underwritten with a $3,000 grant from the National Black Catholic Congress' Daniel Rudd Fund, will be held via Zoom and, for a limited number of people, in-person at the Rosalyn Retreat Center.
"It's not just for the Black community," according to Deacon Charles Williams, director of the Office for Black Catholics. "I want the rest of the diocese to say, 'Hey, there is a Black Catholic community in the Diocese of Richmond, and there is a history behind that — that they just didn't show up one day and be here," he said. "We've been here from the beginning of this diocese."
Calling the event an opportunity to "shine a light for everybody to see," Deacon Williams said that over the last 12 months he has learned what people don't know.
"They're shocked at the history of the African American Catholic community in this diocese," he said. "They're amazed at the tragedy of the late 1960s and early '70s when churches were closed for the sake of integration and it didn't work."
The deacon said that even though the Black Catholic community is small, "We're a viable, close-knit community, and it was centered around the Catholic faith."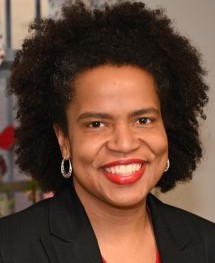 Dr. Tia Noelle Pratt, director of Mission Engagement and Strategic Initiatives and affiliate faculty, Department of Sociology and Criminology, at Villanova University, Philadelphia, is scheduled to be the keynote speaker.
Having received her doctorate from Fordham University in 2010, Pratt is an educator, researcher, and inclusion and diversity specialist. Her research examines the intersection of race and religion and the ways systemic racism impacts the experience of religion, including the Catholic Church as an institution.
The event will feature four breakout sessions:
Pratt will address racism in the Catholic Church and explore how the Church has responded to it.
Msgr. Walter Barrett, the first Black priest ordained for the Diocese of Richmond, Sister of Mercy Cora Marie Billings and seminarian Chase Imoru will speak about Black vocations to the priesthood and religious life.
Fathers Peter Naah, Tochi Iwuji and John Kazibwe and Comboni Sister Tiberh Hagos will speak about the Catholic experience in Africa.
Chloe Carter will lead a session on youth empowerment in which she will explain how they have a voice in the Church.
Bishop Barry C. Knestout will celebrate the closing Mass of the gathering, at 5 p.m. on Saturday at St. Elizabeth Church.
Editor's note: For registration details, contact the Office for Black Catholics by clicking here or by calling 804-359-5661.