When the junior class of Walsingham Academy, Williamsburg, experienced their Theology Service Day Retreat at Williamsburg House of Mercy (WHOM), it hopefully inspired them to make service to others a lifetime effort, according to organizers.
"From my point of view as campus minister, I think it's always about planting seeds" by giving students the opportunity to help the community meaningfully, said Steve DeLaney, who is also a theology teacher. "The other impact I hope it has is to open their eyes to people living in poverty in our own town."
He said each year the retreat aims to drive home Catholic social teachings — principles of human dignity, the call to participation and putting the needs of the poor and vulnerable first.
WHOM, an outreach mission of St. Bede, Williamsburg, is an independent non-profit that serves the homeless and others in financial distress in a variety of ways such as running food and diaper banks and helping the homeless find jobs and housing.
On Tuesday, Feb. 7, the nearly 40 students did the legwork needed for weekly food distributions and a monthly clothing and house- wares market. The food distributions keep food on 1,150 tables each month while the monthly market serves an average of 85 families per month. The students also participated in painting a mural in the warehouse to make it a warmer and more aesthetically pleasing place for the organization's 600-some volunteers and as a remembrance that the students had been there to help, explained Liz Buckley, WHOM director of development.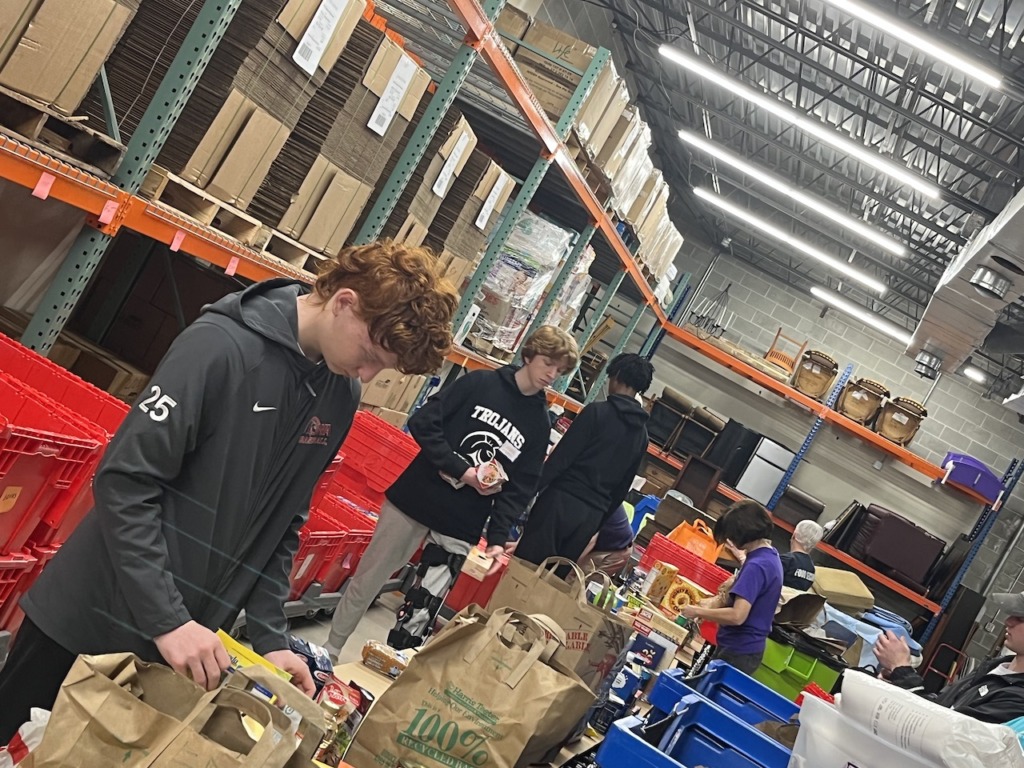 She said WHOM has partnered with Walsingham Academy for the past few years.
"It's important for the students to really understand that it's not just food; it's not just the shelter," Buckley said. "I think it's important for them to understand that people have problems that are much deeper" and "these service projects are a way to get them to really understand that."
Students confirmed the event was eye-opening and they were glad to be able to lend a helping hand.
"We got to help others who are in need, and it was just overall a pretty chill experience helping other people," said Will Patterson. "I think I will definitely be back in the future to help more."
Isabella Kennedy also enjoyed serving her community.
"It was a great experience for me because I got to get involved," she said. "It was really great just to know that I was making a little bit of a difference."
Alex Black appreciated the opportunity to "see the depth of the situation, especially in Williamsburg."
"I think it was nice that we were given the opportunity to see that we can help," she said. "I would definitely go back again and help if I am able."
Likewise, Kennedy, who said the retreat "shows me I have to further my involvement and work hard so that way all people can be benefited," affirmed, "not many people are aware of how prominent Williamsburg's homeless population is."
"Recognition is not something that should fuel your desire to give back. It should come from inside, the things that you have witnessed and you have seen," she continued. "Recognition should not be a driving factor, and each person should find their own motivation."
Students enjoyed their service day so much that at the end of the day many asked when they could return to do more. Plans are under way for students to help with WHOM's Easter basket preparations – a distribution expected to reach 600 children in the Greater Williamsburg community.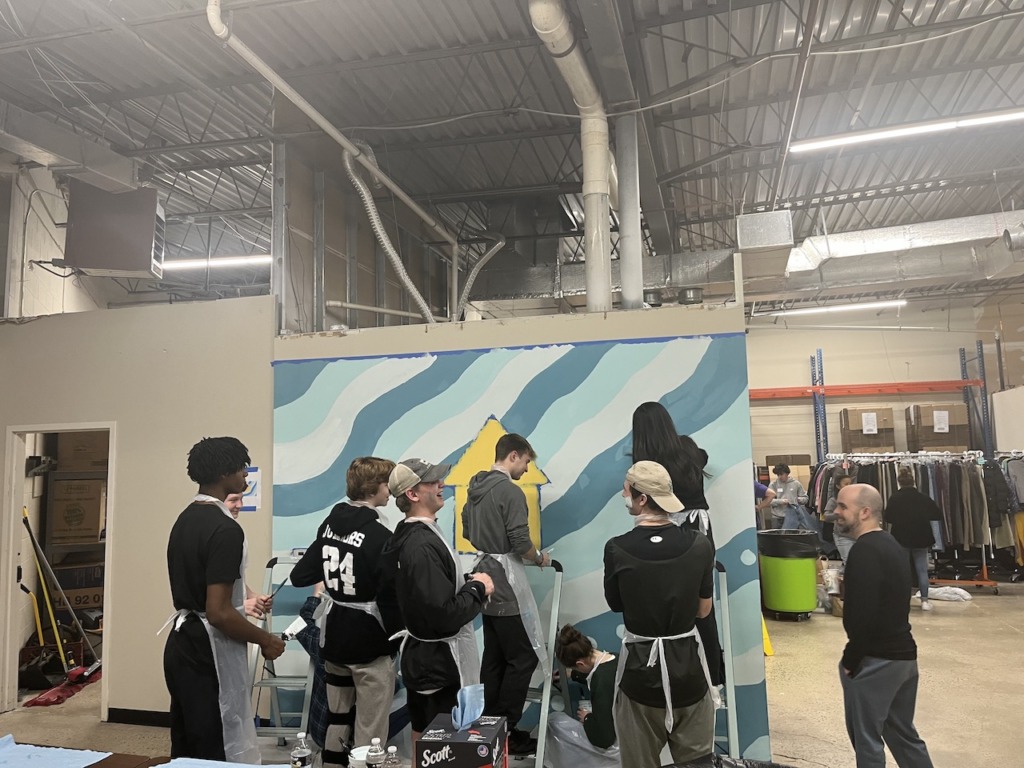 "We're finding the younger generation is eager to get involved and make a change in their community," said Shannon Wolosynowski, WHOM executive director. "If they start
now while in high school, there's a great chance it continues once they go to college. Even just recognizing a need for a change is an important step in being the change you want to see in your community."
Buckley said, "Knowing that a future generation can really start to step up and think outside of their own little bubble is really important to me, and I think that we achieved that with our partnership with Walsingham this time and previous times and future times to come."
Editor's note: Liz Buckley, from Williamsburg House of Mercy, contributed to this report. To learn more about Williamsburg House of Mercy and ways to volunteer/donate, visit their website here.