The call for Catholics to evangelize has been a constant in the Church for nearly 60 years. However, responding to that call requires an entity to have a plan and the resources needed to undertake that plan.
Father Dan Brady, pastor of St. Michael the Archangel, Glen Allen, had a plan. He wanted to send a copy of "Reading God's Word" to every parish family so that they knew their faith community was thinking of them and wanting to stay connected with them during the pandemic. The book contains all of the daily and Sunday Mass readings for the liturgical year that began on Nov. 29.
He also wanted to provide copies for St. Michael's sister parishes — St. Elizabeth, Richmond, and Holy Family in Appalachia — and to offer copies to those who visit the parish.
Logistically and financially, the idea initially seemed unrealistic, but that changed when the parish received a large bequest from Bettye Bales, a parishioner who died earlier this year.
"We didn't realize she was dying. That really upset me," Father Brady recalled. "We weren't able to minister to her at the very end. That's something I've been trying to make sure doesn't happen. So, with this, we wanted to make sure people knew her."
To this end, each book bears a label thanking Bales for her bequest so everyone knows the book came from her.
"I wanted to do something spiritual with her money; Bettye would want that. She'd love to be remembered for this," Father Brady said.
In August, the parish ordered 3,400 copies at a cost of $28,000 and quickly got to work planning the distribution and shipping. Mary Sue McClintock, the parish's director of evangelization; Kathleen Guarnieri, database coordinator; and Scott Guy, maintenance supervisor, were integral in pulling the project together.
Guy helped move the 170 boxes of books to give greater access to volunteers. He also took 100 of them to the post office daily until all were shipped.
"I think it is important that we get the books to our parishioners, especially in the world today, so they can feel connected to the Church during this difficult time that we are in," he said. "Prayer is the best way to stay connected to God and each other, always."
Guarnieri called herself "the behind-the-scenes coordinator." She coordinated the supplies for mailing and delivering the books and created neighborhood lists and shipping labels.
She and McClintock rallied staff members and parishioners to help in the endeavor. After people volunteered, it became clear that this wasn't just about delivering books but building a bridge to each other and to God.
"Recently we painted 'Alive in Christ' on our pavement so that people would feel alive when they entered the building, but also alive when they read God's Word, wherever they are," said McClintock.
That sentiment was carried through to parishioners in the form of a note from Father Brady that was inserted into each book. The note invites recipients to read along with the Scripture each week, as well as reflect on the meaning of the readings. He even suggested they write their own homily based upon the readings.
The books were organized and prepared, some for hand delivery and some for shipping. Volunteers wore masks and social distanced during the process.
In addition to mailing the books, St. Michael distributed the other 2,400 by other means. As part of a sprawling diocese, it was a challenge to get all of the books to their proper homes. Parishioners who were able to come to Mass had the opportunity to pick them up at church. Others were shared at Knights of Columbus and youth ministry group meetings. Hundreds more have been hand delivered to parishioners.
Traveling in pairs, 40 volunteers took a box of 20 books and left copies on parishioners' doorsteps. To stay healthy and safe, they never knocked on doors and always wore facemasks.
The response from the community has been outstanding. After being quarantined for months, volunteers were happy to be outside and doing something meaningful, and recipients are happy to spend some of their indoor time reading the Word of God.
Guarnieri said the project was not only a great form of outreach, but it built a bridge during a time when members of the faith community are experiencing separation.
The parish has received several notes and phone calls from parishioners who wanted to thank St. Michael for their copy of "Reading God's Word."
"It is a way to bring St. Michael to all those who have not yet been able to return. The emails and calls we have gotten from the parishioners who received the books have shown that many people have missed being at church," she said. "They are so grateful for this connection and knowing the church is reaching out to them and will be here for them when they are ready and able to return in person."
St. Michael's theme for this liturgical year is "Praying the Word." Even though parishioners can't pray together physically, they are connected in prayer and through this book.
"One of our tasks as a Church is to spread the Word," said Father Brady. "To me, I can't think of any better way to do this than this way."
---
Pastor pays outreach postage from stamp collection
While St. Michael Parish was able to purchase 3,400 copies of "Reading God's Word" for members of its parish and its two sister parishes, there was another cost associated with getting the book to parishioners: postage for the 1,000 copies that needed to be mailed at a cost of $3.86 each.
Father Dan Brady, pastor, had a solution. A stamp collector for 65 years, and with thousands of stamps accumulated over that time, he donated them to the parish in order to cover the cost of the mailing.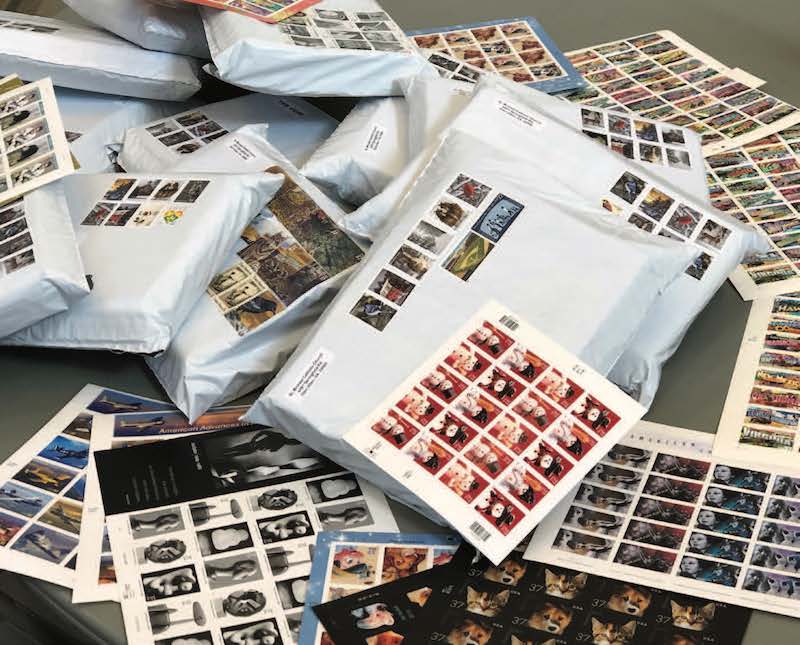 "When I realized this ridiculous number I've collected, I decided to use them," he said. "For me, it's perfect. They are being used to spread the Word."
Father Brady's love of stamps began with his grandfather. As a child, his grandfather would sit him down and show him his collection. Some stamps dated to the 1860s and 1870s. Those bore the actual signature of the postmaster. This fascinated the boy, and he has been collecting ever since.
When his grandfather passed away, Father Brady inherited his collection.
"I can still remember my grandmother taking me to the store and getting me a new stamp album," Father Brady recalled. "It was a very special way to start."
His interest in stamps ebbed and flowed during his adolescence but grew as he got older.
After finishing college, Father Brady joined the Peace Corps with whom he served in West Africa. There, he noticed the stamps were very different from stamps in the United States and started saving them.
He has since collected stamps from all over the world during his travels. Some have portraits, paintings, flags and monuments. All have a story to tell. He sees stamps as "miniature works of art."
Over the years, Father Brady kept buying sheets and books of new and distinctive stamps, never just a few. If a new stamp came out, he would go and get a book of them, even if he was not yet in need. He kept the unused stamps, and eventually grew his collection to more than 30,000 stamps.
When the decision was made to mail a thousand copies of "Reading God's Word," Father Brady knew his stamps no longer belonged in collection books, but on the packages spreading God's Word.
"One of the things I've always been particular about is that stamps should be used, not just collected," he said.
Mary Sue McClintock, the parish's director of evangelization, added, "He feels certain this was the reason he started collecting all along. He is excited to share this with the parishioners of St. Michael."
Minus the 10,000 stamps required for the mailing, Father Brady no longer has his stockpile, although he did keep one stamp of each design for his collection. He also kept his main collection of vintage, international and favorite stamps.
The reaction of the parishioners has made his donation completely worthwhile.
"It's been absolutely fantastic," Father Brady said. "We're going crazy sitting in our houses staring at four walls. Everyone is just so grateful for something to do."
He said the parish's theme for the year, "Praying the Word," and "Reading God's Word" was a perfect combination — a way to bring people together. He hopes readers will see that God invites everyone to come together as one and find peace in God's message.
"I think the world needs us all the more right now. We live, unfortunately, in a time when everybody is angry at everybody. We have a message of love to spread. It's in the Word, the books we pass out," he said. "We need to be messengers of that kind of peace and reconciliation."
— Kristen L. Byrd