No one is turned away in Roanoke
On a Monday morning in early February, Melissa Owen supervised the distribution of food at St. Francis House Food Pantry in downtown Roanoke.
Owen, who oversees the pantry, asked each client, "How many in your family?" — a number already verified by program assistant Redhab Abdulrezaq at the front desk — and packed boxes of non-perishables for them. She also directed them to take certain perishable items, such as one loaf of bread, one bag of apples, one package each of frozen chicken, beef and pork and "as many frozen apricots as you want."
Every month, boxes and bags of donated food — six to 12 tons, or more — stream through the door of St. Francis House Food Pantry, which is part of part of Commonwealth Catholic Charities (CCC).
Each weekday, people in need gratefully carry some of that food out the door: cans of green beans and soup, loaves of bread, bags of apples, boxes of macaroni and cheese and more. All of it is donated by local agencies, grocery stores and churches.
For those who are homeless and without can openers or a way to cook, Owen keeps boxes of pop-top cans, bottled water and easy-to-eat food for them. She also hopes to produce a recipe book to help people make good meals out of their assorted food.
"We don't turn anyone away," said Owen.
Although clients come only once a month, she and her staff know many of them, and they feel like a family.
"We don't judge anyone," she said. "Any of us can fall on hard times. We are all God's children."
'They simply don't have enough'
Some clients come monthly; some only once. The office keeps records of who visits, their family sizes and ages, and where they live — if they have an address. If they don't, Owen asks where they stay, even if it's under a bridge.
"That way we can try to help them," she said.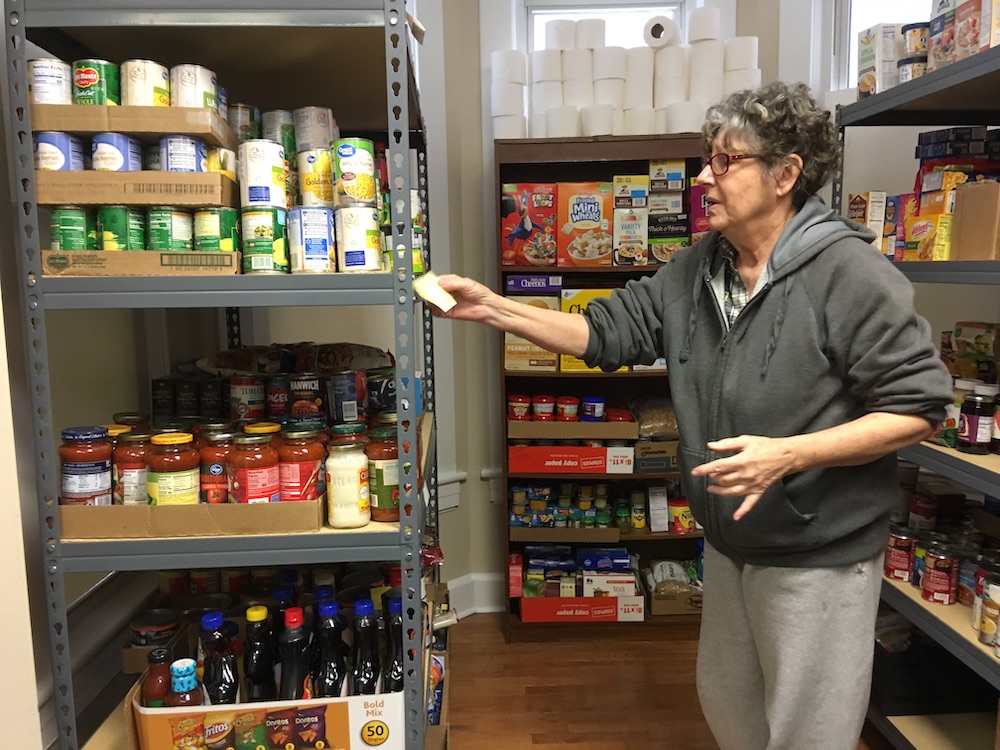 She also tells clients about CCC, which has services that include assistance for employment, housing, education, health care and financial counseling.
Some clients are unemployed, but many are simply underemployed, said Paige Peak, marketing manager for CCC in Richmond.
"It's a myth that these families aren't working. They simply don't have enough," she said, noting that their needs increase during summer when children are out of school.
"There is a sense of community between our clients and staff members," said CCC's Sid Alvarado, director of income and asset-building services in Richmond. "It takes away the embarrassment when people know each other and feel like friends."
A few clients are new refugees or immigrants, many of whom do not speak English. CCC staff members, such as education specialist Betsy Hale, bring them to the pantry to help them get food and other goods until they are established.
"We're serving a vulnerable population," she said. "I'm happy that this can make such a difference in their lives."
How growing needs are met
Since January, the pantry has been located at 836 Campbell Ave., which has more space for donations and offices. The pantry occupies the main floor; CCC offices are on the upper floors. The former location, 820 Campbell Ave., also houses the CCC office. With the pantry's growing needs, it made sense to use the nearby diocesan property, a large Victorian-style house, to expand.
Owens noted that the pantry served 1,670 individuals (548 families) in January. Since the closure of several other church-run food pantries, the need for food downtown has grown.
According to CCC, St. Francis House is the largest food pantry for those in need in the Roanoke Valley. It was founded in 1973 as an outreach ministry of Our Lady of Nazareth Parish, which was downtown at the time, to serve the needs of the inner-city poor. In 2010, CCC took over the operation of the food pantry after the managers retired.
On the first Tuesday of the month, the pantry receives a shipment of USDA food from Feeding Southwest Virginia (formerly Feeding America), averaging around eight tons per month. In January it received 10,000 tons from Feeding Southwest Virginia; in February it received 9,000 tons. The amount depends on the number of people served the previous month.
That is supplemented by donations from the four nearest Catholic parishes — Our Lady of Perpetual Help, St. Gerard, St. Andrew and Our Lady of Nazareth, which also donates fresh produce from its garden – and Windsor Hills United Methodist Church. BJ's, 7-11, Big Lots and Kroger, as well as individuals, also donate groceries.
The pantry receives household and personal supplies such as paper towels and laundry detergent; toiletries; pet food from the local SPCA; and diapers, clothing and shoes for adults and children.
Opportunity for all to help
Barbara Hairfield, coordinator for religious education at Our Lady of Perpetual Help, Salem, helps coordinate her parish's donations. Each month, parishioners can take home bags with a list of needs to be returned the next week. Catechism classes also donate, with each child bringing a single can of food or tube of toothpaste.
"This is a simple act of charity that gets right to the people who need it," Hairfield said. "And it allows all of us to participate."
"We get reports on the number of bags donated, and the parishes are very responsive," said Peak. "It's such an outpouring of love from the community."
Owen said the pantry accepts just about anything, as the need is so great.
"But we always need spaghetti sauce and noodles, meats (fresh, canned or frozen) and small bags of rice, as well as reusable shopping bags," she said, adding that volunteers are always welcome, "especially strong people who can lift heavy boxes."
Volunteers include Hawa Idriss, a former CCC client from Sudan who helps run the clothing closet, and Erlene Elliott, who does whatever is needed.
"I meet a lot of nice people here, and they're all different," Elliott said. "I love helping people."
For eight years, volunteer Maria Jacobs, a member of St. Andrew Parish, has picked up food donations from 7-11 stores every weekday and organized them on shelves.
"It's just something simple I can do to help," she said.
Often the clients themselves help, as one man did on this Monday. He caught frozen chickens that Owen tossed from a freezer and stacked them in a box on the floor.
"Lots of people just naturally help us and each other," Owen said. "And some people come back to help even after they don't need our services anymore."
Wallace Perry, a regular client with a heart condition, helped Owen fill boxes that day.
"They've always been so good to us here," he said. "God's been good to us."
Owen opened the door for him as he left.
"See you in 30 days," she said. "Have a blessed day."
For more information, visit cccofva.org.