When Eucharia Nnawulezi came to the United States from Nigeria in 1996, she said that she and her family were "very lucky" and feel blessed to be here. "We have met people who have made us feel welcome," she said.
That said, she noticed some differences in her parish life. "In Nigeria, you see 25 families bringing in fresh produce from their farms each week to the church," she said. "Growing up, I was a member of the Mary League and other groups. It is a culture based in community."
"The first time I saw a priest at a supermarket in the U.S., I was like, 'Father, what are you doing here?'" she added. "He said, 'I have to shop and cook for myself, too!' I was so surprised. In Nigeria, the priest will not have to cook because there are people that come and cook for him."
Growing up, Nnawulezi spoke Igbo, French and English. On Saturday, Aug. 12, she got to participate in a celebration that blended many different African cultures in the setting of Mass, followed by a community meal, at Holy Rosary, Richmond. For many Africans, it was a taste of home. For others, it was a chance to experience African Catholic culture.
"I continue to be impressed by how good it is to see all those cultures coming together. The way Mass is celebrated in the African culture reflects the joy we share with everyone – the singing, the dancing and the praise," said Cheryl Curbeam, coordinator of the planning team for the event and a parishioner of St. Elizabeth, Richmond.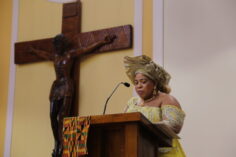 Readings, prayers and songs during Mass were in several African languages, including Kabyé, Ewe, Lingala, Igbo and Tsui, as well as English, French and Latin. Father Tochi Iwuji, pastor of Holy Rosary and director of the diocesan Office for Black Catholics, was the principal celebrant, and he was joined by eight African priests and deacons from around the diocese. Originally from Nigeria, Father Tochi has spoken both Igbo and English his whole life.
"In many local parishes, Mass is offered in the local language, but in the cities, it's done in English," said Father Tochi. "Most parishes have some Masses in English and some in local languages. English is the official language of Nigeria, and the easy way to communicate with people because there are so many local dialects."
At the African Mass, Nnawulezi had the opportunity to proclaim the first reading in her native Igbo. A missal in English helped others follow along to Deuteronomy 6:4-13, in which Moses admonishes the Israelites:
"You shall love the Lord, your God, with all your heart, and with all your soul, and with all your strength. Take to heart these words which I enjoin on you today. Drill them into your children. Speak of them at home and abroad, whether you are busy or at rest. Bind them at your wrist as a sign and let them be as a pendant on your forehead. Write them on the doorposts of your houses and on your gates."
"When you believe in your faith, and you're not just saying it, you act upon it," said Nnawulezi. "When you live out what you speak, you defend it, just like the Israelites."
"I don't just go to church on Sunday and go home," she added. "I proclaim the Church. If you believe in what you're saying, you live it out and you have no problem."
In his homily, Father Tochi expanded on the theme of staying true to the message of the Gospel outside of Mass. He opened with a reference to Jesus' declaration that Christians are the salt of the Earth. "When we as disciples stop sharing our witness, we become like the salt that loses its taste," said Father Tochi. "We say, 'I don't want people to think I am crazy.' Why can't you be crazy for God?"
"We receive sacraments publicly," he added. "You are publicly saying, 'Yes, I am proud to be part of this family of God.'"
"The beauty of life lies in the differences of our diversity, and the challenge is living in such a way that it nourishes our common good and our common humanity," he continued. "You hear people say, 'Those people are too loud. Those people are this and that. Why should we worry about those people from that place?' And then you remind them, 'You are talking about yourself, because we are a common humanity.'"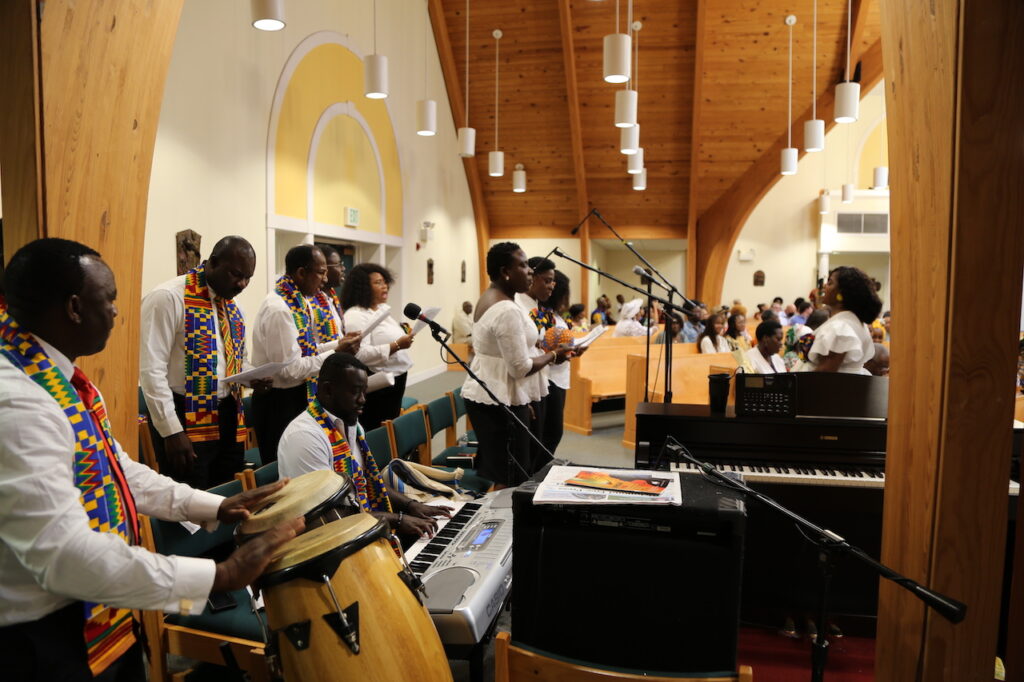 During the Eucharist, a choir from St. Elizabeth featuring young women from many African nations sang a hymn of praise. As Mass concluded, a hymn in French and Tsui resounded from the joyful congregation and members of the choir led a dance in the reception hall.
"It helps me appreciate the global nature of our Church," said Curbeam. "It also helps me appreciate how challenging it is for those that choose to come to the U.S. and have to celebrate and worship only in English. This is an experience of what it would be like for them back home."
After Mass, it was time to eat. Many families brought in traditional dishes from their own cultures. Nnawulezi brought chin chin and jollof rice, two dishes common in Nigeria. There were also yams, chicken, plantains, fresh fruit and akara, a West African beancake dish. "We have similar food," said Nnawulezi, "but we cook it differently, and it tastes different, too."
Nnawulezi and her husband brought two of their children along. They have other children currently preparing for careers around the country – a Ph.D. student in California, a medical student in Tennessee, a computer science student at Old Dominion University, a student in law school and a student in engineering school. She credits their formation in the Church with their burgeoning success.
"I had to bring them to the Church," she said. "I taught them: say your rosary. Say your morning prayers. Thank God before you do anything and make that your basis."
Her sentiment echoed what Father Tochi preached in his homily. "Jesus says, 'You are the light,'" he said. "Not that you look like the light. Not that you can be the light. Not that you ought to be the light. But you are the light – which means that you have a job to do."