Charles Anderson Sr. reflects on century of living
"You shall love the Lord, your God, with all your heart, with all your being, with all your strength, and with all your mind, and your neighbor as yourself" (Lk 10:27).
For a century, Charles Anderson Sr. has loved God and loved others, and on Feb. 8, his 100th birthday, he felt all that love reflecting back to him.
An original member of St. Gerard, Roanoke — the first and only Black Catholic parish in southwest Virginia — Anderson was honored on his birthday with a special Mass and celebration at the church, which he helped to establish in 1946.
"I love this church so much," Anderson said at his home before the event. "I have a personal love for it that goes back a long way."
He is a veteran of World War II, an award-winning Master Gardener and a longtime volunteer in community activities, especially in the historic black Melrose-Rugby neighborhood near the church, where he still lives.
But helping to build St. Gerard Parish is one of his proudest accomplishments, he said. He has served the church as a parish council member, Grand Knight of the Knights of Columbus, Bingo fundraiser and organizer of youth sports teams, which brought football and baseball to the neighborhood, and photographer.
"He was at every event," said Jim Allen, parish business manager.
During the Mass, Father Ken Shuping, St. Gerard pastor, read a letter to Anderson from Bishop Barry C. Knestout that noted his achievements, extolled his "fruitful life, blessed by faith and generosity," and honored his "courage, character, deep faith, and service to God and country."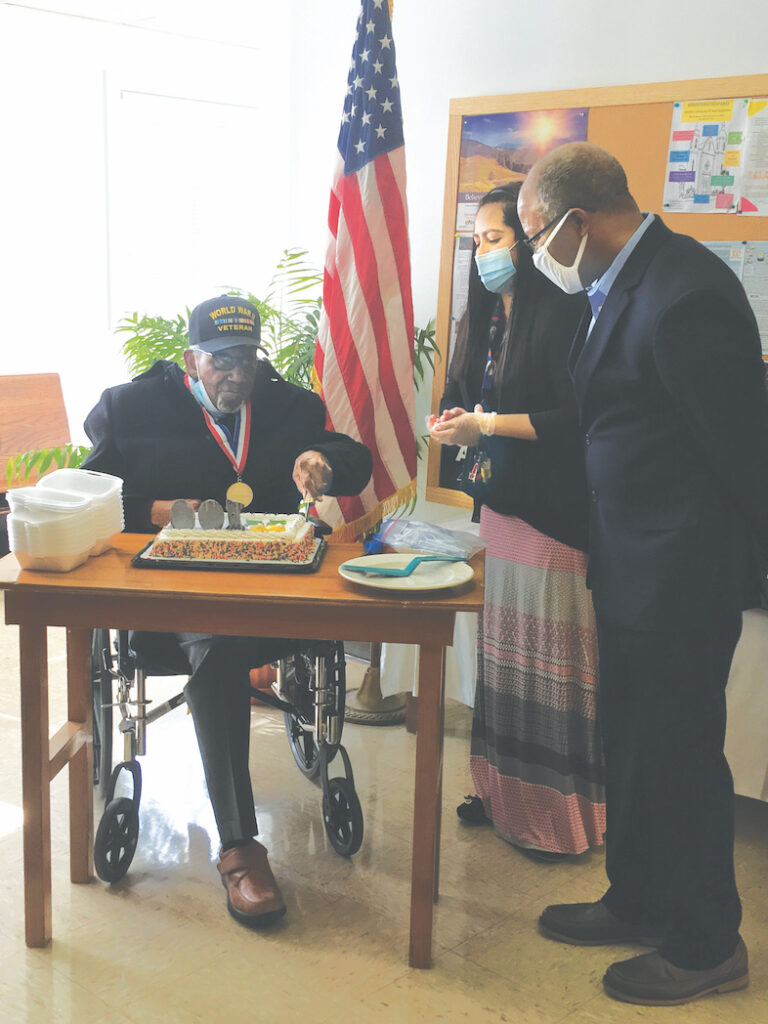 Surrounded by friends and family, Anderson also was honored with a proclamation from Roanoke City Mayor Sherman Lea naming Feb. 8 "Charles William Anderson Sr. Day." The proclamation was read by city council member Stephanie Moon Reynolds.
In his homily, Father Shuping said to Anderson: "We give thanks for your life and the many ways you've responded to God's call to be there for all those around you. We thank you for your example to us. May the Lord continue to bless you and may you always find peace in our Lord and Savior."
'Help others'
When reflecting upon his long life, Anderson has a simple, faith-based credo.
"My big thing is love — love one another, because miracles happen through love," he said. "And do some good to help others whenever you can."
Born into a Baptist family, Anderson was drawn to the Catholic Church at 25. He met Redemptorist Father Maurice McDonald, sent to establish a mission church for the Black community in Roanoke, who would become his longtime friend.
"He had a big influence on me and made the Catholic Church so appealing," Anderson said. "We were almost like brothers."
Anderson was part of the small group gathered for the first Mass in October 1946 in a house on Moorman Road that would become St. Gerard Parish.
Food and flowers
Anderson was born in Kanawha, West Virginia, in 1921, to Claude, a coal miner, and Jeanette, a homemaker. The family moved to Roanoke when Anderson was a toddler. As the youngest of the couple's three boys, he spent a lot of time at home with his mother, who taught him how to cook and garden — two skills that would shape Anderson's life.
For 35 years, he worked in the kitchen at the Salem Veteran Affairs Medical Center as the cook foreman before retiring. Outside of work, he also was known for his culinary creations, especially his lemon pound cake.
Anderson also became a champion rose-grower, and, as a member of the Roanoke Rose Society, once tended more than 200 rose bushes in his home garden. Many of his roses won blue ribbons.
"He makes the world more beautiful, and he is so full of life," said Tomeka Moore, a nurse and family friend who is his daily care provider.
Anderson still lives in the home where he and his late second wife, Ruth, raised son, Charles Jr. Despite losing part of a leg to an infection and needing a wheelchair, Anderson never complains.
"Every day he says, 'I feel good,'" Moore said.
Leads by example
At the celebration, Anderson's niece, Mildred Harris, signed a red poster-sized birthday card for her uncle, along with her sisters Charlene Lightfoot and Cassandra Carson, all of Roanoke. Their father was Anderson's brother, James.
"He is just a wonderful man," Harris said. "He loves life and is always praising God."
Father Jose Arce, St. Gerard's parochial vicar, organized the event with parishioners Will Sparta and Allen.
"He keeps the faith and is always in a happy mood and ready to help," said Father Arce. "I would like to follow his example."
Charles Jr. also tries to follow that example.
"He always wants to do the right thing," he said. "I try to copy him. He lives by his trust in God."
At 71, Charles Jr. still seeks his father's ideas about life.
"His mind is so good. I can still turn to him and ask him advice about things," he said.
Inspired by his father's life of service, Charles Jr. also worked at the Veterans Affairs Medical Center as a nurse's aide for more than 30 years; they were there briefly at the same time.
Most of all, he said, he is proud of his father for all he has done — especially in helping establish St. Gerard Parish and assisting in its growth.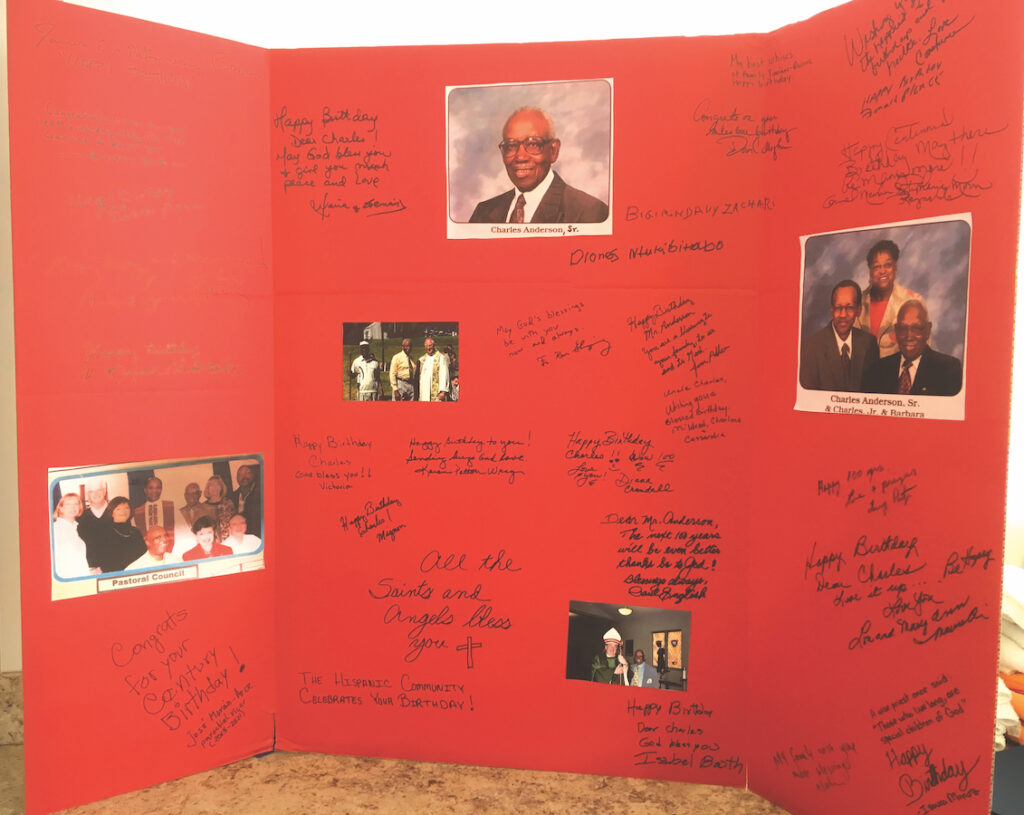 "Most Black people around here weren't Catholic; this was unusual," said Charles Jr., who is also a parishioner. "He is so proud to be a founding member of this Black Catholic church."
Thankful for everything
St. Gerard — now a diverse parish of Hispanic and white families, as well as Black, including many from Africa — is known as a church that welcomes everyone.
"I have never seen anybody so thankful to God for everything," said Sparta, who visits him weekly at his home, where they sit outside in nice weather.
Sparta recalled how Anderson tutored African refugees when they first arrived in the area, and how he took Communion to veterans at the VA Medical Center on Sundays.
"He really walks the walk," Sparta said.
Father Shuping noted how rare a treasure is a parishioner who can recall 75-year-old church history after having been there.
"You have always ensured that St. Gerard's is a place of worship for all peoples," he said in his homily.
Anderson choked up as he thanked everyone gathered for his celebration.
"I love you all," he said.
On his 100th birthday, he embodied his belief: "Love one another; it pays off and comes back to you."