McMahon Parater Scholarship Foundation provides opportunities
It's a familiar sight in Petersburg: dozens of children walking down the street in two straight lines. From a distance, they all look alike in their matching blue and gray clothes, but they are anything but uniform.
These are the students of St. Joseph Catholic School, one of the most diverse schools in the Diocese of Richmond. Here, the student population is roughly one-third black, one-third white, and one-third Hispanic.
Many students come from lower to middle income families who would normally be unable to afford Catholic school. However, thanks in large part to scholarships from the McMahon Parater Scholarship Foundation, the majority of the students at St. Joseph received some form of financial aid.
"We do everything we can to ensure that cost never stands in the way of a student receiving a St. Joseph School education," said Kathryn McElheny, development and enrollment director of St. Joseph, "and this would not be possible without the McMahon Parater Scholarship Foundation."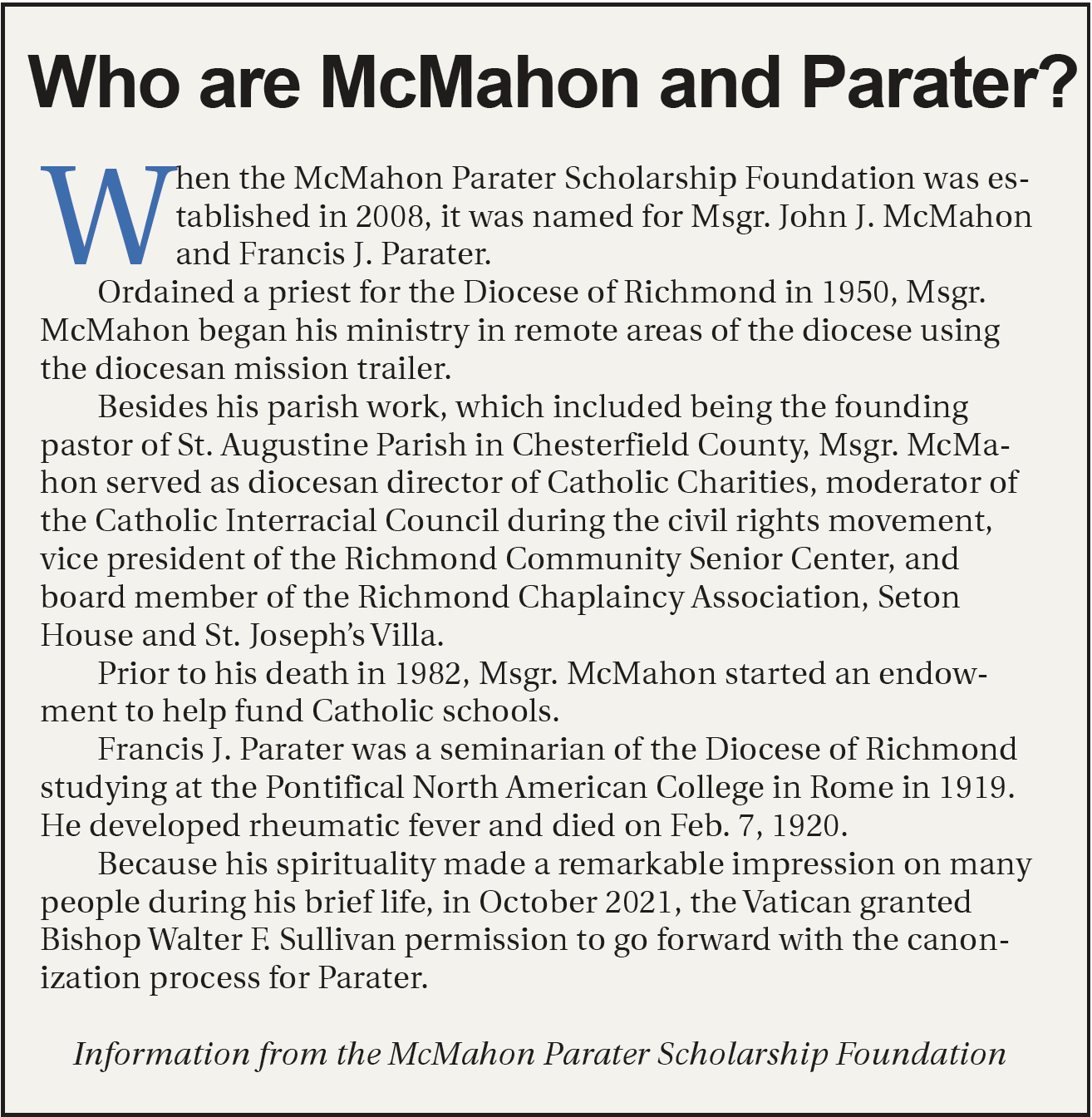 Overcoming biggest obstacle
The MPSF, established by the late Bishop Francis X. DiLorenzo in 2008, is named for Msgr. John J. McMahon and Francis Parater (see accompanying story). Equitable education was one of the bishop's top priorities, according to Joyce Schreiber, director of the foundation.
"He kept hearing the biggest obstacle for parents in sending their kids to Catholic school was the cost," she said, noting that Bishop DiLorenzo worked closely with advisors and the Virginia Catholic Conference to create the foundation and to get it approved by the state legislature.
MPSF functioned as an endowment until 2012 when the Virginia state legislature created the EISTC (Education Improvement Scholarships Tax Credits) program. The MPSF became one of the first foundations to be part of that program.
"This program is a quicker turnaround in the sense that the money people donate does not get put in an endowment. Instead, it's held for a limited amount of time. By law, scholarships have to be given out within a year of donation," Schreiber explained.
In addition, the state government gives 65% of the donation back to the donor in tax credits, which is a huge draw for potential donors. As Schreiber explained, the average scholarship is $5,000. With the EISTC program, donors get $3,250 of that back in tax credits.
Scholarships go to individual students, not schools. For the 2020-2021 school year, the MPSF provided $3,554,696 in scholarships to 1,134 students through the EISTC program.
'So much better'
After COVID-19 hit and public school was moved to all virtual learning, single mother-of-three Alison Devereaux-Smith was struggling to cope. Already on food stamps, she knew she couldn't afford to quit her job and stay home with her seven-year-old son, Benjamin.
She did some research online and found that the Diocese of Richmond was keeping its schools open for in-person learning. A product of Catholic school herself, she loved the idea of her son attending one, too. When she saw the cost of tuition, her heart sank, but a glimmer of hope followed when she saw that St. Joseph offered financial aid.
"I will never forget when I got the phone call," Devereaux-Smith said. "I literally started crying — because he could actually go! It's been unbelievable! Everything has gotten so much better."
She described her son as someone who now loves school so much that he gets upset on the weekends because school is closed. Not only is the rigorous academic program affecting her son, so is the renewed focus on faith.
"He gets a moral compass," Devereaux-Smith said. "Emotions are nurtured. I always tell him to be good and do good. To have that reiterated in the classroom on a spiritual level is invaluable."
She also values the St. Joseph community.
"I love the diversity, I love Petersburg, I love St. Joseph," Devereaux- Smith said. "It's a beautiful community with some of the nicest people I've ever met in my life. It's such a rewarding place to live."
Benjamin is one of 130 students at St. Joseph, where 55% of the students qualify for the MPSF EISTC program, meaning they are at or below 300% of the poverty level.
For 2020, this means a family of four qualified for the program if their income was less than $78,600. The 2020-2021 school year saw $205,000 awarded in EISTC funds, a new record for the school.
"Catholic identity is at the center of everything we do at St. Joseph School, and I see first-hand the impact that has on the entire school community," said McElheny. "Parochial education meets the needs of the whole student — academically, emotionally, spiritually and physically. They are set up for lifelong success with a strong sense of values and discipline."
Providing a 'positive environment'
Jeannie McIntyre's youngest child, Jonathan ("Jack"), was struggling in public school. She and her husband were going through a divorce, and it impacted Jack's studies. Her older children went to public school, but Jack needed extra attention, patience and help. A friend suggested visiting Roanoke Catholic School, and Jeannie soon felt it was the right place for her son to be, if only she could afford it.
"The tuition was a huge obstacle," McIntyre said. "As a single mother, it would have been impossible to send Jack to RCS if I hadn't received financial aid."
The MPSF provided Jack the opportunity to attend RCS. Since then, he has thrived.
The smaller class sizes and individual attention made a huge impact on his academics, but McIntyre credits the faith-based learning the most.
"We are a Catholic family and look to the school to provide a learning environment that supports and reinforces Catholic values," McIntyre said. "These days, parents need all the help they can get to keep their kids on track. Jack knows his Catholic faith and is growing in it every day."
Jack, now in seventh grade, concurs.
"I have made good friends, I am challenged and encouraged to learn, succeed and be a good person," he said. "It is a positive environment to grow and learn, the teachers are patient, caring and will always help you when you are struggling."
'Powerful moment'
Nana Minayev was born in the Republic of Georgia before immigrating to New York as an exchange student in 2000. She soon met her husband, Mike, who is from Russia, and they married in 2001 shortly after the 9/11 terrorist attacks.
Mike enlisted in the Navy and was stationed in Norfolk. He was deployed overseas when Nana gave birth to their first child, Alexander, in 2004. They relocated to Fort Lauderdale for a few years before returning to Norfolk.
Minayev said she was "shocked and devastated" after visiting public schools in the area. She then toured St. Pius X Catholic School and fell in love.
"We felt like we were home," she said.
The only thing standing in their way was money, or lack thereof. She applied for financial aid and prayed. Soon after, she learned her family would be receiving assistance from the MPSF.
"I was jumping for joy!" she recalled. "It is such a powerful moment when you learn that someone who does not even know your child is willing to reward him with such a gift."
The Minayev family was welcomed by the community. Alexander excelled in school, becoming an honor student and joining choir and the basketball team. All three of the Minayev children are now in Catholic school, each of them awarded some type of financial aid. Their daughter Vivien is in sixth grade and Letizia is in first grade.
"Paying for tuition is always an obstacle," said Minayev. "Every year during re-enrollment, we trust God will be able to provide."
Nana and Mike were members of the Eastern Orthodox Church but decided to convert to Catholicism after attending Mass and community events at church and school. After completing RCIA classes, they received confirmation as a family.
Alexander, a junior at Catholic High School, is thankful for the impact Catholic education has had on his life.
"I am blessed to have parents, CHS teachers, members and staff who support my decisions and allow me to continue my Catholic education. I love the way our faith unites so many different people regardless of their religious views and their ideas," he said. "Being close to Christ not only by faith, prayer and attending Mass, but volunteer work that strengthens the very core of my beliefs and helps spread the message of Jesus Christ."
'Really make a difference'
Schreiber stated that while the need for aid increased last year, so did the number of those willing to help.
"One thing we found during the pandemic is that people have become very generous and are thinking about their priorities," she said. "My job is to help facilitate donors who want to figure out a way to make a difference with their donation, and this program is a way they can really make a tangible difference in a child's life."
The parents hope the scholarship support continues.
"I pray the funding stays. I really do," said Devereaux-Smith. "This has been life-changing. I can't imagine what it would be like now without it. I will always be grateful."
Editor's note: For more information about the McMahon Parater Scholarship Foundation or to donate to it, call (804) 359-5661 or visit the organization website.