Msgr. Joseph P. Lehman III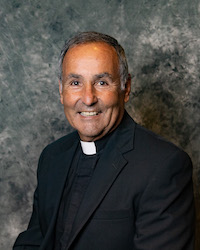 A funeral Mass will be celebrated for Msgr. Joseph P. Lehman III at St. Bede, Williamsburg, on Monday, Dec. 19, 2022. Msgr. Lehman, 68, died on Tuesday, Dec. 13.
A native of Newport News, Msgr. Lehman attended St. Mary Star of the Sea School, Hampton, and was a 1972 graduate of St. John Vianney Minor Seminary, Richmond. He received his bachelor's degree from St. Meinrad Seminary and School of Theology in Indiana in 1976. He continued his formation at the Pontifical North American College in Rome, graduating in 1980, and was ordained a priest for the Diocese of Richmond on Aug. 16 of that year.
Work through the Virginia LARCUM (Lutheran, Anglican, Roman Catholic and United Methodist) Committee, on which he served as ecumenical and interreligious officer, and the Virginia Council of Churches was an integral part of Msgr. Lehman's ministry. He was given the pontifical honor of being named a monsignor in 2002 for his work in this area.
In July 2019, Msgr. Lehman was named pastor of St. Bede, Williamsburg, where he was serving at the time of his death. He was also rector of the National Shrine of Our Lady of Walsingham, Williamsburg, since August 2019.
His previous pastorates include Holy Cross, Lynchburg (1980-1984); Resurrection, Moneta (1984-1988 and 2005- 2009); Holy Name of Mary, Bedford (1984-1988); Christ the King, Norfolk (1988-1997); Our Lady of Nazareth, Roanoke (1997-2019); and St. Francis of Assisi, Rocky Mount (2005-2009).
He is survived by his mother, Beverly Lehman; sisters, Ann L. Hart, Chris M. Clark and Teresa J. Lehman; brothers, John T. Lehman and Tim J. Lehman.
He was preceded in death by his father, Joseph Lehman Jr.