Ascension parishioner Helen Meima's advice is 'love the Lord'
Helen Meima, a parishioner of Church of the Ascension, Virginia Beach, is a firm believer in looking for reasons to celebrate.
It's been true of her from the very beginning. She was born five minutes to midnight on Oct. 19, 1921, she said — so close to the moment of the clock joining hands that the nurse in attendance recorded the date as Oct. 20 on her birth certificate.
"It can be a problem, today," Meima admits, "but I've always liked to look at it like I have two birthdays. An excuse to have an extra party."
On Tuesday, Oct. 19, 2021, about 50 of her friends and family gathered in a sun-lit room of Marian Manor, the Virginia Beach assisted living home in which she resides, to celebrate the "first" of her 100th birthdays — with champagne, balloons, cupcakes, dancing and music brought by fellow parishioner Frank Cubillo, a Frank Sinatra tribute singer.
"Gratitude is a great word that describes Mom," Meima's daughterin- law, Karen O'Reilly, said. "She lives gratefully and is ever-aware of her many blessings."
"She's an inspiration is what she is," Cubillo said, gesturing around the crowded room. "You can see just how many people love her."
After her eldest son, Jimmy O'Reilly, honored her with a toast, Meima was clearly moved —both laughing and growing a little mistyeyed, too.
"I didn't expect such a party; I can't even tell you," she said. "All I can say is, 'God bless everybody.'"
Life filled with love, faith
In her upstairs apartment, Meima displays a teddy bear given to her by her great-grandson that, with the touch of a button, sways to the beat of her favorite song, Frank Sinatra's "New York, New York."
Just as the lyrics sing the praises of "making a brand-new start of it," so Meima, too, has met 10 decades of new starts, marked by joys and sorrows, with love, faith and a cheerful heart.
Born in Brooklyn, New York, as Helen Downey, Meima grew up in St. Francis of Assisi Parish, where she lived with her mother, Emma, her father, Frank, and her two sisters and two brothers.
"We had so much fun growing up," she said. "We lived not far from Prospect Park, where the Brooklyn Dodgers played. If we couldn't get in, we used to watch through holes in the fence."
After high school, she went to work as a waitress at Stouffer's Restaurant on 5th Avenue. It was there that she met her first husband, Jimmy O'Reilly, who was working as a bartender.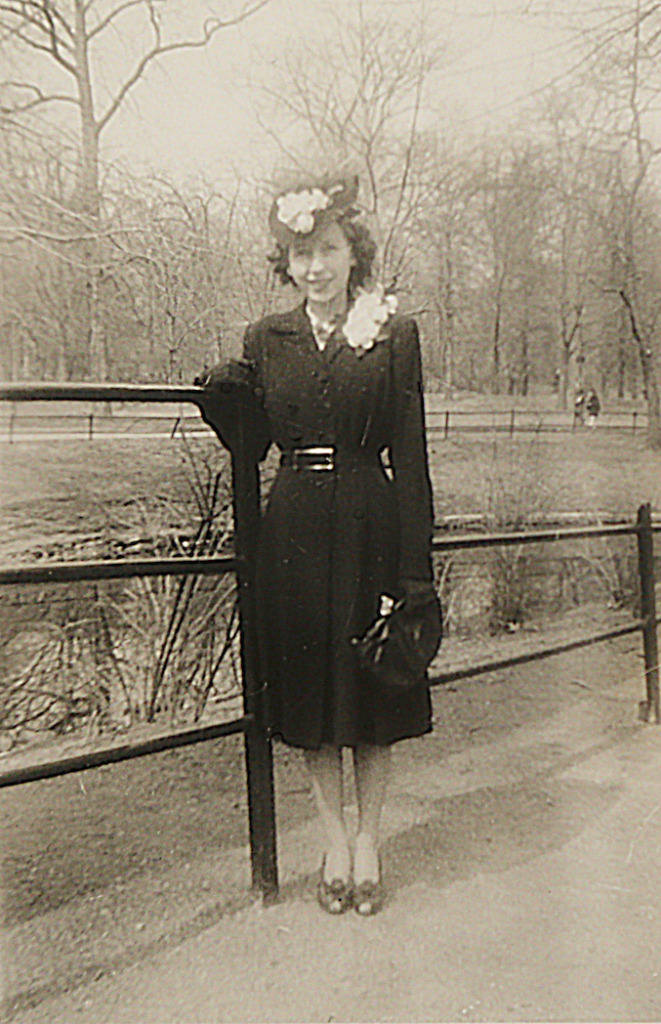 "It was all cocktails in those days," she said. "All sorts of complicated mixers and different glasses. He would laden up the tray, and I could carry it all without spilling a single drop."
Because his shift ended before hers, she said, he returned to the restaurant each night to see her safely home.
"You'll never know how good he was," she said.
She and O'Reilly married in 1942, shortly before he enlisted with the Marines and joined the war effort. In the meantime, Meima began a new job with AT&T, working in the drafting room, where she set type for corporate manuals and publications and trained new employees.
"Women were just beginning to work there, as so many of the men were away," she explained.
Once her husband returned from the war, she left AT&T, and the couple went on to have three sons —Jimmy, Bob and Rich. But in 1949, her world changed when her husband was killed in a car accident.
"My youngest was just 4 months old," she said. "So I had to figure out: 'What am I going to do?'"
'You never know'
Meima credits her mother and her faith for helping her through the next few, difficult years. She returned to work at AT&T, and her mother, then widowed, came to live with her to help her with her children.
"I loved my mother so much," Meima said. "She did such a great job with my boys. And they'd do anything for their grandma. I always like to say, 'If my mama ain't in heaven, ain't nobody in heaven.'"
"The Lord has always looked out for me," she added. "I never needed for anything. If I ever needed an extra penny, I always got the chance to pick up some overtime."
Meima remained with AT&T until her retirement in 1985, when she moved to Bonita Springs, Florida. There, she ran into Elmer Meima, a former coworker. The pair married in 1987.
The couple enjoyed spending time on the beach, Meima said, and out in their small boat, fishing.
"I never baited a hook before I moved to Florida," she said, laughing. "So you never know. There's always something new."
They were also active in their parish, volunteering with RCIA and Meals on Wheels, until Elmer passed away in 1994.
"The Lord gave me two husbands," Meima said. "I didn't get to keep either one for very long, but they were both so very good to me."
'Just love the Lord'
In 2008, Meima moved to Virginia Beach to help care for her older sister and to be closer to her three sons, whose careers in the Navy had brought them each to Hampton Roads.
When she first visited Church of the Ascension, she said, she knew she had found her parish home.
"I can't even tell you how they greeted me. Everyone was so welcoming. I said to myself, 'This is my church.'"
Today, Meima has five grandchildren, 11 great-grandchildren and three great-great grandchildren. At Ascension, she is a member of the Rainbows, a group of seniors who meet to socialize and to organize fundraisers for the parish. She also volunteers with a group at Marion Manor who assemble teddy bears for paramedics to distribute to children in emergency situations.
"I've got so many memories," Meima said. "My best were when my sons were born. I wouldn't trade them for anything. And my daughters-in-law are just out of this world."
Her secret for dancing all the way to age 100?
"Just love the Lord, and he will find you what you need," she said. "Love the Lord, and he'll take care of you."