Kathy Lynch focuses on 'what I can do'
Kathy Boehling Lynch can't remember a time when she wasn't drawn to art. She jokingly declared a painting she created at the age 7 to be her first "masterpiece."
"One of my first art pieces was a very large frog holding a group of balloons," she said. "Underneath were the words 'Frogs can't fly.' This was painted on my bedroom wall, and my sisters and I still laugh about it."
A graduate of St. Bridget Catholic School and St. Gertrude High School in Richmond, Lynch said some of her most cherished memories are from the Catholic schools in which she was educated. She still has some of the same friends she met in class decades ago.
She was also a parishioner of St. Bridget Catholic Church, Richmond, who loved Sundays when she would dress up for morning Mass and then spend the rest of the day with her family, finishing the evening at her grandmother's house for dinner. Family, faith and art were constants in her life.
That changed in 2007 when Lynch, then 45, was diagnosed with a tumor on her brainstem. While the tumor was successfully removed during surgery, she suffered a hemorrhagic stroke while in the recovery room. The right side of her face was left paralyzed, and she became deaf in her right ear. She couldn't walk, turn over or swallow. She became dependent on a feeding tube and started a long journey of physical therapy.
"I was very discouraged, felt sorry for myself, and asked God, 'Why?'" she said.
Lynch explained that she leaned hard on her faith, as she had throughout her life, as well as on her loved ones to keep going.
"My family, friends, and belief in God played an important role in my recovery," she said.
Her husband, Joe, stayed with her every night of her four-week long stay in the hospital. Her children, sisters and friends often visited, all trying to make her smile.
Once simple tasks like opening jars or folding laundry became major undertakings that took all of her concentration and strength to conquer. After months of prayer and hard work, she was eventually able to walk again and had her feeding tube removed, but her right side and balance are still severely impaired.
The hand she had used to paint the world as she saw it could no longer hold a paintbrush. Canvases she would have filled with color were left blank. It would be years before Lynch would even try to create art again.
Mouse becomes paintbrush
As she was painting rocks with her granddaughter one day, Lynch realized how much she missed art. She tried to draw some basic doodles with her left hand, but was frustrated that despite her best efforts, she still could not control her left hand the way she once controlled her right.
Seeing her struggle, Joe and the couple's sons, Brian and Kevin, bought her a computer with digital art programs.
"It turned everything around for me," she said. "The mouse became my paintbrush. It was much easier to control with my disabilities. I just dove in and, over time, got better."
Long before her stroke, Lynch created window displays for a small Richmond boutique. It was here that she met Grace Moore, who would greatly impact Lynch's life. Moore suffered crippling arthritis from a young age but, according to Lynch, she never complained. She just kept going.
Moore encouraged Lynch to pursue her love of art in the face of any obstacles. Decades later, Lynch still thinks of Moore during particularly tough times.
"She was the angel sent to me," said Lynch. "Whenever I feel challenged, I think of Grace, appropriately-named, and how she faced problems with grace and dignity."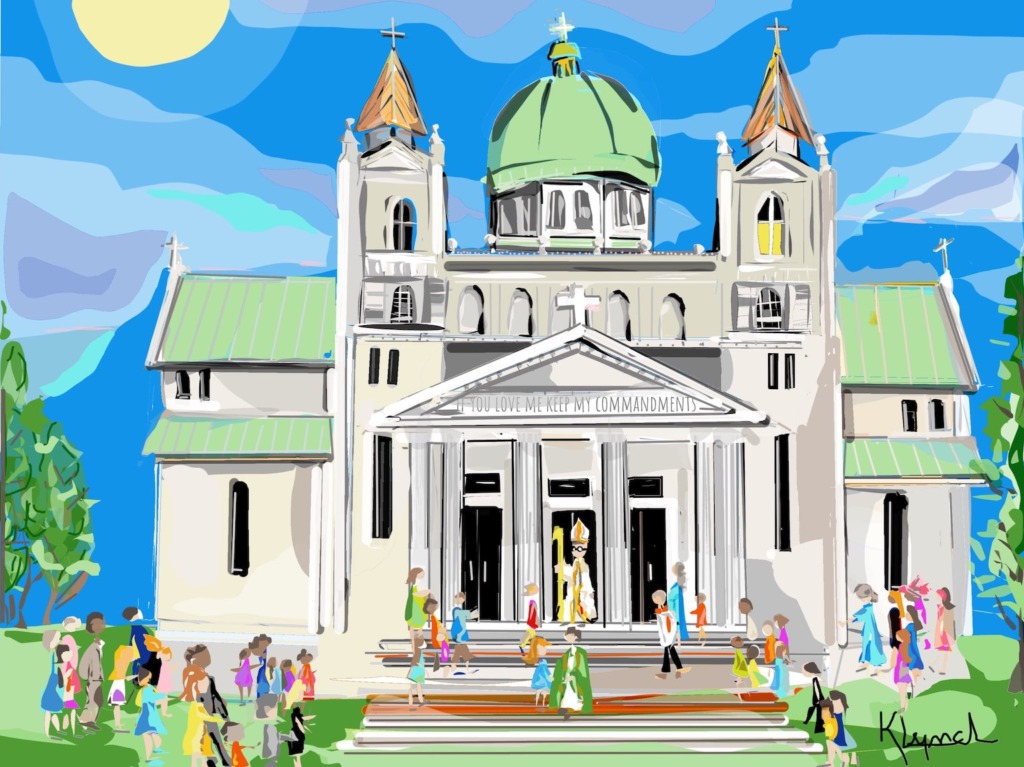 Lynch has been creating digital art for seven years but didn't start showing her friends and family her work until about two years ago.
She uses mostly bold and bright colors in her artwork. She said she is inspired by things she sees or hears about from others. Her subjects range from well-known landmarks like the Rotunda at UVA and the Cathedral of the Sacred Heart in Richmond, to wildflowers, trees and the sea.
"I think I am more creative now than earlier," she said. "I see things differently now."
From ordinary to extraordinary
Lynch has her own shop on Etsy, called BoehStudio. There, she proclaims, "My journey began ordinary and became extraordinary."
Prints of Lynch's artwork are also for sale in the Cathedral of the Sacred Heart's gift shop.
"I decided not to look at what I can't do, but what I can," said Lynch. "Art is my therapy. I love digital art. It gives me time to reflect and allows me to express myself and makes others happy. It is so fulfilling."
Through her faith, Lynch said she was able to see silver linings in everything, even her stroke.
"My brain tumor and stroke kept my family close. My sons stayed in-state for college, met their lovely wives, and gave me beautiful grandchildren whom I adore," she said. "It made me see life is a precious thing and to appreciate everything around us."
Lynch's family continues to support her during her recovery.
Her grandchildren encouraged her to fulfill her lifelong dream of writing a children's book. "My Dragon Wears Red High-Tops" was recently published and is available on Amazon.
The whimsical book follows the footwear of a dragon as he journeys through different activities and seasons. Lynch dedicated it to her grandchildren, writing on the dedication page, "You inspire me every day. Don't try to fill someone else's shoes; yours are a beautiful fit." She has two more books in the works.
Lynch hopes her story will encourage others who have experienced similar situations to not give up on themselves. She said she is thankful for her past pain, as it helped create her now bright future.
"I believe God does everything for a reason," she said. "There are days I still get discouraged, but I remember all that I have that is beautiful, and I go on."
Editor's note: To see Lynch's work, please visit https://www.etsy.com/shop/BoehStudio.