Catholic Social Teaching, youth, vocations emphasized at conference
During another year of pandemic pandemonium and political unrest, the diocesan Office for Black Catholics presented a conference centered on the importance of Black representation and inclusivity in the Catholic Church. More than 100 people attended "Our Church, Our Story: Black Catholic Identity and Culture," which was held in-person at the Rosalyn Retreat Center and via Zoom. The conference included sessions about increasing Black representation, youth empowerment, racism in the Catholic Church, and the Catholic experience in Africa.
A recurring theme of the conference was that action is needed – in one's parish, city and country. Making small yet significant steps to include and empower all Catholics is imperative to positive change. The conference was a call to action for all to answer – together.
Tia Noelle Pratt, Ph. D., director of mission engagement and strategic initiatives at Villanova University, was the keynote speaker. Her work examines the ways systemic racism influences one's personal experience of religion. She believes that Critical Race Theory and Catholic Social Teaching share some of the same foundational tenets.
"Catholic Social Teaching and Critical Race Theory are in so many ways aligned. These themes are not in conflict," she stated.
While Critical Race Theory is firmly centered on race, it and Catholic Social Teaching both require people to take a stand on inequality in all aspects of life and society, including religion, Pratt said. The belief that all people are created in the image of God and therefore equal in the eyes of God is central to Catholic Social Teaching and calls Catholics to work toward social justice, including participating in active anti-racism.
"Anti-racism is really taking the work of social justice to the next level," Pratt said. "We can break down those systems and build new ones with justice and equity as their foundation."
Pratt stressed that the Catholic Church is not immune to the type of racial reckoning that has played out on the national and international stage in recent years and that the Church has a responsibility to work together to be truly Catholic (universal) for everyone.
Pratt and others would like to see the Church take a stronger stance specifically on racial injustice.
"The call is going from inside the house," she repeated during her address. "The work is not something that happens far away, but right where we are."
Pratt created #BlackCatholics Syllabus, an online collection of scholarship surrounding the Black Catholic experience written by Black Catholics. According to Pratt's website where the catalogue is housed, #BlackCatholic Syllabus "prioritizes the work of Blacks in order to center the voice of Black Catholics in the creation of their own narrative."
Her hope is that information found in the syllabus can spark valuable discussions within parishes and communities and lead to lasting change. This can start with something like a social justice committee or a book study group – anything to get people talking about their own experience and learning from someone else's. Similar programs are already available at the Richmond parishes of St. Elizabeth and Sacred Heart.
'Feeling isolated'
Chloe Carter, consultant and facilitator with the Performance Management Group at the VCU Wilder School, led a discussion focused on youth empowerment.
"Youth are an underrepresented voice in general," Carter stated. "Blacks have additional challenges that don't make them feel as empowered."
Carter said that the Black Catholic population is significantly lower than the white or Hispanic Catholic population. Black Catholics are scattered across the diocese and the country, with very few majority-Black Catholic parishes and no concrete network to make them feel connected to other Black Catholics.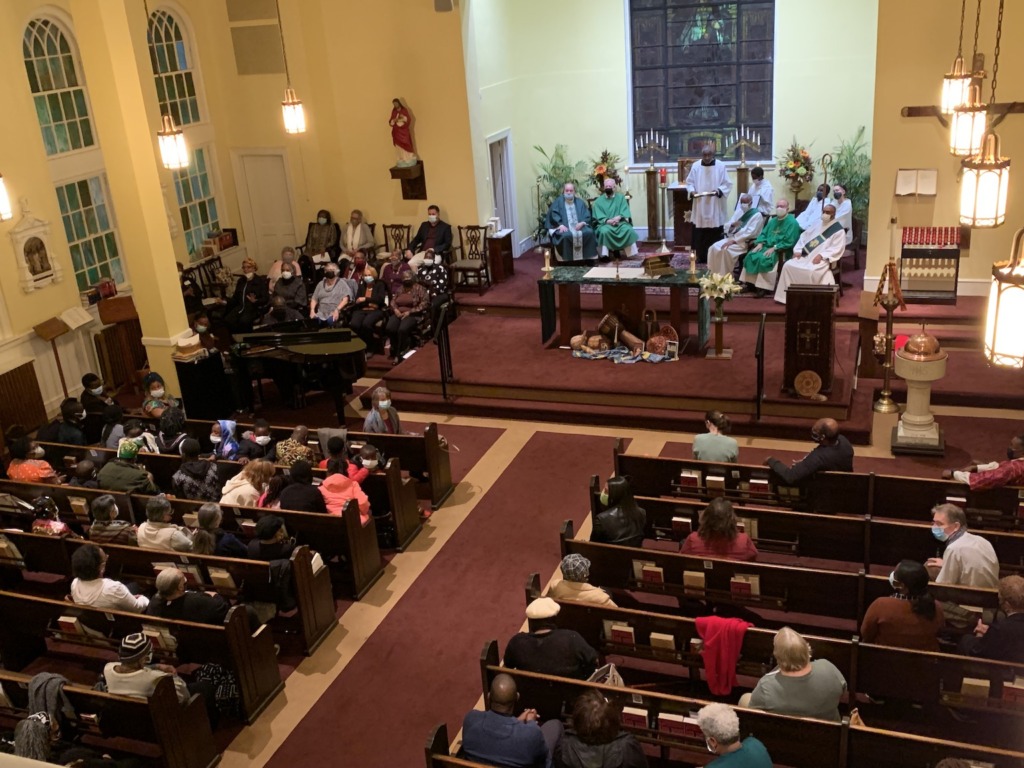 She gave the example of people not thinking that being Black and being Catholic is compatible.
"'You're Catholic? But you're Black.' When you get that enough, it's discouraging," said Carter. "They are the odd one out, feeling isolated."
Younger Catholics may also feel like their thoughts or views won't be heard or valued and are therefore hesitant to talk. It was discussed that adults have a responsibility to lift their children up and make them feel that they, and their opinions, matter.
"Before we empower our youth, we really need to understand what the gaps and challenges are," said Carter. "Once we understand what they see as barriers, we can do a better job of helping them create space to share more and problem solve. We must first give them a voice."
How to engage Black youth
Angie Cash is a mother and a religion teacher at All Saints Catholic School, Richmond. To help her children feel stronger in their faith, she made sure they had positive faithful role models, encouraged them to have likeminded friends, and kept them active in the Church. Today, her son is a member of the Knights of Columbus as well as a coach at Benedictine Preparatory School, Richmond. Her daughter is active in outreach programs at their church.
"Just as a mother nurtures her child with love," Cash said, "it is equally important that our Black youth are witnessed to, nurtured and included in our Catholic Church life, so as to instill a clear understanding of the vocation Christ calls them to."
Carter said that Catholic Campus Ministry does not have a large presence at HBCUs (Historically Black Colleges and Universities), which can contribute to the lack of involvement from the young adult population.
An observation that was repeated throughout the session is that empowering youth should be a central issue in the Church because they are the Church's future.
"Without them, there will be no Church," said Carter, noting it was vital to open a dialogue between generations and foster strong relationships. "We not only now have to engage our youth, but we have to engage our adults to work with that youth."
One idea shared during the session was a mentorship program between high school/ college students and elementary/middle school students. This program would provide role models to younger children and make them feel more confident in their faith.
"We as adults must give them the space to clearly communicate and share their ideas, thoughts, questions and curiosities, allow them to create the programs and initiatives they would like to see," said Carter. "This is the only way to empower them and grow. We have to be the example of the relationships they will make in the Church and when they go out into the world."