Cites example of St. Vincent de Paul
"Go to the poor: you will find God."
— St. Vincent de Paul
Calling the faithful of the diocese to make a renewed commitment to the poor and disenfranchised, Bishop Barry C. Knestout celebrated the third and last of the diocese's vicariate bicentennial Masses at St. Andrew, Roanoke, on Saturday, Sept. 26.
The regional Mass to celebrate 200 years of the Catholic presence in the Western Vicariate also paid homage to the patron saint of the diocese, St. Vincent de Paul, who dedicated his life to caring for those in need. His feast day was celebrated throughout the diocese the next day — a special Sunday solemnity designated by the bishop due to the saint's significance in the Diocese of Richmond.
"We celebrate this Mass . . . as a recognition of his patronage, his prayers for us as a diocese and as a local Church, and the importance of our charitable efforts, reaching out to those who are poor and vulnerable in our midst as an expression of our life as Catholics," said Bishop Knestout in his homily. "That's been consistent through the history of this local church."
A statue of St. Vincent with small children, always on display at St. Andrew in honor of St. Vincent's Home, an orphanage built by the parish in 1893 and staffed for years by the Sisters of Charity, was moved to the front of the church near the sanctuary for the occasion. A reliquary of St. Vincent's relics stood beside the statue.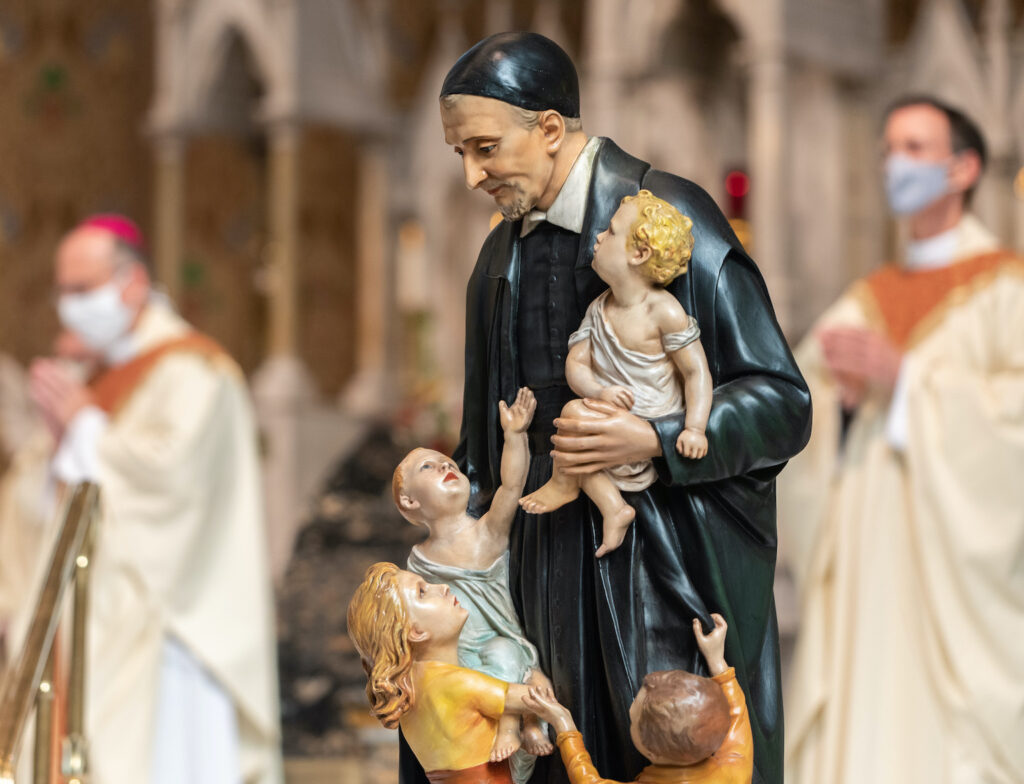 Approximately 100 people from the Western Vicariate attended by invitation — the limited number allowed due to COVID restrictions. The Mass was also livestreamed.
A chalice, which belonged to Bishop Augustine van de Vyver, sixth bishop of Richmond (1889-1911), and crozier, which belonged to Bishop Walter F. Sullivan, 11th bishop of Richmond, were used for the Mass.
'Vibrant, intentional faith'
Prior to Mass, Father Kevin Segerblom, pastor of St. Andrew and episcopal vicar for the Western Vicariate, reflected on the presence of the Catholic Church in the western part of the diocese.
"At the beginning, much of the diocese was largely poor, mission country, and parishes were very far flung," he said, adding that there also were not many Catholics in those few parishes, and priests were spread out. "They might travel 100 miles between their parishes on any given Sunday."
But because Catholics are still a minority in the region, he noted, there are ample opportunities to explain the faith and evangelize.
He said he often meets non-Catholics who come to St. Andrew to learn about the faith. This gives him, other clergy and parishioners the chance to share their beliefs.
"There's a real richness here; there's something about the Catholic Church that attracts them," he said. "And Catholics here in this area are very intentional in their faith; there is a vibrancy here."
Longtime parishioner Jean Hitchins, 65, has spent many years sharing her faith with non-Catholics in the Roanoke area. As a former preschool director, retired special education teacher, and now part-time adaptive yoga instructor for students with special needs in Roanoke City Schools, she interacts with people of all faiths.
"Frequently, I'm the only Catholic" in work situations and also neighborhood Bible studies, she noted. "People are genuinely curious and interested in our faith and will often say, 'Wow, these Catholics are Christians!'" she said with a laugh. "You have to keep your sense of humor, because they're saying it in a kind way."
She and her husband, John, 72, also a retired teacher, have lived in Roanoke for 27 years and have volunteered at St. Andrew in various ways, including parish council and lectoring, and Jean taught catechism.
They have also worked hard to raise their four children in the faith, and their family's lives of service have borne out their Catholic foundation: daughter Christine, 36, is a wife and mother of two who has worked in social service and social justice; son David, 34, is a married father of three and an ICU nurse; daughter Claire, 30, is a musician who works for food justice through Shalom Farms in Richmond; and son Jack, 22, is an artist who often prays with his friends, whether they are Catholic or not.
Whether one tells other Virginians about Catholicism or not, Hitchins says, the most important thing is to try to live as a faithful example. "I try to remember that quote: 'You may be the only Gospel that some people will ever read,'" she said.
'Shine like stars'
The bicentennial hymn, "We Shine Like Stars in the World," was performed at the Mass by St. Andrew staff members: cantor Linda Allison, coordinator of adult faith formation, and organist Kelly Wheelbarger, minister of music.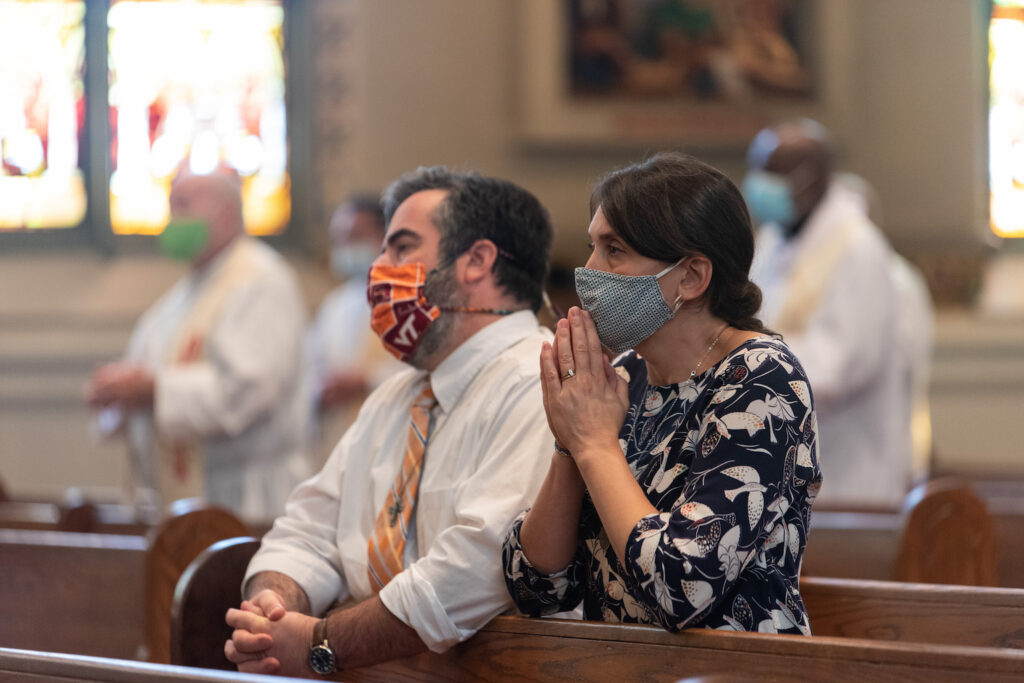 The hymn's words and music were composed by lifelong Roanoke resident and musician Dan Keeley, 60, director of music ministries at Our Lady of Nazareth, Roanoke, where he has worked for 27 years. To hear song at the bicentennial Mass, he said, was meaningful.
"I'm always humbled by hearing it," said Keeley, who wore a mask dotted with stars during the Mass. "And it meant a lot to me to hear the whole song; the first two verses are about gathering and the last two are about being sent forth." Sometimes the song is not performed in full during short Masses elsewhere, he explained.
Keeley attended Roanoke Catholic School from kindergarten through 12th grade and went to Mass at the adjacent St. Andrew nearly every weekday. It was partly there that the seeds of his future music career were planted.
As the 10th of 15 children in the family of the late Dr. Robert Keeley and Nina Keeley, he was taught by his parents "that we are all one people; there is no division," he said.
Keeley and his wife, Donna, 61, have raised their own family with a sense of community service. Donna is the longtime coordinator of elementary faith formation at Our Lady of Nazareth; Donna's son and Keeley's stepson Brian, 36, works at Goodwill Industries of the Roanoke Valley; their daughter Laura, 28, is a recreational therapist at Catawba Hospital, a wife, mother of a young daughter and member of OLN's choir; and daughter Kate, 23, lives in Washington, D.C., working for the social-justice magazine Sojourner and managing the local house of Franciscan Mission Service, which supports and prepares lay Catholics for community service and social activism rooted in the faith.
Catholics are always called to come together in love and to serve in whatever ways they can — be it social justice, education or music, Keeley said. "We go forth with our patron, St. Vincent de Paul. It's about communion and mission."
Bishop Knestout concluded his homily with an exhortation to go forth and continue in the example of St. Vincent de Paul: "Not only do we point out and express gratitude to God for this legacy of mission, carrying out the mission of charity, we also look to the future with hope and joy."