Award-winning Roanoke chef feeds 500 students daily
Roanoke chef Peter Radjou and his wife, Sara, wrap their days in prayer: both pray a morning rosary in their cars on the way to work, and both pray a novena on their routes home at night. When they walk out their front door, they make the Sign of the Cross and ask for safety and guidance, as they were taught by their parents in India.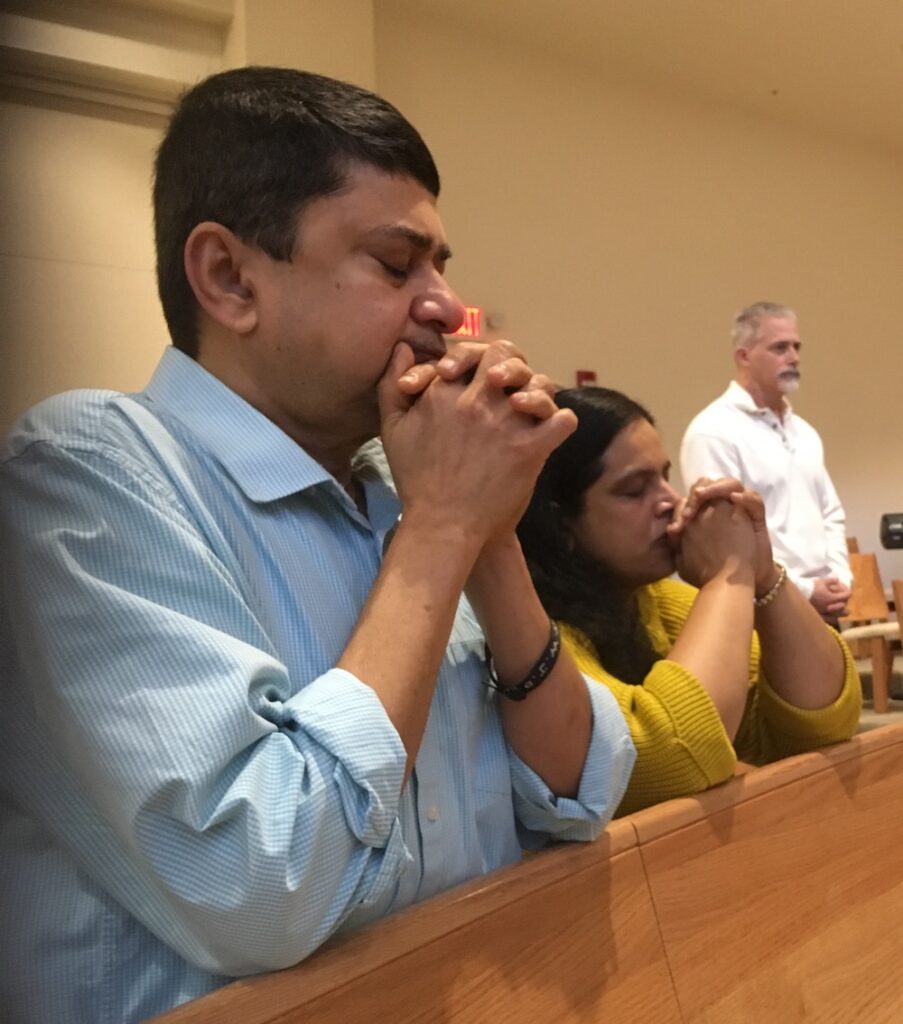 "We pray for everything — our family, our friends, our work, our community," Peter said.
He carries a rosary given to him by his mother-in-law, Maria Theresa Bala, and at home prays with another rosary that belonged to his late mother, Catherine.
The Radjous' prayer life is the foundation for their busy days of running two Roanoke restaurants and Peter's weekday job as the beloved chef at Roanoke Catholic School, where he has worked since 2012.
On an average school day, Peter, 56, feeds about 300 students. But on Tikka Masala day once a month, he makes up to 400 meals for students, as well as parents and visitors who come for the fragrant chicken curry ladled over rice and served with na'an flatbread.
For many students, Peter's signature dish has been their introduction to Indian cuisine.
"And sometimes we see the children bringing their parents into our restaurants, saying, 'You have to try this food,'" he said with a smile.
On a recent Monday, college students Martha Drapac and Jesse Derringer, both 20 and both 2018 RCS graduates, returned to the cafeteria on their winter break to enjoy lunch. Although it wasn't Tikka Masala day, Drapac noted that she had learned how to make that dish during one of Peter Radjou's occasional cooking classes.
"He taught us skills as well as recipes," Drapac said. "I tell people about how remarkable he is."
"I bought my lunch pretty much every day because I love everything he cooks," added Derringer, who had just finished a chicken quesadilla.
"Peter is a gift to all of us at Roanoke Catholic School," said principal Patrick Patterson. "His love for people in the Roanoke Valley is unmatched, and his passion for our faith is an inspiration."
Growing up in Chennai in southern India, Peter learned to cook by watching his parents. His late father, Alexis, was an engineer who loved being in the kitchen as much as his wife Catherine did, and Peter followed their example.
He attended culinary school in Chennai and spent several years working for cruise lines, hotels and restaurants worldwide before accepting a restaurant job in Roanoke in 2002 and later moving his family from Washington, D.C.
Sara, 50, also grew up in Chennai. She worked as a teacher and bank teller before the family opened its first neighborhood restaurant, Taaza, in 2006. She is the manager of that business.
Daughter Cathy, 24, is a financial services representative at a Roanoke bank and is earning a master's degree in management online from The Catholic University of America. She is her dad's partner at Food Fanatics Kitchen. Her sister, Alice, 19, is studying physical therapy at Shenandoah University and helps out when she is home.
"We could not do this without all of us working together," said Sara. "We are all very close, and we discuss things and pray together as a family."
Active members of the community, the Radjous are well known for their generosity in catering fundraising events and donating food. They're also known for praying the rosary in St. Andrew's chapel downtown before leading RCS students into the sanctuary for Mass on Tuesdays.
Every Christmas, they prepare a feast for homeless guests at the Rescue Mission. At their parish, Our Lady of Nazareth, they are surrounded by friends and admirers after Mass.
But Peter's culinary skill is known beyond the Roanoke Valley. In 2018, he won the Baconfest Virginia competition and advanced to win first place in his category at the World Food Championship held in New Orleans later that year.
After that win, Cathy said, people were asking where they could try the award-winning dishes that were not available at Taaza, which serves traditional Indian food.
Cathy had always dreamed of owning a restaurant, so she and Peter opened Food Fanatics Kitchen in February 2019. The eclectic menu has the Radjou touch: complex flavors in an American menu, with "Indian fusion" influences in the wood-fired pizzas and other dishes.
"This is the food we have at home, so we're basically inviting people into our kitchen," Cathy said. "I am so grateful for this opportunity. I trust God's plan for my life."
With such busy lives, prayer is the Radjous' spiritual food. Before leaving each morning to pray their rosaries on the road, they pray for at least half an hour at home.
"Peter's list of prayer requests is so long," said Sara. "So many people ask him to pray for them. The list gets longer every day."
Peter nodded.
"I'm happy to pray for them, because we owe everything to the grace of God," he said.