The phone call brought me to my knees," Kathleen Brower said, when she learned of her 17-year-old granddaughter's death. Arabella "Bella" Stuart Brower died in her sleep on Sept. 29, 2015, from an undiagnosed congenital heart defect. She would have been in Powhatan's Blessed Sacrament Huguenot Catholic School's class of 2016.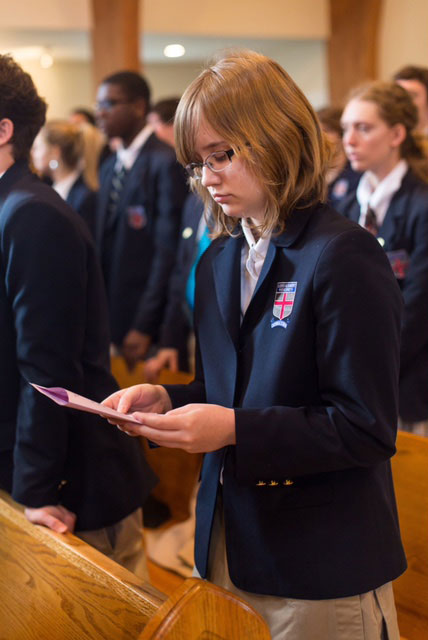 In the aftermath of her unexpected death, Kathleen and her husband Keith lamented how they would never watch their granddaughter get ready for her senior prom, never see her graduate from high school. If they couldn't be there for her, they thought, they would be there for other girls.
"After her death, we started hearing from her friends. We were just stunned because the calls just kept coming in from these people who wanted to do something and wanted to talk about Bella," Brower remembered. "Every student came to her memorial service. They changed the date of their prom so they could all be there. We put her ashes in the ground, and then the minister asked me to put a shovel of dirt in there, and then I handed it to one of her classmates and I said, 'Could you help me bury her?' And she did. And they each took a shovel and buried their friend. I don't know how we would've gotten through the year without them."
The Browers knew that Arabella loved being a student at BSH, but they wanted to know why. "She could have gone to any private school in the area," Kathleen said, "but she chose Blessed Sacrament."
Scholarships are only the beginning
They didn't know much about the school, and decided to visit campus, hoping to feel a connection to Arabella and understand her affinity for the place.
"We felt a sense of peace and restoration and hope and community and faith. We are Episcopalians, but we just absolutely feel that values-based education is very important to us. Those children are shepherded and nurtured," she said.
To honor Arabella's legacy, the Browers became involved in the school she so loved. First, they met with head of school Paula Ledbetter and decided to sponsor a scholarship in Arabella's name.
"Our first recipient was Kate Hatfield, a sophomore," Kathleen noted. "I remember when she came into the office she was looking kind of scared and cautious and we were new at this and we wanted her to feel comfortable. I just put my arms around her and I knew it was the right thing for us to be doing."
The Browers soon sponsored another scholarship and provided money for books, uniforms and school supplies. But they didn't stop. What started as a single scholarship escalated to a more than $1.4 million donation. They asked a surprised Ledbetter for a "wish list" of things she would want done at the school. Just days before, Ledbetter had prayed to God for help.
An answer to prayers
"I prayed to God one night to ask for guidance during a time of uncertainty," Ledbetter recalled. "As school leaders, we are faced with dozens of decisions to make each day. I know I constantly reflect on whether I'm making the right decisions in the best interest of hundreds of people — students, staff, families. On that particular night, I asked for God to guide me and show me the plan he has for our school. It was literally a day or two later when Mr. and Mrs. Brower emailed me to set up a meeting."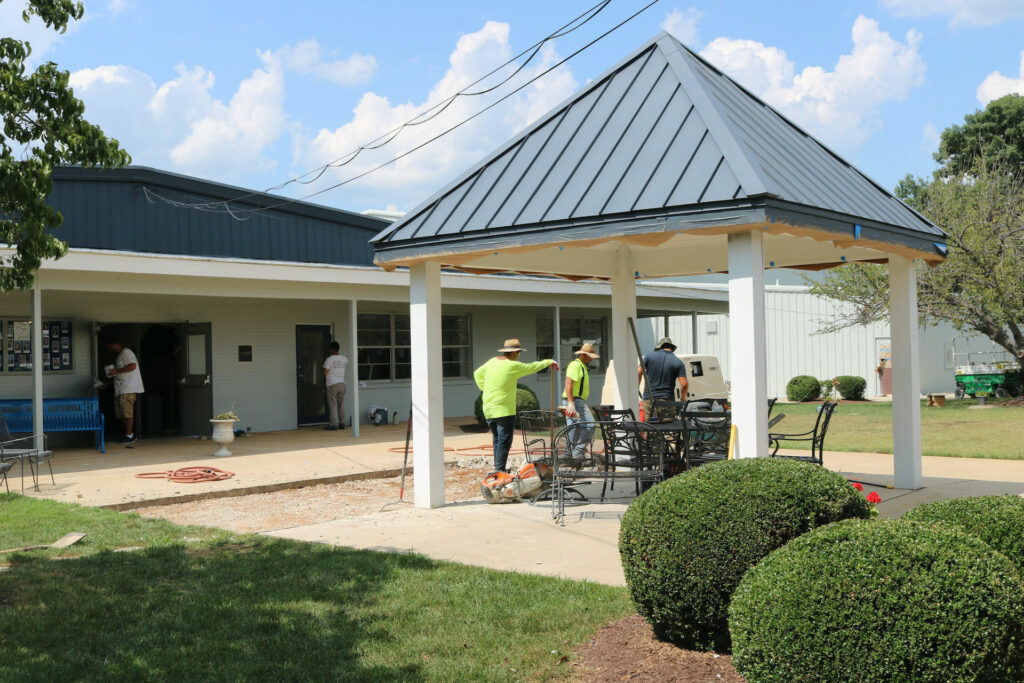 Tears rolled down Ledbetter's cheeks during that meeting, prompting Kathleen to later tell her husband, "We made Paula cry, and now we have to live up to it."
From cosmetic changes such as a new coat of paint on all campus buildings, replacing 78 windows and 210 shades and refreshing the main entrance to technological advancements including the addition of Chromebooks, reliable WiFi and interactive smartboards, soon the wish list came true.
Office space was renovated, sidewalks repaired and a playground built. The school also worked on its brand, hiring a marketing firm to help refresh its community and online presence in order to help tell the Blessed Sacrament Huguenot story, raise awareness and increase enrollment.
The scholarship fund has grown to $500,000 and will go on in perpetuity. Currently, the scholarship recipients are Shaw Forward and Jessica Johnson, both multi-sport athletes with GPAs over 4.0. Kathleen affectionately calls them "our girls."
Their girl, their granddaughter, has left a lasting impression on the school, and her memory will live on every year on campus.
Recognizing value of Catholic education
Ledbetter arrived at BSH after Arabella's death, but said that teachers and students remembered her tenderly, noting that Arabella's class took it upon themselves to move prom, dedicate the yearbook to her and paint the senior rock in her honor. The class also organized a fundraiser for the SPCA, a cause dear to Arabella.
"She was a terrific girl. She was born with a few challenges, a lung problem that made it more difficult for her to breathe. But nothing stopped her. She was very brave and never met a challenge she couldn't face," Kathleen said. "She was funny, bright, artistic, a dancingin- the-rain kind of girl, quiet but just terrific. When a 17-year-old dies a light goes out in the world. And we wanted to turn that light back on."
Bishop Barry C. Knestout, who blessed Flutterfly Park — the playground the Browers had erected at the school in Arabella's honor (see accompanying story), praised the couple's generosity.
"Their gift benefits all of the children," he said. "Such generosity can only inspire a deep sense of gratitude from myself in their recognition of the value of the Catholic education provided at Blessed Sacrament Huguenot School."
God connected couple, school
Ledbetter calls the Browers, with whom she's grown especially close, "the most giving, selfless, kind-hearted, genuine people I know."
Meeting the couple has shown her that God is always working within the school community.
"The beautiful thing about working in Catholic school is that my faith is continuously strengthened and renewed as I rely on my faith to carry me through the challenges, times of stress and the moments of self doubt," said Ledbetter. "I believe God connected the Browers and our school community; we needed them, and they needed us. They needed us during their time of grief, and we needed them to fill our hearts with gratitude and inspiration."
The Browers don't plan on slowing down any time soon. Additional projects are in the works, focusing on renovating and repurposing the old gym into an arts and science center, replacing roofs and refurbishing tennis courts and locker rooms.
The Browers will also match dollar- for-dollar up to $150,000 per year for the next three years of all parent, grandparent, alumni, business and foundation donations and grants.
"There doesn't seem to be anything else we want to do," Kathleen said. "This is what we want our legacy to be. We want to be the wind underneath somebody's wings."
_____________________________________________________________________________________
Flutterfly Park a tribute to 'Bella'
Blessed Sacrament Huguenot christened the school's new playground on Friday, Sept. 13. The playground was a focal point of Keith and Kathleen Brower's $1.4 million donation to the school in honor of their granddaughter Arabella "Bella" Stuart Brower, a former BSH student who died in her sleep in September 2015. Though she only attended the school for eighth, ninth and 10th grades, her effect will be felt for many years to come.
The state-of-the-art playground was named "Flutterfly Park" in honor of a story Bella's grandmother recalls:
"When Arabella was a little girl, she was standing in line at a party store with us, waiting for her turn at the cash register. Pointing to a balloon with a butterfly on it floating above us, she said, 'Look, Grandma, a flutterfly.' She went on to explain that was what she wanted to be when she grew up."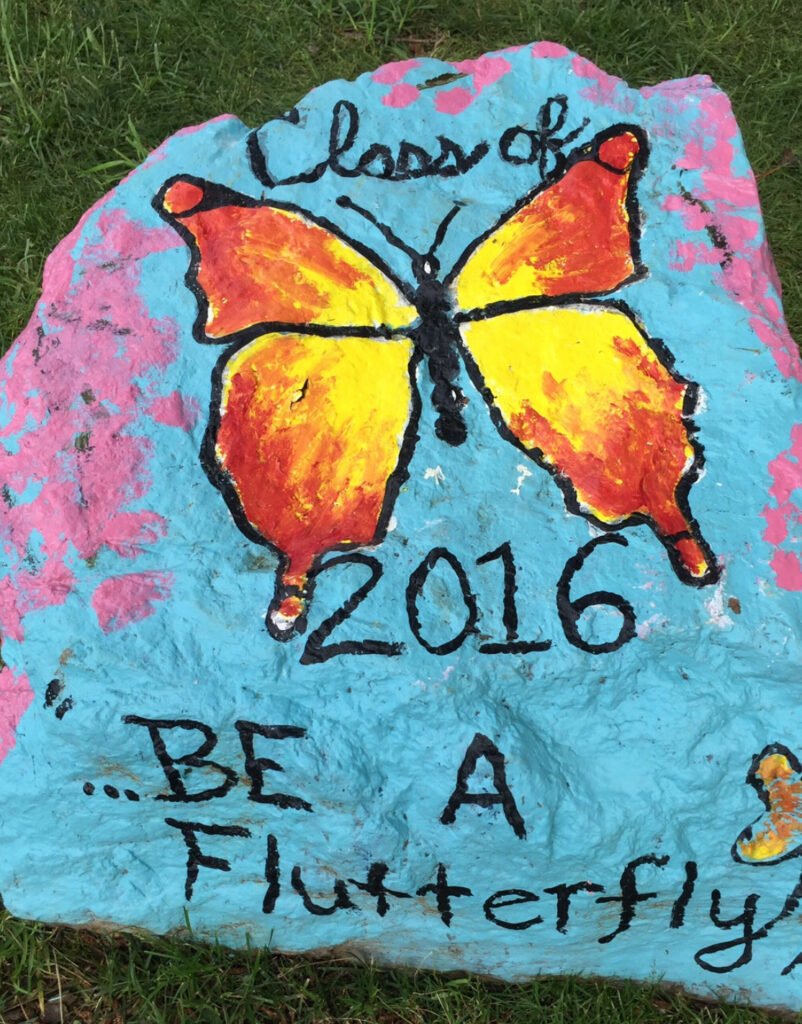 It's a tradition for the senior class to paint the "senior rock" each year as a way to remember their time at BSH. The senior class of 2016 painted the rock with the words "Be a Flutterfly" along with a bright colorful butterfly. They also wore "Be a Flutterfly" shirts while fundraising for the SPCA in honor of Arabella, who loved animals.
They raised so much money that the Richmond SPCA included a picture of Bella on its memorial wall. It was with this in mind that the playground was named Flutterfly Park.
Kathleen recounted how active and playful Bella was, making the playground an apt memorial for her life.
"She was a wisp of a girl who loved to swim, practice karate, read, listen to music, play video games to win, draw and laugh. She had a wicked sense of humor and could size up a situation with clear, mature insight and leave everyone wondering why they had not seen it that way. She never complained. Ever. She would play as hard as she could and then put herself to bed," she said.
The playground features Blessed Sacrament Huguenot's mascot – a climbable knight. There is also an "elevator" that students can step into and then be lowered to the ground. There are five slides and a spinner on which children can sit or stand while someone else runs and jumps on. There are also swings, large climbable cubes, composite play structures and more.
The ground's surface is made of Rainbow Rubber, which is cushion- like and low-maintenance. Blue and gray were used to match the school colors, with red being utilized as well. There is age-specific equipment ranging from pre-school through middle school. Head of school Paula Ledbetter said that even the high schoolers are asking to play on the playground.
Blessed Sacrament Huguenot has long had a large space for their playground area, but the structures were old and faded. Now the playground reflects the renaissance the school is experiencing.
"It was so exciting to watch," said Ledbetter. "The children were able to play on it for the first time on the third day of school. I have never seen such joy and happiness! It was heartwarming to watch and to know that Mr. and Mrs. Brower's dream, along with our dreams, had come true."
In her remarks at the dedication, Ledbetter noted that Grandparents' Day was chosen specifically for the dedication of Flutterfly Park.
"We knew it would be big, but I have to say this vision I am now seeing is bigger than what we imagined. That same feeling coincides with the journey with Mr. and Mrs. Brower these past five or so months," she said. "One vision in the spring of a couple of ideas involving upgrading technology and needing a coat of paint turned into something much bigger – and here we are."
Students from the class of 2016, Arabella's class, were invited. Bishop Barry C. Knestout said the opening prayer and blessed the playground. Lower school children sang a song of thanks.
Kathleen shared thoughts about her granddaughter, and current scholarship recipients Shaw Forward and Jessica Johnson also spoke. Together with the bishop and students, Kathleen cut the ribbon, officially dedicating the park to Arabella.