When Nazira Mohammadi arrived in the United States from Afghanistan at the age of 17, she had never seen seashells. When she picked one up for the first time, the aspiring artist couldn't help but admire its natural beauty.
"I was doing art shows, and when I went to the ocean, I picked up a shell and noticed that it was beautiful natural art," said Mohammadi. "I wanted to include that in my own art."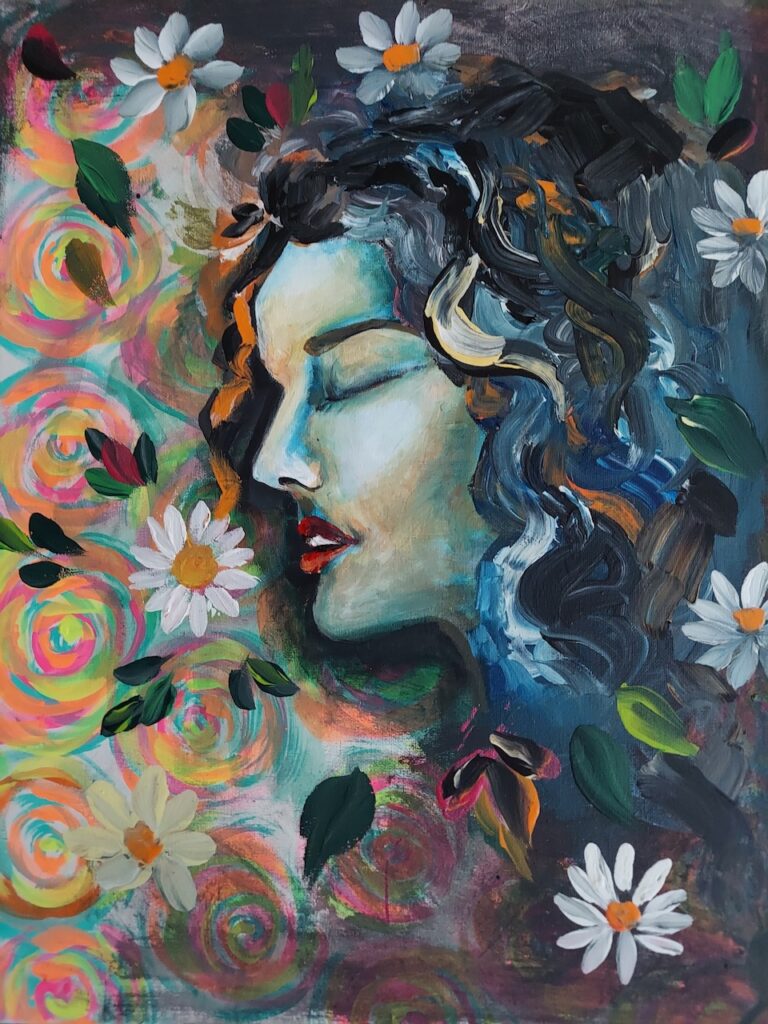 At the Expressions of Hope Gallery opening, held Sept. 15 at Commonwealth Catholic Charities (CCC) headquarters in Henrico, Mohammadi sold her piece "Head Above Water" for $75. The acrylic painting, depicting the beautiful face of a woman just above the surface in a lily pond, features a collage of real seashells in lieu of the woman's hair.
It was not her only piece on display – or, indeed, the only one she sold. "The Flower Nest," another acrylic painting, sold for $40. "Day Dreamer," painted at an art class hosted at the CCC by Foster Parent Specialist Bebe Tran, went for $75.
"Calm After the Storm," a huge, magnificent painting of a red and purple sunset over water, is still available for $400. "The title of this one is perfect because of all the things you've gone through," said Tran to Mohammadi.
Honing skills, building confidence
It was just two years ago that Mohammadi left Afghanistan, fleeing persecution from the ascendant Taliban for her Hazara ethnicity and Shia Muslim faith. After entering the CCC Unaccompanied Refugee Minor (URM) program, she has landed on her feet in the U.S. Her burgeoning art career has been a source of comfort and inspiration.
"I've sold a lot of my paintings so far. For what I've done, I am happy," she said. This was not her first art show – at Pine Camp Cultural Arts and Community Center, she once had an art show for just her own work. This time, she shared the space with other CCC clients.
Rahmat Muhammad Ali, a 17-year-old in the URM program, came to the U.S. from Pakistan with his four siblings and was placed in a foster home by CCC. A senior at Hermitage High School, Muhammad Ali is used to trying new things – he learned English in less than a year, and he left the varsity soccer team to become a standout tennis player shortly after picking up a racket.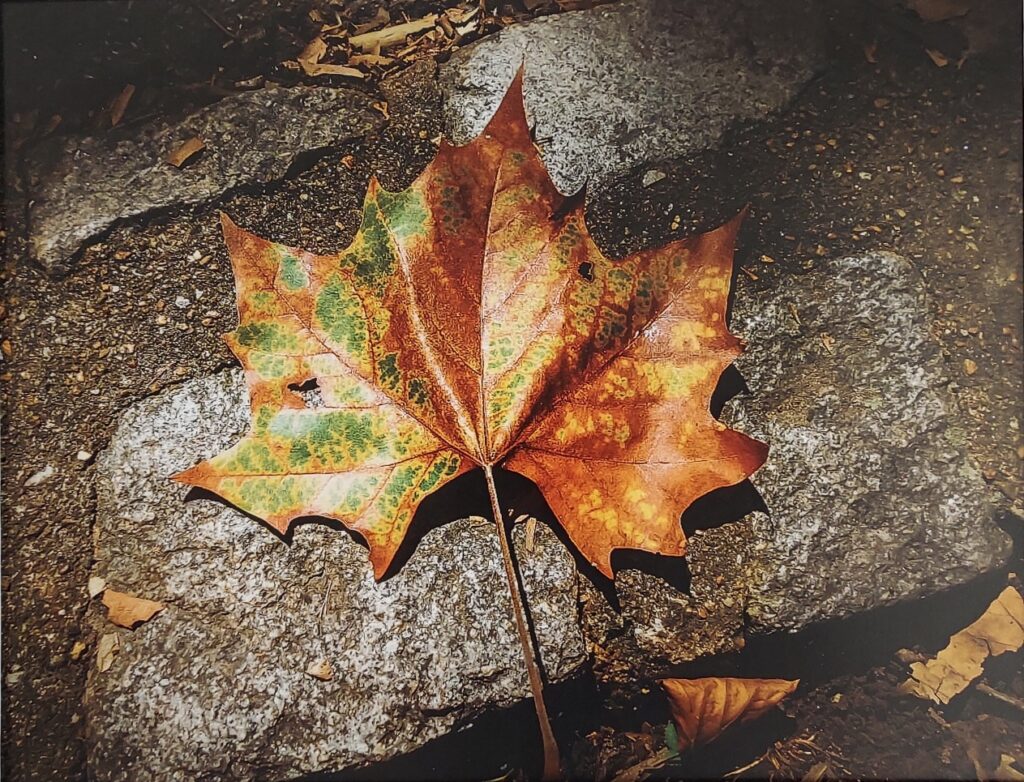 After attending one art class with Tran, he was ready to display his photograph "Autumn," and his acrylic painting "RVA" ended up on a T-shirt and a postcard. Both sold for $50.
"I've been interested in photography for a while – I love to go on adventures to take pictures of beautiful stuff," he said. "Classes with Bebe [Tran] gave me the confidence to mess around with my paintings more. I'm taking Art 3 this year, and seeing people in my school, doing more work, learning from the teacher – it gives me confidence."
Realization of a dream
The occasion was also a chance to celebrate the Nora Houston Collection. Houston, a committed Catholic who lived and worshipped in Richmond all her life, has many pieces in the permanent collection of the Virginia Museum of Fine Arts and the Virginia Historical Society.
When Houston died in 1942, the bulk of her work was inherited by a lifelong friend, who donated it to St. Paul, Richmond, in 1972. Ownership of her paintings was transferred to The Nora Houston Foundation in 2015, and in 2023, they were entrusted to CCC.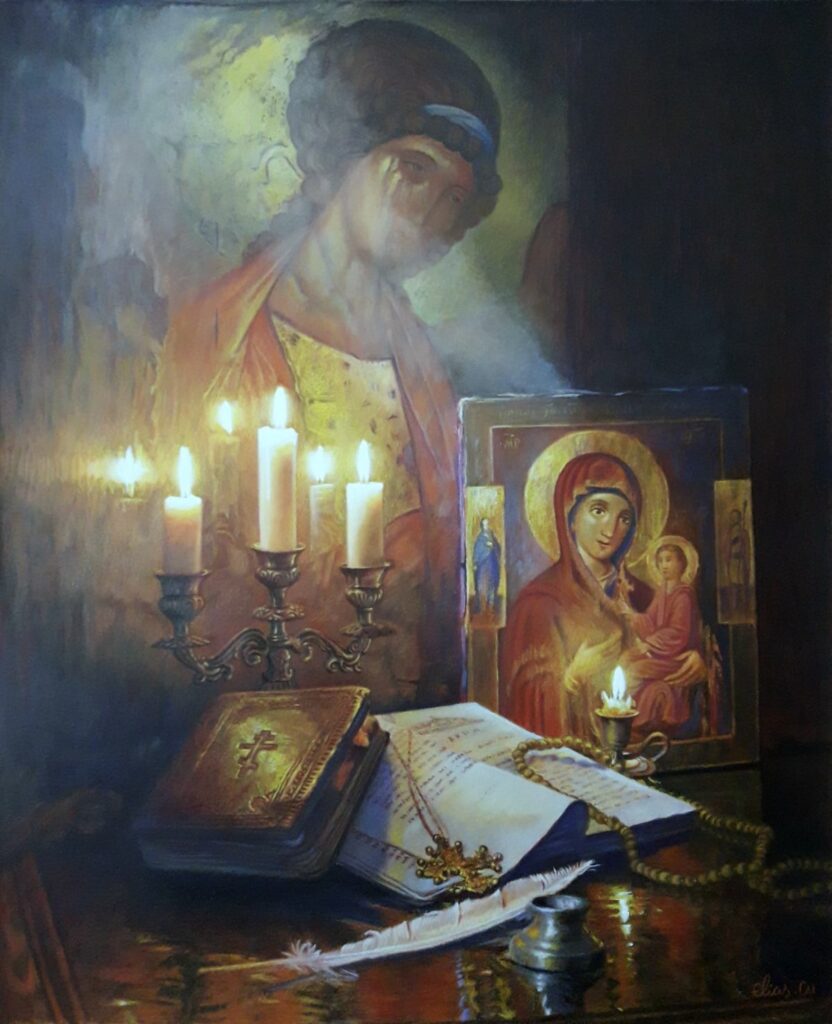 "It was [CEO] Jay Brown's dream for several years to have an art gallery in our building – not just for the permanent Nora Houston Collection, but to show off the art of our clients," said Jennifer Cunningham, vice president of Mission Advancement at CCC. "Art is a communicator, a unifier."
"For most of us, we don't take the time to explore that talent, so it's really great that Bebe [Tran] takes the time to introduce kids to art with her classes," Cunningham continued.
Jennifer Ward, foster care program manager at CCC, said that Tran's classes are an opportunity for growth as well as exploration. "Bebe does such great work for the kids," said Ward. "Whatever their skill level is, she helps them get a little bit better."
In the future, exhibits will rotate quarterly, and CCC plans to make Expressions of Hope an annual event. "We hope this will be a big arts event for the community," said Cunningham.
Jay Brown, who was on hand to enjoy the evening, elaborated on the vision he has had for so long. "We have 36,000 feet of commercial space here, and this is about more than just getting something on the wall," he said. "It's about making sure our environment reflects who we serve."
"We do a great job of making sure we have very dignified spaces, but sometimes, they might feel cold or clinical," he continued. "We want to warm the space up – we want it to feel like a home, we want the clients to see themselves reflected in that space."
"When you think of CCC, you think of people coming here with needs and in distress, and really, they're coming here with hopes and dreams and talents and skills," Brown added.
"It's on us as service providers not to just say, 'What can we do for you?' but to say, 'What can we do together?'" he said. "It's not about what we think is best for your life – it's about how we can help you achieve your dreams."
Click to view the full Expressions of Hope Collection on the CCC website.