During Advent, Filipinos celebrate Simbang Gabi (Night Mass), a novena of Masses that expresses the love for God through our Blessed Mother Mary. Filipinos gather for nine consecutive days of prayer in anticipation of Jesus' birth. Individual parishes in the Diocese of Richmond are welcome to celebrate Simbang Gabi starting Dec. 15, through Dec. 23, at 4 p.m.
Simbang Gabi is a long-treasured Philippine tradition. It is originally a series of "dawn Masses" for nine consecutive days before Christmas Day. Its liturgical significance emanates from Advent being a season of spiritual preparation and purification to worthily welcome and receive the Child Jesus in our midst.
The Mass at Dawn, Simbang Gabi, is one of the longest and most important religious celebrations in the Philippines, which has lasted over 600 years.
The Simbang Gabi is a time when Catholic parishes across the Philippines celebrate Mass outdoors in order to accommodate the faithful. At times, when Mass is not celebrated outside, the doors of churches are, nevertheless, left wide open to allow attendants to share in the atmosphere of the Mass.
Its origins began in Mexico, where the practice of holding Mass outdoors began in 1587, when Pope Sixtus V gave permission to Diego de Soria, a Mexican friar, to hold Mass outdoors because the churches could not accommodate the huge number of worshippers that came to celebrate Christmas.
The novena culminates with the Mass of the Gifts, or Misa de Gallo, which celebrates the birth of Jesus. However, it was not until 1669, during the early years of Christianity in the Philippines, that the Misa de Gallo became a Philippine spiritual tradition.
During Advent, in preparation for the birth of Christ, missionary friars held pre-dawn Masses for nine consecutive days to usher in the event of Jesus' birth. The Masses were usually celebrated at 4 a.m. since they took place during the harvest season when farmers had to be in the fields at the crack of dawn.
"Gallo" means rooster in Spanish. At the first sound of dawn, at the crowing of the rooster, the entire family would get up and walk to the nearest parish church.
During this time, colorful lanterns are hung in every door, window, tree branch and street corner. Bands play native carols all across town while families, couples and individuals make their way to the nearest church.
Shortly after Mass, people gather in their homes to celebrate Noche Buena and feast on local delicacies made of rice flour, coconut milk and other traditional desserts.
---
JOIN US TO CELEBRATE SIMBANG GABI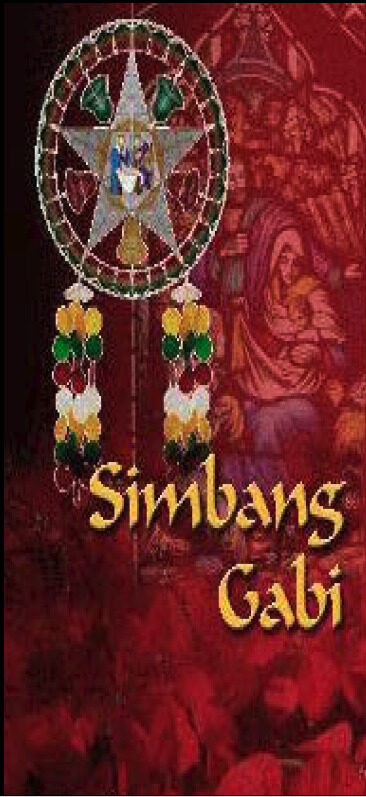 Church of the Sacred Heart
Livestream only at https://www.catholiccluster.com
via Facebook or YouTube
South Prince George, VA
December 18, 2020, Friday, 7:00 PM
PUBLIC / LIVESTREAM
St. Jerome Catholic Church
116 Denbigh Blvd
Newport News, VA 23608
December 18, 2020, Friday, 6:00 PM
POC: Gemma Kerstetter, 757-817-7607
Pre-registration for Mass is required at [email protected].
Church of the Redeemer
8275 Meadowbridge Rd Mechanicsville, VA 23116
December 19, 2020, Saturday, 5:30 PM
POC: Rey Bonjoc, 804-241-4624
Pre-registration for Mass is required at https://www.churchredeemer.org.
---
Luz G. Rayel-Straub is an advisory committee member for the Diocese of Richmond's Asian Ministry/Office of Ethnic Ministries and a member of Sacred Heart, South Prince George.