INDIANAPOLIS (OSV News) – As Gabriela Ross became more involved in marriage preparation ministry, she noticed a coincidence – about divorce.
"I see in my marriage preparation ministry how divorce affects a person's choice to embrace the vocation of marriage, and how the unaddressed wounds of their family of origin bring discord into their new family life," said Ross, who is director of the Indianapolis Archdiocese's Office of Marriage and Family Life.
"While there has been some awareness and response to the needs of Catholics who experience divorce," she said, there was little in the way of church ministry to address "the wounds and effects of divorce on children, whether they were in childhood or adulthood when the family breakdown took place."
Life-Giving Wounds fills that ministerial void. It was founded in 2018 by Daniel and Bethany Meola. Now the parents of two children, the Meolas met and married while studying for master's degrees at the Pontifical John Paul II Institute for Studies on Marriage and Family in Washington. The couple lives in Bowie, Maryland, a suburb of Washington.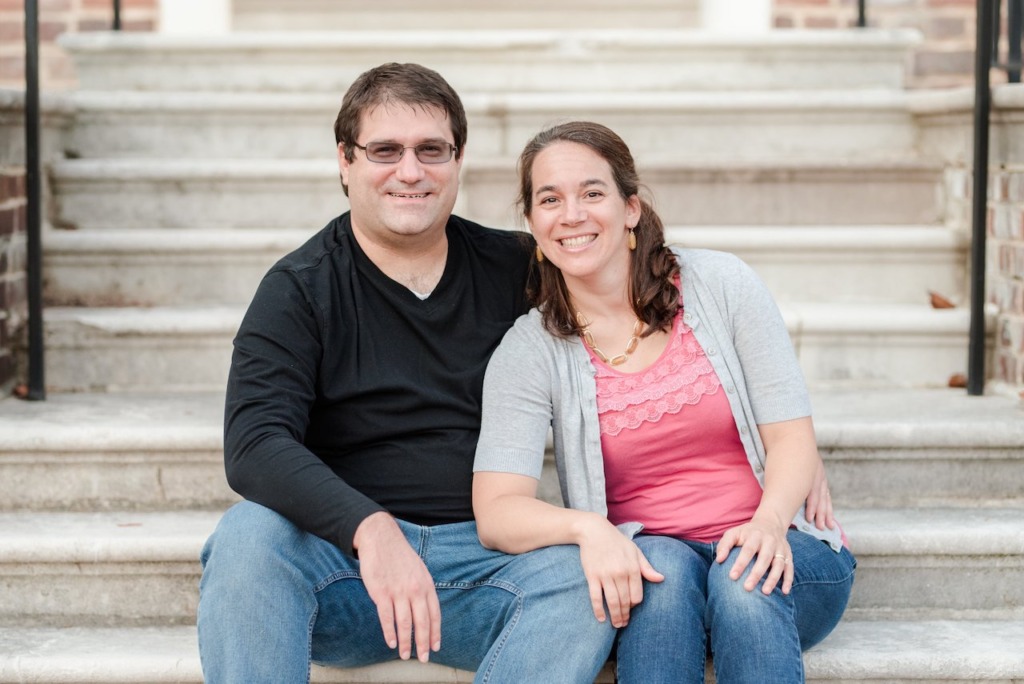 "When he was studying there for his Ph.D., that's when the institute started working on Recovering Origins, a pastoral initiative focused on the effects of divorce on children," Bethany said about her husband in an interview with The Criterion, Indianapolis' archdiocesan newspaper. Daniel was out of town at the time of the interview.
"It really connected with Dan, because of his experience" with his parents' separation when he was a child and their divorce when he was 26, she explained. "He got heavily involved in what (the institute was) doing with their pastoral approach to adult children of divorce."
From the Recovering Origins conference, Daniel helped create a weekend retreat in 2015 for adults who, whether as children or adults, experienced the separation or divorce of their parents.
"When we were discussing what we would do when he graduated, we were encouraged by a priest to pursue our life passion in marriage and families," Bethany said. "We wanted to develop the retreat further and offer it throughout the country. The institute gave us their blessing."
So began the ministry in 2018. The couple brought not only their degrees focusing on marriage and families and Daniel's experience leading retreats, but also Bethany's seven years serving on the staff of the U.S. Conference of Catholic Bishops' Secretariat of Laity, Marriage, Family Life and Youth.
Now, Life-Giving Wounds offers three-day retreats for adults ages 18 and older in 10 locations in the U.S. – with several more in the works – as well as an online retreat in the fall that takes place weekly for seven weeks.
The retreats are divided into three topics. First is "uncovering and grieving various layers of the wound" that participants experienced in their parents' separation or divorce, according to the Life-Giving Wounds website. The focus then shifts to "accepting their deepest identity as a beloved child of God and becoming more aware of Christ in their lives and wounds." Finally, the retreat helps participants discover "a way forward to sustain healing and a mission in the midst of their suffering."
A traveling team leads the first retreat in a location and train local leaders to lead future retreats in that location.
"It's a peer ministry, so the people leading it are by (and) large adult children of divorce, so they can give that witness of having gone through the experience of healing through Christ and are able to give back to others," said Bethany. "It's a blessing for people to hear from those who really get it."
The organization also offers online blogs, online support groups and other resources. "The support groups don't have a curriculum like the retreats," explained Bethany, who serves as the organization's vice president of operations, communications and development and as board secretary. "We try to address topics that are similar but don't go into them as deep as the retreats."
Amanda DeRoche has attended two online retreats. "Some people do it every time," said the 34-year-old member of St. John the Evangelist Parish in Indianapolis. "It's a good base for exploring this part of your life story."
DeRoche appreciates the presence of a retreat leader with a psychology background, "so it brings in psychology and science along with theology." She also appreciates connecting with others who not only "share the same life experience but also share your theological viewpoint. I can talk to friends at the office whose parents divorced, but it's different when you can talk about it with people who share your faith.
DeRoche said the retreats offer a "very specific approach to the experience through the lens of the church. It's about how you're impacted (by your parents' divorce or separation), regardless of the situation – it could've been a positive experience in your family.
"But we know (divorce and separation are) not what God intended, so it creates a wound. It's the loss of your parents' love together, regardless of how that pans out, positive or negative, because we know what God intended for the sacrament of marriage."
Recognizing those wounds is the first step toward healing, she said, a step the Life-Giving Wounds retreats helped her acknowledge. From there, the blogs and support groups can help with healing and moving forward, DeRoche told The Criterion.
Bethany said anytime is a good time for adults to explore wounds from their parents' separation or divorce, but especially those preparing for marriage.
"It's important for Catholic leaders – and especially those working in marriage preparation or young adult ministry – to realize the impact (their parents' divorce or separation) can have on their own call to marriage," she said.
"People who come from a divorced family are less likely to marry, more likely to cohabitate, more likely to struggle in their own marriage or get divorced, less likely to be open to children or more likely to experience a fear of having children – it's all been proven," Bethany added. "They need mentors to give them witness that this lifelong commitment can be happy!"