On a beach in Sicily, Msgr. R. Francis Muench and his siblings worked on a math problem. When was the last time the three of them had been together for a family vacation?
"We came to the conclusion that the last time was when I was thirteen," said Msgr. Muench. That was some 62 years ago – before he was ordained at a Benedictine monastery in Patterson, New Jersey, before he studied canon law in Rome, before he spent more than three decades in the tribunal office in Richmond.
"In retirement, I'm going to spend more time with family and friends," said Msgr. Muench. "They're scattered all over. Some are close, in North Carolina. Others are in New Hampshire, in Minnesota – not the kinds of places you can pop off to for a weekend."
That retirement began Friday, June 30. Ordained in 1981, Msgr. Muench studied canon law at the Pontifical University of St. Thomas Aquinas in Rome, also known as the Angelicum, from 1982 to 1986. While there, he was stationed at Sant'Anselmo on the Aventine Hill. He had the opportunity to serve at Mass with Pope St. John Paul II at Santa Sabina and visit the rich cultural sites in the Eternal City.
"On the walk from Sant'Anselmo to Santa Sabina, you pass the Church of St. Alessio, where they have a piece of the staircase under which St. Alexis was stabbed," said Msgr. Muench. "As the Italians say, 'Se non è vero è ben trovato,'" or "If it's not true, it's an interesting discovery."
After returning to the United States, he joined the tribunal office in Richmond in 1990, and in 2007, he was named judicial vicar and chancellor following the late Msgr. William Sullivan.
Work to save souls
The tribunal office is the ecclesiastic court of the Church, judging cases involving canon law and spirituality. As stated in Canon 1752, the chief purpose of the diocesan tribunal office is "the salvation of souls, which must always be the supreme law of the Church."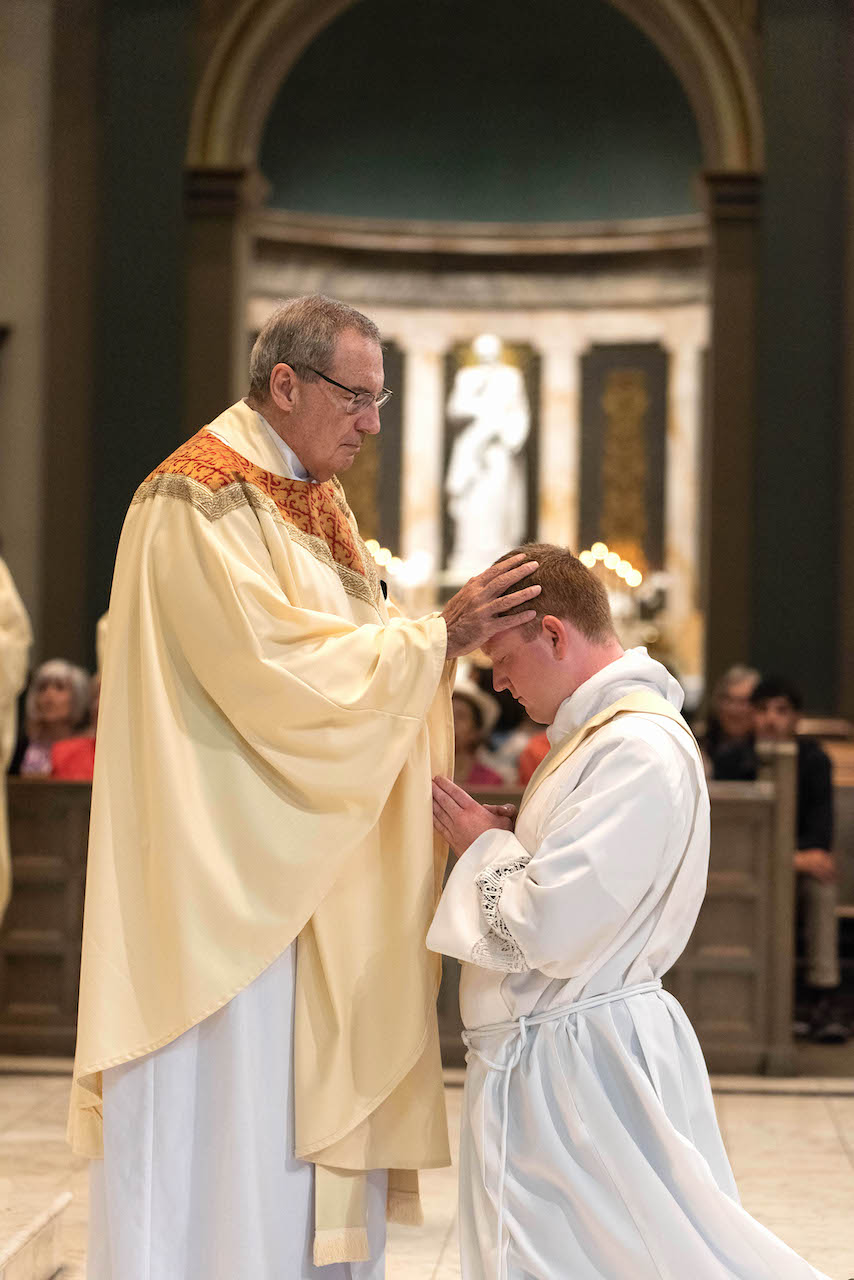 Much of Msgr. Muench's work in the tribunal office revolved around annulment cases, in which he served as a judge. He typically had over 100 cases on his desk at any given time. Though the role required him to deal with people at a low point in their lives, he compares the experience to the sacrament of confession.
"One of the things you discover in the confessional is how really good and holy people are, very often in impossible circumstances, and I would say that's true of our work here," he said.
"No one comes to the tribunal for an annulment because they're happy," he explained. "Something has gone horribly wrong in what we hoped would be one of the most fulfilling and sanctifying experiences in life. And so, we hope we can do something about that."
Annulment differs from divorce in that the focus is on the moment of consent – the "I do." According to Msgr. Muench, there are cases in which applicants did not have the emotional, psychological or mental wherewithal to consent to marriage, or were unaware of the gravity of what they were doing. But, perhaps in part because of his work, Msgr. Muench believes strongly in the sacred nature of matrimony.
"Marriage is of the natural order: look at Genesis 2:24. 'A man shall leave his father and cling to his wife, and the two shall become one flesh,'" he said. "Jesus later raised it to the dignity of a sacrament."
Catholic marriage is founded on the idea of mutuo dono – Latin for "a gift to each other." Looking for "major failure" at the moment of consent is not simply a process of filling out paperwork.
"The Church does not exist to make people happy," said Msgr. Muench. "But hope springs eternal. You're always praying for these people, that something good happens in their lives, that maybe this process can be healing. Often, it's a very difficult reckoning with oneself."
From parish to tribunal
Msgr. Muench has not been a pastor since being elevated to his role as judicial vicar and chancellor, but he fondly recalls his days of parish work. Since coming to the Diocese of Richmond, he has been parochial vicar at St. Augustine, Richmond; pastoral coordinator at St. Bede, Williamsburg; priest for St. Olaf, Williamsburg; priest for St. Rose of Lima, Hampton; pastor at St. Pius X, Norfolk; and pastor at Prince of Peace, Chesapeake.
"In tribunal work, you're only seeing one side of humanity in one circumstance. Every case is different, but there is always loss and grieving of a failed relationship," he said. "In a parish, you see everything. It's life. The life of God is displayed there before your eyes."
Of all the duties he took on in the various parishes in which he served, Msgr. Muench most enjoyed administering first Communions. "Celebrating Mass and preaching were fulfilling," he said. "Baptisms, too, of course. But first Communions were always a happy time."
Father Brian Capuano, who will succeed him in the roles of judicial vicar and chancellor, credits Msgr. Muench with encouraging him to study canon law himself. Ordained in 2011, Father Capuano started working in the tribunal office in 2013. He then studied canon law at Catholic University of America, graduating in 2018.
"Msgr. Muench was the one who approached me and asked if I would consider studying canon law," said Father Capuano. "He was always very gracious and encouraging."
Father Capuano wanted to get a feel for the tribunal office before committing to the arduous law program, and Msgr. Muench was happy to have Father Capuano in the office one day a week to help out. "He would give me things to read and to work on," said Father Capuano. "He's always been very accommodating and generous with me."
"He's the center of the beehive in the tribunal," Father Capuano added. "The folks that work with him really respect him. It's a family … and people take their jobs seriously. It's a good thing to be a part of."
Prayer in retirement
For Msgr. Muench, his fifth time in Sicily was a precursor of things to come – that is, more time with friends and family, and less immediate responsibility. "We started in Palermo, went to Trapani, to Marsali, over to Siracusa, up to Catania, and then flew to Malta for a few days," he said.
"I've been before because of people I knew, and in Catania, we stayed four blocks from the Cathedral of St. Agatha," he said. But compared to previous visits, "this was more of a 'trip' than a pilgrimage."
Msgr. Muench also hopes to spend more time doing "what old people do," especially birdwatching in the Tidewater region. "In Norfolk, you see more migratory birds than you do in Richmond," he said. "When I was down in that area, I was a member of the Norfolk Botanical Garden. It might be the noisiest place in the universe – whoever thought putting a garden next to an airport was a good idea – but it's just beautiful."
He is a little apprehensive about the changes retirement will bring, but he hopes that a less demanding schedule will mean a better prayer life. "I had a friend who retired from the Department of Defense," he said. "She didn't know what to do her first week, so she just sat on her front porch and waved to people on their way to work. 'I'm free and you're not.'" He laughed. "That's kind of a delectatio morosa" – Latin for "peevish delight."
"You don't want to think you've given things short shrift," he added, "but I can't imagine anyone who doesn't believe they couldn't do more by way of prayer and devotion. So I'm looking forward to that as well."