At 93-years-old, well-known Richmond businessman and philanthropist Marcus Weinstein still goes into the office most days. His company, Weinstein Properties, manages more than 18,000 apartments across Virginia, North Carolina and Texas.
A graduate of the University of Richmond, Weinstein's name can be found on multiple buildings throughout that campus. But his philanthropy doesn't end with his alma mater. Over the past 50 years, he and his wife Carole have donated to organizations, schools, museums and places of worship throughout the state and country, including Richmond's All Saints Catholic School.
Identifying itself as the "Gem of the Northside," All Saints began in 1982 after two schools, St. Elizabeth and St. Paul, merged. It boasts a 100% high school graduation rate among alumni, with more than 90% of its students going on to college. All Saints is unique in its diversity, with 65% of its student population being African American and 25% Hispanic. Students come from all socioeconomic and cultural backgrounds.
Kenneth Soistman, who served as principal of All Saints for 17 years, has been its president since 2013. He moved to Richmond from Orlando in 1996, where he was principal at a Catholic school in an affluent neighborhood – a vastly different setting from the All Saints community.
"I fell in love with All Saints the minute I walked in," Soistman recalled. "I feel like I'm truly doing the mission that I feel Catholic schools should be doing: making it affordable for anyone who wants a Catholic education. Just seeing the success of the students who leave here; it's everything to me."
Weinstein first visited All Saints in fall of 2014 at the urging of his friend Dr. Eugene Trani, former president of Virginia Commonwealth University and long-time supporter of All Saints. Weinstein was impressed with the school's graduation rates and its values, and started providing tuition assistance for at least 10 students per year, contributing well over $50,000 annually.
Education has long been a top priority in Weinstein's philanthropic pursuits, regardless of faith.
"When you contribute funds to education, it's not a charity; it's an investment in the future," he said.
Over the years, Weinstein kept visiting the campus, attended school events and forged a bond with Soistman and Alyssa McBride, director of development and marketing at the school.
"Mr. Weinstein has chosen to support tuition assistance for middle school African-American male students and for students who live in extremely economically depressed areas of the city," McBride said. "He appreciates All Saints' mission to provide a safe, quality education to anyone regardless of religion, race or ability to pay."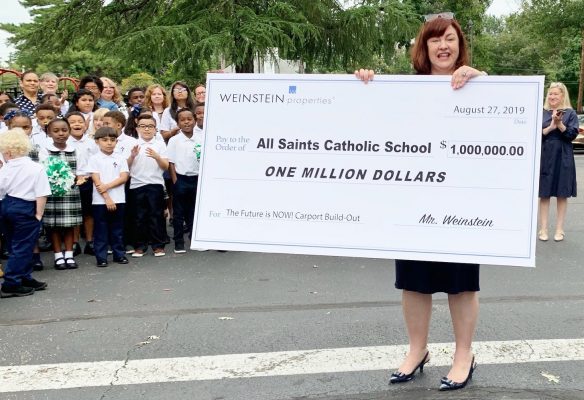 Soistman recounted a fateful meeting he and McBride had with Weinstein in the spring of 2018. The original school building was constructed in 1967, and expanding the school had long been a dream of Soistman's.
The school's carport was designed to allow for expansion, and Soistman said it was always on his five-year strategic plan but never moved from plan to action. There were other things Soistman wanted for his students, not just increased space but increased opportunity.
He wanted to provide his students with tools other Catholic schools have; he wanted every square foot of space to be dedicated to All Saints' mission.
Weinstein asked Soistman how much he thought it would cost to make that dream come true, and Soistman guessed around $2 million.
"He didn't blink an eye," said Soistman, "he just very casually said, 'Well, you have your first million!'"
The school was ecstatic. Weinstein's donation became the catalyst to finally do the work they had wanted to do for decades. With a goal of raising an additional $1.3 million, a committee was formed, ideas shared and the "The Future is Now" campaign was born.
Academic and administrative space totaling 6,800 square feet will be added to the school. Security will be enhanced with a new front office featuring double doors which will better control access into the school. ADA accessibility will also be greatly improved. There will be dedicated spaces for tutoring, counseling, teacher workspaces and support offices.
All Saints has a "lower level" and "an upper level." Currently, first and second grades are on the upper level, but with the expansion, they will join junior kindergarten, kindergarten, third and fourth grades on the lower level. The upper level will be dedicated solely to middle school.
Music and art classes currently share space in other classrooms. Once the expansion is complete, these programs will have their own spaces. Fifth grade will also have its own classroom, instead of moving from room to room for different classes throughout the day.
On Tuesday, August 27, Million Dollar Day was celebrated at All Saints, with Weinstein presenting the school and students with a giant (literally and figuratively) check. Weinstein said he is "happy to have the opportunity to invest in All Saints because of the success it's had in providing hope and opportunities to our young individuals who will be the future leaders of tomorrow."
"He knows how fortunate he has been and how great America has been for him, and he's doing the best he can to pay back all of that, to try to help the people who struggle," said Soistman, "He loves our diversity and feels our school is very critical."
Since spring of 2019, All Saints has already raised 80% of its goal.
"A gift from the estate of Edgar Duffy, which was given to the school in 2015, provided the beginnings of a capital improvement 'rainy day' fund to which All Saints has added over the years and is being used for the project," McBride explained. "The donors who helped get us to 80% include Weinstein Properties, All Saints' Advisory Board members, several members of All Saints' Knights Circle (major donor society whose members give $1,000 or more annually) and the Diocese [of Richmond]."
The groundbreaking will take place, appropriately, on Friday, Nov. 1, All Saints Day. This day is always celebrated at the school, complete with Hispanic students leading a Dia de los Murertos celebration. Bishop Barry C. Knestout will celebrate Mass with the Weinsteins in attendance. The goal is for construction to be complete by August of next year, but the school still has 20% to raise.
Soistman described All Saints as a "microcosm of society within our own school. Once they're all in here in their uniforms, we're just one family. There is no affluency being talked about. They're all friends. The school prepares them for what society should be like."
Editor's note: Further information about The Future Is Now campaign is available at https://www. allsaintsric.org/support/donate/ or by calling 804-329-7524.