In the quest to build a new student center, Blessed Sacrament Huguenot School (BSH) is getting a boost. On Monday, June 19, school officials announced that the Mary Morton Parsons Foundation has pledged a $300,000 matching grant that will go towards the construction of the Brower Student Center.
"This grant is a big honor," said Tyler Snidow, a marketing and development contractor with BSH. "It's also a compelling call to action for our community. It's a matching grant, so we have a year to raise $300,000 ourselves."
Scheduled for completion by spring 2024, the building is part of an $8.25 million renovation project that will also include a new visual arts center and a renovated gym. The two-story student center will feature a weight room, locker rooms, classrooms, an art room, a theater and a STEAM innovation lab.
The building will be named for the Brower family. Keith and Kathleen Brower have donated more than $10 million to the school since 2018. Their granddaughter, Bella Brower, died of a heart defect in 2015 after completing 10th grade at BSH.
The pledge comes at a crucial time, as the renovations and expansions keep pace with an enrollment rate that has increased by 69% since 2018.
---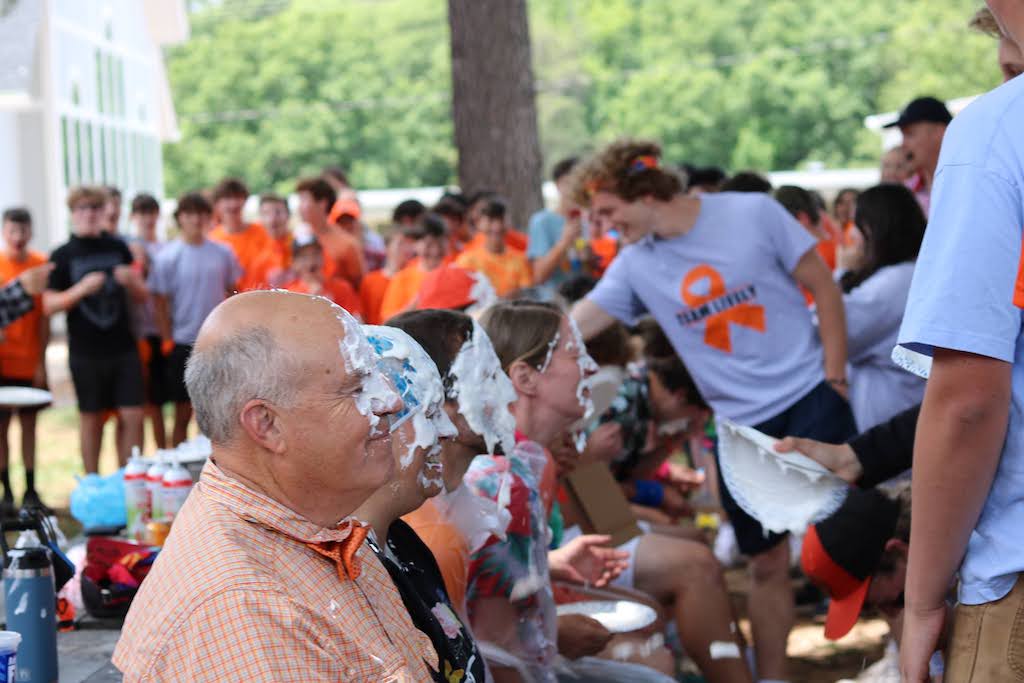 Senior prank turned positive pie event: The graduating class of Blessed Sacrament Huguenot, Powhatan, turned the school tradition of a senior prank into an uplifting event on Friday, May 26. The seniors, led by class co-presidents Berkley Roudabush and Annie Huynh, set up a raffle and convinced teachers and members of the senior class to have pies thrown in their faces by students who won the raffle. Each student and teacher who participated were "pied" twice in front of all the students and teachers in the middle and upper school. Sixteen pies, topped with generous helpings of whipped cream, were thrown. Head of School Tracy Hamner said, "I am so incredibly proud of this class."
The senior class raised more than $600 for the National Leukemia Society to help fund research in curing leukemia and lymphoma. A beloved member of the school community, Director of School Counseling and college advisor Christine Lively, inspired this effort.
---
Saint Joseph School scholarship winners: Saint Joseph School, Petersburg, is excited to announce the recipients of its Saint John Paul II Scholarship, which recognizes student volunteer service, academic excellence, and Christ-centered behaviors among rising 2nd to 8th graders.
Congratulations to Bella Campisi (5th grade), Chloe Christmas (7th grade), Julie Christmas (5th grade), Sophie Dyke (7th grade), Madeline Spillman (7th grade), and Allyson Wilkins (6th grade) on their exemplary scholarship, citizenship, and discipleship excellence. Each recipient receives $2,000 in scholarship funding.
The Saint John Paul II Scholarship Program was established in 2017 through a philanthropic gift to support families in their desire for Catholic education.
---
Beer & Hymns: Church of the Redeemer, Mechanicsville, hosted its 2nd annual Beer & Hymns event on Thursday, June 1. The pub-style event featured the Redeemer Choir, led by Erin Woods. Father Jim Cowles served samples of his homemade "Heavenly Brew," while the choir led the crowd in singing faith-based songs. The fellowship served as a fundraiser to cover the cost of installing acoustic sound panels in the worship space.