SEATTLE (OSV News) — In his second year as an offensive tackle for the Seattle Seahawks, Abraham "Abe" Lucas is living his childhood dream. Even so, it's faith, not football, that's the most important thing for this self-described "hard-core Catholic."
"It's my focal point, it drives everything that I do — my faith and my relationship with Jesus Christ," said Lucas, who grew up near Everett. "It's my purpose."
At 6-foot-6 and 322 pounds, Lucas is someone you wouldn't want to tangle with on the football field. Off the field, he's been described as a "gentle giant," considerate and loyal. Currently on injured reserve, Lucas, who turns 25 on Oct. 25, is approachable, open and honest — willing to share his struggles in life and eager to talk about being Catholic.
"He's experienced his own crosses, his own sufferings, but Christ has always been at the center of his life and how he tries to live his life," Father Paul Heric, Lucas' pastor at the St. Thomas More Catholic Student Center at Washington State University, said in a video.
Lucas said he considers his whole life a ministry, and believes football is what he's "called to do at this moment."
He never misses weekend Mass, and he tries to pray the rosary daily (sometimes on the team plane), go to confession weekly and attend weekday Mass as often as he can.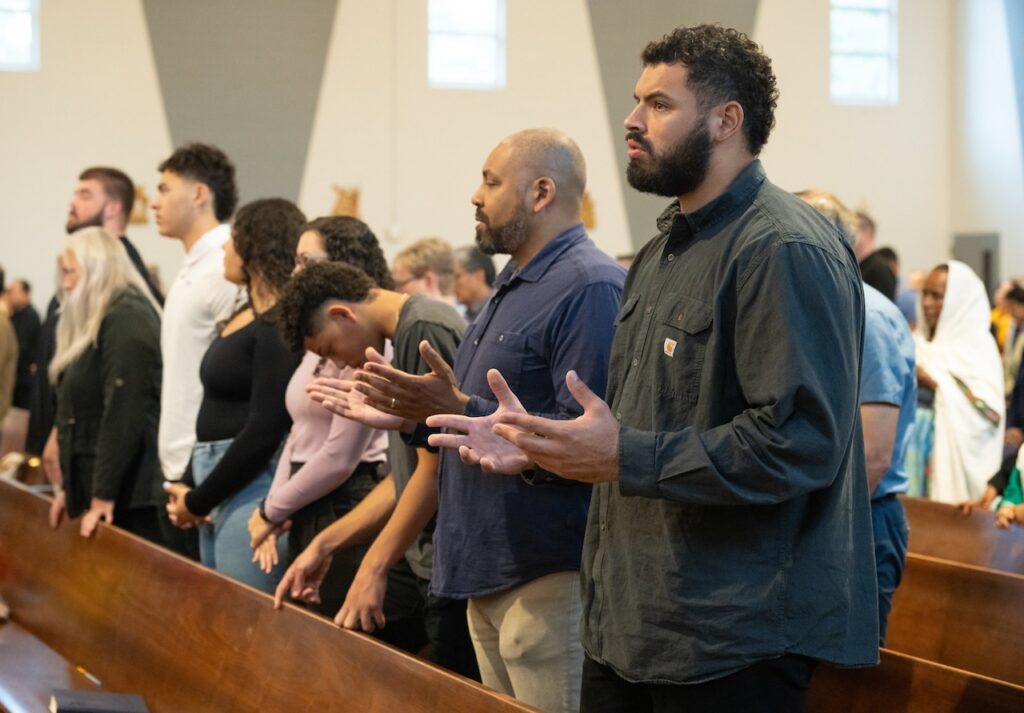 He doesn't shy away from sharing his faith in the locker room. Lucas recalled a great conversation in the sauna with a teammate — a strong nondenominational Christian — about the differences in their beliefs. "To hear him talk about his faith, I love it, it's fantastic," he said.
Lucas feels called "to spread the Word of God as much as possible" — never pushing, "but if the conversation gets opened up and someone is curious about it, I'll absolutely share what it is that I know."
Lucas is "so grounded in his faith that he can bravely walk into conversations and say exactly what we're all about" without offending anyone, said Deacon Dennis Kelly, who was campus minister at Archbishop Murphy High School in Everett during part of Lucas' time there. "He's just a great evangelist."
And Lucas speaks volumes about being Catholic through the images tattooed on his arms.
They include Christ crowned with thorns, the Virgin Mary, St. Michael the Archangel fighting the devil, a skull representing human mortality and Christ's victory over death, and St. Kateri Tekakwitha, is the first Native American to be canonized. (His paternal great-grandmother was part Native, and he admires St. Kateri's commitment to God.)
When teams interviewed Lucas before the 2022 NFL draft, some asked where football falls on his list of priorities. Probably third, he told them, after his faith and his family.
"This is my job now … and I love what I do and I'm thankful for it," Lucas told Northwest Catholic, the publication of the Seattle Archdiocese. "But if I had to pick between God and football, I would pick God 10 times out of 10. It's not that hard of a decision to make. Some people don't understand that because not everybody has faith."
The seeds of Lucas' faith were planted and nurtured by his parents, Kelly and Julie, longtime members of St. Thomas More Parish in Lynnwood, a Seattle suburb.
The second oldest, Lucas grew up with four sisters and two brothers. (Another sibling, Joseph Michael, was lost to miscarriage at 18 weeks, Julie said.) Lucas was baptized on All Saints' Day and attended Catholic schools — St. Elizabeth Ann Seton in Bothell for Montessori, then St. Thomas More and on to Archbishop Murphy.
Attending school as a youngster was a mixed bag of experiences. Lucas said he was not only "a squirmer," but he also was a bigger kid and felt a lot of people "didn't really get me." But attending St. Thomas More "was instrumental in building the faith," he said.
At home, the family prayed the rosary every night. His parents also emphasized "receiving the sacraments as much as possible, especially the Eucharist," Lucas said. The family went to confession at least once a month; today Lucas tries to go to confession before receiving Communion.
"We're not perfect, of course, but it's my opinion that you want to be as clean as you can … when you are literally consuming the body of Christ," he said. "We need that intimate relationship with God through Communion. So I gotta get to confession so that I can receive Communion."
Sports also were big in the Lucas household, whether it was the kids participating in athletics or Kelly watching lots of football. But sports never won out over going to Mass on Sundays, Julie said. Lucas' first sport was soccer, then came baseball, football and basketball, which became his favorite sport, she said. He played both basketball and football at Archbishop Murphy, where Lucas said he had "a great experience."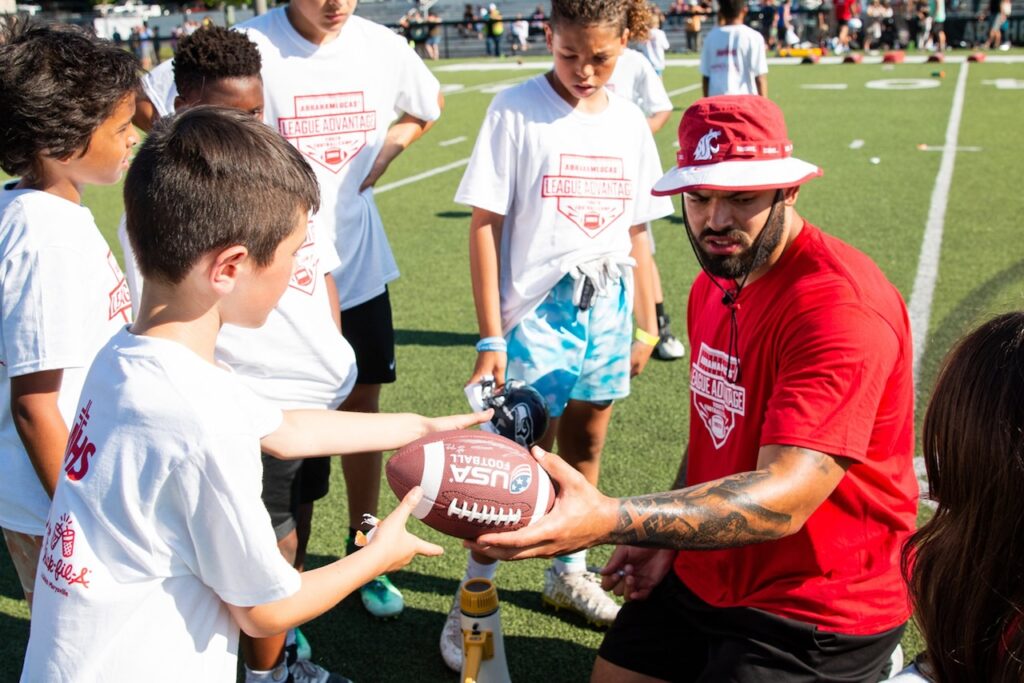 "The good thing about Catholic schools is that they require you to do service," he said, and while at first he "didn't get it," doing acts of service "was a big teaching point for me."
The other was learning the what and why of church teaching on subjects such as abortion and capital punishment. He enjoyed history — his college major — and theology classes, especially the junior-year class that explored church history, and the senior-year class focused on discussion, "bringing different views to light and what does God say about these things," he said.
Lucas also was an active participant in campus ministry. "Whenever I would do adoration or the rosary, he would be there," Deacon Kelly said. And when he arrived to pray with the football team before their games, it was Lucas who settled the players "into a prayerful space."
When time for confirmation rolled around, Lucas' parents let him make the decision. "I remember my mom saying to me, 'If you're not going to take it serious, don't do it.' She actually said the church doesn't need lukewarm Catholics, it needs people who are going to try as much as they can to keep the sacraments and commandments and such."
Lucas was all in and he was confirmed at St. Elizabeth Ann Seton Church.
When his family dropped him off for his first year at WSU, Lucas realized that keeping his faith strong was now up to him.
It was something his parents had emphasized to their kids as they grew up: "When you get out into the real world, don't lose (the faith) because there's a lot of distractions," Lucas said.
He finally understood what they were talking about as he dealt with all the distractions and temptations that come with college life. He decided to preserve his faith, picking up where he left off at home by going to Mass every weekend.
Sometimes things were going great with his faith life, but when they weren't, Lucas said it was hard to admit he couldn't handle it alone and needed to seek spiritual guidance. After Father Heric was assigned to the Newman Center, Lucas began spending more time there, going to adoration, confession and daily Mass, something Father Heric suggested.
In the busy, difficult months leading up to the 2022 NFL draft, Lucas experienced a lot of anxiety and uncertainty, but "attacked it relentlessly and got through it," he said in a WSU Newman Center video with Father Heric. "It also was an opportunity for me to deepen my faith even more and to just trust in God."
Lucas held his draft day party at the Newman Center; he was drafted 72nd overall — which happened to be his jersey number in high school and college (and is the one he now wears as a Seahawk).
Beyond faith, family and football, Lucas enjoys playing guitar and listening to all kinds of "complex" music, from heavy metal (favored for his pregame playlist) to jazz to classical.
And he's finding ways to give back. In June, he hosted a youth football camp at Archbishop Murphy. In July, he traveled with some of the Seahawks staff to Anchorage, where he visited patients at a children's hospital, gave donated shoes to kids and helped put on a flag football camp.
Living a Catholic life isn't always easy, he said, and he may not always feel motivated or succeed in his efforts. But serving God by living his faith "is nothing more than my duty to God on this earth."
"The beauty of it," Lucas added, "is that I only get closer and closer to God and his heavenly kingdom when I live in the way I've been called."
Jean Parietti is features editor for Northwest Catholic, the publication of the Archdiocese of Seattle.