As Deacon Charles Williams, interim director of the Diocese of Richmond's Office for Black Catholics, led 50 participants along Richmond's Slave Trail on a hot and humid Saturday, Aug. 31, he provided them with a constant stream of information and vivid stories — stories so engaging one could almost imagine the fear, pain and humiliation of being among the men and women forcefully removed from their homelands and brought to this country.
The three-mile walk, the second sponsored by the Office of Black Catholics this summer, was part of the commemoration of the 400th anniversary of African slaves arriving in Virginia.
At the start of his presentation, Deacon Williams, who also serves at the Cathedral of the Sacred Heart, told the group that while slaves arrived in Virginia in 1619, in 1452, Pope Nicholas V, in a papal bull titled "Dum Diversas," had given the king of Portugal permission to conquer Saracens, pagans and infidels and place them in perpetual servitude. The deacon noted that in "Open Wide Our Hearts: The Enduring Call to Love – A Pastoral Letter Against Racism," the U.S. bishops acknowledged and apologized for the Church's complicity in racism and slavery. (See accompanying story.)
At the request of Deacon Williams, participants walked the first part of the trail in silence, single file and with their hands on the shoulders of the person in front of them. That, he said, would give them an idea of how the Africans were moved from the docks into the city.
"They were shackled, and it was dark. This was done at night so high society would not have to see them," he said.
At various points along the way, the deacon initiated dialogue among the walkers.
"You don't know where your wife is. You don't know where your children are. You don't know where your grandmother is. You don't know where your aunt and uncle are," he said. "All you know is you're lying in the bottom of a boat heading to who knows where to do who knows what. Think about the psychology of that. Think about that in your mind for a second that you're going through that. How does that affect your mind?"
After people shared what they envisioned being the sordid conditions of the ships, the lack of sanitation, sickness and death, Deacon Williams continued.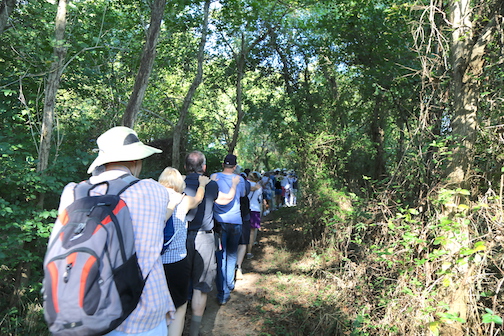 "So I guess we can surmise that it wasn't a fun trip. It wasn't an easy boat ride across there," he said. "Human beings doing this to other human beings. Think about that."
As the group left the trail and crossed the 14th Street bridge, Deacon Williams had them partner up and share if/how race was discussed in their homes when they were being raised.
"Was it not talked about? Was it harshly talked about? Couldn't stand them people that looked like that because they're lazy? They're shiftless, they're not good, they'll hurt you? Or did y'all have a brothers and sisters in Christ conversation?" he said.
As walkers were still digesting each other's stories, Deacon Williams spoke about the change in the slave trade in 1778 when Virginia put an end to the importation of enslaved Africans.
"Tobacco fields had been farmed out. The land was going bad and could not turn over tobacco at the same rate that they were turning over because they had just worn the land out from poor management, trying to be greedy. Of course the African community population grew and grew and there was not enough work for them to do."
However, the end of importing enslaved Africans did not mean the end of slavery. Southern cotton growers, aided by the invention of the cotton gin, needed people to pick their cotton.
"So, Richmond changed from a city importing Africans to a city of selling. And that's where we got our claim to fame," Deacon Williams said.
He explained that from 1830 to 1860, Richmond became the second largest market that exported slaves.
"Between that period of time, it's estimated that we sold 400,000 human beings down the river to the South. That is our history. That is where the old money of Virginia came from — the slave economy. We began to export slaves. That is our history," Deacon Williams said, noting New Orleans was the largest exporter of slaves. "That's what this trail really marks. It marks coming across the river and loading at the docks down here and heading down river to all the Southern colonies."
He said the transition from importer to exporter of human beings grew out of two things.
"I would say it came out of economics and it also came out of fear – fear of the other, fear of too many people that didn't look like me in the same community," Deacon Williams said.
He said people began to ask, "How can we profit other than just by selling slaves?" Various industries thrived around the selling of slaves, including financial institutions that held the money, hotels for the sellers, tailors who made the clothes in which the slaves were presented for sale and blacksmiths who made the shackles and chains.
Deacon Williams noted that the value of all the slaves that were owned in Virginia was $10 trillion "if you put it into today's dollars," and the value of the work they did between 1619 and 1865 was $3.7 trillion.
"It was big business, huge business," he said. "The largest economy in the city of Richmond was involved around slavery, around selling human beings."
Deacon Williams asked the group to consider: "How do you get grown men and women to work from sunup to sundown?"
One participant said fear; another said violence. Then Deacon Williams, with a homiletic voice, continued:
"The biggest tool used was because of the color of your skin, you are worthless. You are not a human being because of the color of your skin. That's the only reason that you are worthless. No other reason than you might not be smart enough, or you might not be strong enough, or you might not be quick enough. You are the wrong skin color.
"So I'm looking at my skin, and I've got this person preaching to me every day that I'm worthless, I should be grateful for what I have, yadda, yadda, yadda. And guess what? I can't change this. There is no way out for me. There is no way out. I have to basically believe what I'm told because I don't know any different. I was born into it. Nobody told me anything different.
"Let's think about how much control you have over somebody when they think they're worthless, that you're being kind to them when you allow them to work from morning until night. You cannot miss that, people, the psychological impact of slavery on men and women."
The walk continued with conversations about reconciliation after stopping at the Reconciliation Statue and explanations at the sites of Lumpkin's Jail and the African Burial Ground.
As the walk neared its conclusion, Deacon Williams said, "There are three things I want you to remember. First, slavery was intentional. It was planned and codified to protect landowners and their businesses. Second, the greatest harm to come out of slavery was labeling a whole group of people as inferior because of the color of their skin. And third, it still exists today in a systemic way."
Editor's note: For more information about the work of Deacon Williams and the Office for Black Catholics, call 804-359-5661 or email obc@richmonddiocese.org.
---
An apology from the U.S. bishops
At their meeting in November 2018, the U.S. bishops approved "Open Wide Our Hearts: The Enduring Call to Love – A Pastoral Letter Against Racism." In it, they acknowledge and apologize for the Church's complicity in racism and slavery
"Examining our sinfulness — individually, as the Christian community, and as a society — is a humbling experience. Only from a place of humility can we look honestly at past failures, ask for forgiveness, and move toward healing and reconciliation. This requires us to acknowledge sinful deeds and thoughts, and to ask for forgiveness. The truth is that the sons and daughters of the Catholic Church have been complicit in the evil of racism.
"In his papal bull "Dum Diversas" (1452), Nicholas V granted apostolic permission for the kings of Spain and Portugal to buy and sell Africans, setting the stage for the slave trade. Even though subsequent popes strongly renounced and rejected the international slave trade, much to our shame, many American religious leaders, including Catholic bishops, failed to formally oppose slavery; some even owned slaves.
"We also realize the ways that racism has permeated the life of the Church and persists to a degree even today. 'For too long,' in the Church's missions throughout the world, 'the way to a fully indigenous clergy and religious was blocked by an attitude that was paternalistic and racist.' [Quoting St. Pope John Paul II]
"Not long ago, in many Catholic parishes, people of color were relegated to segregated seating, and required to receive the Holy Eucharist after white parishioners. All too often, leaders of the Church have remained silent about the horrific violence and other racial injustices perpetuated against African Americans and others.
"Therefore we, the Catholic bishops in the United States, acknowledge the many times when the Church has failed to live as Christ taught — to love our brothers and sisters. Acts of racism have been committed by leaders and members of the Catholic Church — by bishops, clergy, religious, and laity — and her institutions.
"We express deep sorrow and regret for them. We also acknowledge those instances when we have not done enough or stood by silently when grave acts of injustice were committed. We ask for forgiveness from all who have been harmed by these sins committed in the past or in the present."
Editor's note: The entire text of "Open Wide Our Hearts: The Enduring Call to Love – A Pastoral Letter Against Racism" can be found at http://www.usccb.org/issues-and-action/human-life-and-dignity/racism/upload/open-wide-our-hearts.pdf.